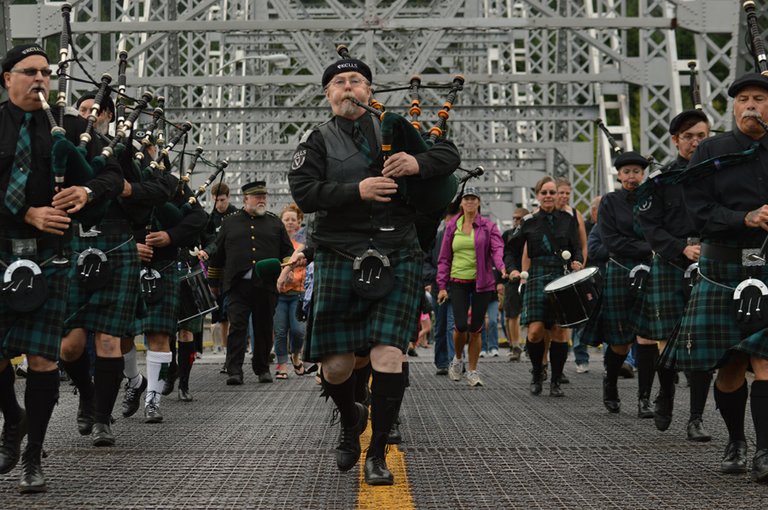 Wednesday, September 18, 2013
A pipe band led a crowd across the Bridge of the Gods and the old fire hall filled with bicycles in Cascade Locks last weekend.
The community's Highway Revived celebration tied into a major State Parks-Oregon Department of Transportation improvement along the Historic Columbia River State Highway Trail a few miles west, Saturday's dedication of the John Yeon Park-to-Moffett Creek bike trail project, attended by about 250 people. (See photo at right).
"This is great. I've been waiting for this for years, that dead end, riding out to the dead end and waiting and hoping for this to get done. I'm looking forward to riding to The Dalles," said Greg Hansen, who grew up in Troutdale and learned to drive on the old highway.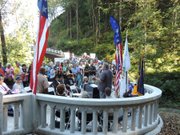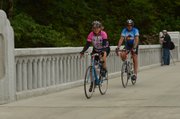 Hansen and his daughters, Honor, 13, and Sinove, 11, bicycled from the Tooth Rock trailhead to the dedication at McCord Bridge. (Hansen referred to future plans to continue the Historic Trail from Cascade Locks through Hood River; the 10-mile gap from Wyeth to Hood River will require a total of about $50 million, most of it for a planned new 1,500-foot tunnel to be bored through Mitchell Point, five miles west of Hood River.)
But Saturday's dedication was about the hard work already done.
Drummers and elders from the Confederated Tribes of Grand Ronde welcomed the community to an hour-long ceremony at McCord Creek Bridge, near Yeon State Park, and state and local officials praised the cooperation that led to the trail that now enables bike and pedestrian passage between Troutdale and Cascade Locks without having to use Interstate 84.
Cascade Locks held a 5K, Cruise-In and other events, and bicyclists pedaled in large numbers between Cascade Locks and the Portland area. Cascade Locks Tourism Council volunteers checked visitors' bicycles in at the old fire hall on WaNaPa Street, allowing visitors to attend other events in Cascade Locks on foot, knowing their bike was in a secure place. The bike valet program got a successful inaugural, according to Kayla Carron, tourism coordinator.
"We're really happy to see this many people visiting Cascade Locks this weekend," Carron said.
"Nice day to ride," said Brad Reber, visiting Saturday along with Kim Harrison. They rode their bikes from their home in Portland, via the MAX, to Troutdale, with a "posse" of eight friends.
"It's fabulous," Harrison said of the new section of the trail.
"We used to ride out here and have to get on the interstate. This is awesome," Reber said.
Among other events over the weekend: A beer garden featured beers from Cascade Locks' new brewery, Thunder Island; custom and antique car owners displayed their vehicles along WaNaPa; and the new business The Bold Orange featured historic photo displays and postcard collections.
Sunday brought even more cyclists to Hood River, with the third annual Cascade to Crown ride, an event which offered cyclists their choice of three routes between Cascade Locks and Crown Point vista, just outside of Troutdale.
Despite the scattered showers and thunderstorms, nearly 300 people got a chance to cruise the new 1.6-mile section of the Historic Columbia River Highway during the third-annual Cascade to Crown event, which features a 62-mile bike ride from Cascade Locks to Crown Point. Usually held earlier in the summer, the ride was moved to last weekend in order to coincide with the opening of the bike and pedestrian path.
Aaron McBride, race organizer with Pedal Nation, which put on the event, said this year's race was the best-attended in Cascade to Crown's three-year history — a figure he attributed to the opening of the new section of highway the traverses Moffet and McCord creeks west of Cascade Locks.
"That was, I think, the biggest draw," he said. "The event went really well. In between some of the rain showers, people were rolling through the Gorge."
Also in honor of the of trail dedication, the Port of Cascade Locks closed the Bridge of the Gods to all vehicle traffic for an hour and a half Sunday morning for a "Bridge Walk," where members of the public were given the rare chance to walk right out on the steel deck of the bridge.
Hundreds of people showed up for the event and were led onto the Oregon side of the bridge by members of the Kells Irish Pipes and Drums band out of Portland, who played traditional Irish bagpipe music.
Attendees also walked from the Washington side of the Columbia River until the two groups met in the middle to listen to more pipe music and watch a WAAAM bi-plane fly-in. Guests rode bikes, took pictures, and peered through the steel-grated road deck of the bridge and watched ships pass right beneath their feet.
Cascade Locks Mayor Tom Cramblett said the band choice was appropriate considering the namesake of the city — a now mostly inundated set of locks on the Columbia River — was built by the Irish.
"There was a census done during 1880 during the construction of the locks," Cramblett explained. "There were 1,000 people in town, 90 percent of which were men, and 90 of them were born in Ireland."
Cramblett called the bridge walk "spectacular" and was thankful for all the people who helped make that event and the other events held last weekend a reality.
"There's a lot of people who put in a lot of time for these events," he noted. "A lot of volunteers put in a lot of hours to make these events come off."
Usually a little on the quiet side, the city of Cascade Locks was hopping all weekend with activity, and Cramblett said he was very pleased with the turnout at all the events associated with the new trail.
"It was a good weekend for us," he said.
At Saturday's trail dedication, Oregon State Parks spokesman John Potter said, "This is one of the largest recycling projects I know; we are turning a highway into a trail, and in doing that, we are creating a special place that is going to be enjoyed by millions of people over the years." Potter spoke on behalf of State Parks Commissioner Robin Risley, who stood with him, and OSP director Tim Wood, who was unable to attend.
"OSP believes people need special places to go, as a way to get away from the routine of everyday life," Potter said, "as a way of connecting with Oregon and its history and its story, and they need special places to go as a way to be inspired by incredible scenery and contact with the natural world. We believe this is crucial to make our lives better, richer and more enjoyable."
He noted that in 1987, the Oregon Legislature declared it a public priority of the state to reuse and manage the historic Columbia River Highway as a continuous visitor attraction that ties together Gorge cities and contributes to its economic development.
Other speakers included Grande Ronde Tribal Council Member John George, Hood River County Commissioner Karen Joplin, Cascade Locks Mayor Tom Cramblett and Parks Commission Director Patrick Egan.