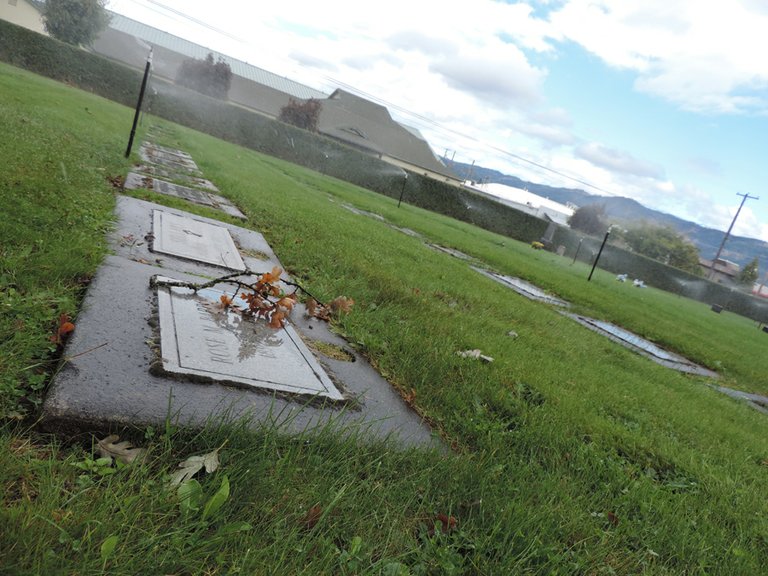 Wednesday, September 18, 2013
These are not ghost stories.
Fifth-annual "Cemetery Tales," Sept. 27-29, brings to life the stories of people from Hood River's past.
"Cemetery Tales" this year features familiar faces among seven entirely — almost — new stories of people buried at Idlewilde Cemetery.
Tickets remain on sale (details on page B6), but Cemetery Tales has sold out in each of its first four years. It is co-sponsored by The History Museum of Hood River County and Idlewilde.
"We have a lot of good stories, and a lot of heart-breaking stories, but that's real life and I think that's what it offers," said performer Aaron Nice, playing photographer Alva Day.
Cemetery Tales uses first-person dramatic monologues to engage and connect with the stories of community members that have passed on before us. This style of performance allows attendees to experience our community's history in a very personal way.
Document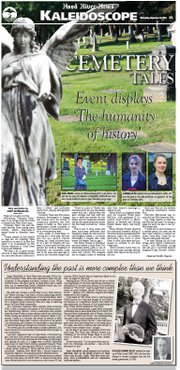 Ticket – and lasagna dinner – information
There will be multiple performances each day and evening, with a limit of 15 people per time slot. Tickets are $15 per person general admission; $12 for museum members and groups of 15 (entire time block).
Check-in and staging takes place at the Hood River Valley Adult Center, 2010 Sterling Place, Hood River, across the road from the cemetery. Attendees board a bus to the cemetery and back to HRVAC.
A lasagna dinner will be held Friday and Saturday evenings, with proceeds to benefit the Hood River Valley Adult Center's Meals on Wheels program.
Meal tickets are $9, and can be purchased through The History Museum. Dinner includes lasagna, salad, garlic bread and peach-berry cobbler.
The ticket ordering process is a bit different this year. You may order online (link from the museum website) www.co.hood-river... or download an order form (found on the museum website) and mail it in to:
The History Museum Cemetery Tales c/o Hood River County B&F, 601 State St., Hood River, OR 97031
All tickets are reserved through The History Museum. All payments will be process through Hood River County Budget and Finance. Tickets will be mailed after payment is received.
Tickets ordered after Sept. 20 will be available at the door.
For ticket assistance or further information, contact Connie Nice at 541-386-6772 or thehistorymuseum@...
The History Museum is also looking for volunteers willing to serve as tour guides and lighting crew members. Volunteering is a great way to experience the show while helping out behind the scenes. Contact Carly Squyres for more information and details on training, 541-386-6772 or thmvolunteer@hrec...
Julie Jindal of Hood River, returning for a third year, will present her 2011 person, Phoebe Koberg, but Jindal this year focuses on a part of Phoebe's life that wasn't in much detail the first time around: her work at Neighbors of Woodcraft, the retirement home that in the 1950s and 1960s was located in the Columbia Gorge Hotel.
"There is a part or Phoebe that resonated with me that has always stayed with me. I admire what she went through and how hard she had to work and provide for her family and the things she endured and yet she stayed as positive as she did. She really touched me," Jindal said.
This is one of three twists this year: fourth-year performer Kate Daugherty shares the role with her own daughter, Keeley, 11, as Jennie Schumaker, a pioneer who came across the Oregon Trail at age 3.
The family located in Pendleton and later moved to Hood River. The Shoemaker family grew to one of the most influential families of the early 20th century. The museum has on display a piece of wedding cake from Jennie's marriage to Joseph in 1886.
Rachel Short, 25, daughter, teams with her longtime friend Anne McGuire, both graduates of Columbia High School in White Salmon, as teachers and life-long friends Bessie Henry and Emily Park.
These lifetime friends shunned the traditional domestic calling of Victorian women and advocated for education rights for all children. Eventually they came to Hood River in their later years and purchased an orchard in the Neal Creak area.
Short's brother, Aaron Nice, 28, in his third year, portrays photographer Alva Day on the last stop on the tour.
Short and Nice are the children of Museum Coordinator Connie Nice.
Gabriella Whitehead also returns for her fifth Cemetery Tale.
"It's really special to have this my fifth and last year. I'm trying to make my story the best it can be," Whitehead said.
"I think this is nicer because it's a smaller group this year and we have more chances to expand our stores. From what I hear, the stories are really good this year.
"I've been looking for the little things (with Emma Culbertson's story)," said Whitehead, noting that she got to interview Emma's daughter-in-law, Dorothy Culbertson of Hood River.
"She was able to tell me so much more than what you would find in an obituary," Whitehead said.
The Culbertson family was involved in the beginning of the lumber and fruit industry.
There will be multiple performances each day and evening, with a limit of 15 people per time slot (See ticket details, this page.)
n
Here are selected comments from performers about their roles:
Daugherty said, "I'm glad to portray Jennie Schumaker, with my daughter, as we share the different stages of this person's life, and Keeley gets the chance to do acting this way, in this style, because she's not having to carry the whole character."
Keeley said, "I don't have to write the script all by myself."
But Keeley's fourth-grade Oregon Trail studies stuck with her and that helped in their work on the script.
"I asked her a lot of questions, because she studied the Oregon Trail," Daugherty said, "like, 'If you were on the Oregon Trail at age 3 what do you think you would have experienced?'"
Keeley: "I definitely thought studying the Oregon Trail in the fourth grade really helped."
"I'm excited to do this with my daughter," Daugherty said, "because I am so amazed by the history of people in our area and the diversity of the fortitude of the people. I hope to share that with my daughter how exciting history is when you really take the time to understand the humanity of it."
Keeley said, "I just love history and it's a lot of fun to interact with people in our community. I also have a connection with all other people who are doing the same thing, and learn about who they are portraying as well as the person I'm portraying."
Short has volunteered with Cemetery Tales in the past, but this is her first time acting, and she is happy to do so with a friend she has know for years from church and school. McGuire currently lives in Seattle.
"At first I felt a little intimidated doing this because Anne's a professionally trained opera singer. She knows how to get into character. It's nice my character feeds off that, she's quieter and artsy, and (Bessy's) more dominant, and it fits in with how our friendship pans out and our acting styles. We are so like the characters, we don't have to act the part, we just be ourselves, up to a point," she said, laughing.
About the private lives of Bessy and Emily, Short said, "People can think what they want; it was a beautiful friendship between two very educated women and I'm honored to represent them."
Aaron Nice said, "It's a pretty amazing experience. One of the things year after year I'm amazed with is the story aspect, which is one of the big things I'm bringing out this year. But I think there is a big difference between what Cemetery Tales provides and just reading an obituary or reading something bout the people in the valley and I think this is where it can really shine and provide something for people, because these are stories about real people."
Some things to remember:
n Since this event is an outdoor performance (rain or shine), the museum encourages you to keep this in mind when selecting what to wear. Always bring a jacket and sturdy walking shoes. This year's performance is a few weeks later than in the past, so the evening temperature will be quite cool. Dress warmly so you can enjoy the program in comfort.
n This event is not designed for children under the age of 10 due to the format of the performance. Please call the museum office if you have questions about this.
n This performance style is unique as each guest begins their Cemetery Tales journey by bus which takes them from the Hood River Valley Adult Center, into the cemetery and then drops them at the starting location. The groups are then guided from graveside to graveside by an experienced volunteer, following a path of hundreds of luminaries.
Once at a graveside station, guests are seated and then treated to a very intimate and personal look at the lives of the person buried there. Cemetery Tales is more than a program about dates and locations; it's an intimate journey into the lives of these unique people.
"Many people don't realize the preparation and planning that goes into the seemingly effortless success of Cemetery Tales," Nice said. "We begin working on the next year's performance in October (just a few weeks after the actual performance dates). We start by selecting story options from throughout the cemetery and then we go back to the museums research files to start fine tuning that list.
"Once the casting call goes out and we see who is interested in acting for this season, we narrow the list down again and being to develop a final cast list," she says. "Each actor is then given a packet of research materials to start developing their story outline and eventually their script. The scripts go through multiple revisions, always honing in on telling a story that isn't just about dates and names — but about life and living. Costumes are then developed, designed and made.
"The final push comes when the tickets go on sale mid-July followed by the actual rehearsal and performance days in September," Nice said. "The History Museum works hard to have this special community event bring a deeper awareness of the museum and our mission, but also to create an opportunity for people to make a deep connection with the stories of our grandmothers and grandfathers.
"Despite all the preparation and work that goes into this event, it is my favorite community program that the museum offers and one that I look forward to each year."