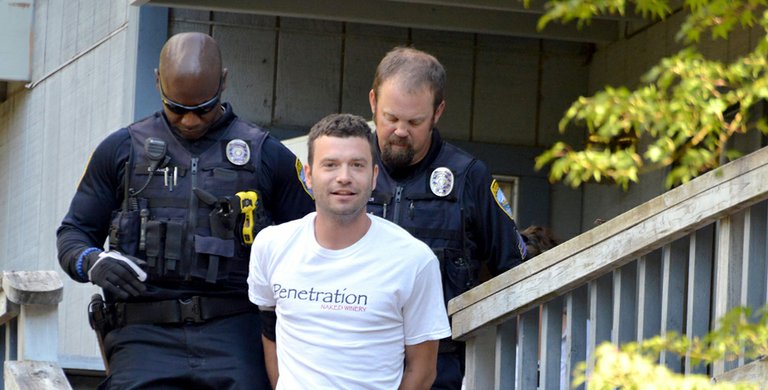 Wednesday, September 18, 2013
About 20 people watched from across the street Monday at 4:30 p.m. as Hood River Police arrested Timothy Bryan Glenn, 28, of Hood River, as the suspect in the Sept. 12 bank robbery of the Hood River branch of U.S. Bank.
Police led Glenn out the door and down the steps of the 20th Street four-plex where he lives, between Columbia and Wasco streets across from Hood River Skate Park.
"How you folks doing?" said Glenn, handcuffed and nearly smiling, as he was led down the stairs of the residence. An unidentified officer was seen carrying apparent drug paraphernalia out of the house; Hood River County District Attorney John Sewell said marijuana possession charges against Glenn are "under review."
Glenn was arraigned at 11 a.m. Tuesday in Hood River County Circuit Court with charges of second degree robbery and second degree theft as well as delivery of marijuana.
As of press time, Glenn was lodged at Northern Oregon Regional Correction Facilities and held on $25,000 bail.
Hood River Police chief Neal Holste said an investigation into the bank robbery by the Hood River Police Department culminated in a search warrant at the suspect's residence.
Members of the Hood River Police Department, FBI and Hood River Sheriff's Office executed the search warrant at about 1 p.m. Monday.
"We began getting tips and based on evidence we gathered starting on the day of the robbery, we were able to make the arrest," Holste said. He declined to elaborate on the evidence found, but stated it was collected "in the Hood River area." He said Officer Juan Pulido and Detective Mike Martin gathered "evidence linking (the suspect) to the scene" that led to the search.
"They worked throughout the weekend, putting things together," Holste said. "It was excellently handled."
Matt Stoneberg, manager of U.S. Bank's Hood River branch, said he was thankful for all the efforts law enforcement had put in since the start of the investigation, which began 60 seconds after the crime was committed.
"It was an awesome sight to see how fast the police responded," he said. "They were (at the bank) within one minute."
Stoneberg didn't give many details on the bank robbery other than to say he physically saw the suspect walk into the bank Thursday morning. He said he knows how much money was taken in the armed robbery but said he couldn't release the figure. He did note, however, that after a robbery, counselors are brought into the bank to help employees deal with the "traumatic" event.
Stoneberg said his employees were "pretty excited" to learn about the Monday arrest.
"It's great to know they have a suspect in custody," he said. "It will help my staff sleep well at night."
Glenn was arrested wearing a Naked Winery shirt and Dave Barringer, one of the owners of the winery, confirmed Glenn used to work at the downtown Hood River tasting room. Barringer said he also knew Glenn from their time as ski instructors at Mt. Hood Meadows, but wasn't sure how long he had known him or what Glenn's dates of employment at Naked Winery were. He added that Glenn's arrest came as a surprise to him.
"I was shocked, honestly," he said.