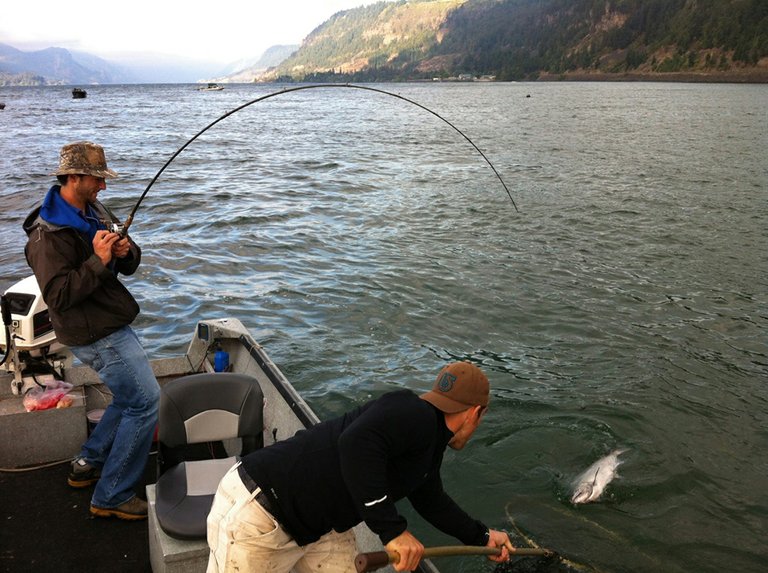 Saturday, September 21, 2013
If you're friends with, married to or happen to be an avid Gorge-area fisherman, the last month or so has been something to remember — and not just for the unmistakable smell of cured fish eggs that takes several rounds of soap and water to remove.
The run of fall chinook salmon heading up the Columbia River since early-August has shattered historical records, to the great surprise and pleasure of fishermen and biologists alike. The run was forecast to be far above average, but numbers on track to reach one million by the end of the run are higher than even the most optimistic expectations.
"Fish have been counted at Bonneville Dam since it began operating in 1938, but we have never seen numbers like the 68,000 chinook that passed the dam Sept. 9," said Ben Hausmann, senior fish biologist at Bonneville. "The highest number we have in our records was just more than 47,000 on Sept. 11, 2003."
As of Sept. 18, more than 900,000 adult chinook had been counted at Bonneville Dam's fish passage window this year, with about 750,000 of those counted as fall run adults. Fish passing the dam after Aug. 1 are considered fall run. Although not as high as the peak 68,000 day earlier this month, this week's daily adult chinook counts are still remarkably high: 21,370 on Monday, 18,896 on Tuesday and 23,268 on Wednesday. To put these numbers in perspective, last year's count as of Sept. 18 was 285,330 adult fall chinook, with the 10-year average for the run at 308,081.
"We were very pleased to see a pulse of high numbers — between 24,000 and 36,000 by Aug. 29," Hausmann said. "We were thrilled the record fell on Sept. 7 when almost 53,000 chinook were counted, and then it went even higher on Sept. 9. These numbers are amazing."

For Hood River's two fishing guide services — Rusty's Guide Service operated by Rusty Hicks and Big Fish Guide Service operated by Josh Frederick — such high numbers has meant a very busy end to summer.
"We've put 42 fish in the boat over the last four trips," said Hicks, in his second year running his business. "I was born and raised in Hood River and have been fishing these rivers my whole life, and this year is phenomenal."
As with many anglers in the Bonneville Pool, Hicks has been focusing his energies at the mouth of the White Salmon River. Fish congregate where the much colder water of the White Salmon meets the Columbia, where they cool off, flush out their gills and rest in the cleaner water before continuing up stream. For that reason, bumper-to-bumper morning traffic has congregated in front of the river.
On Thursday Hicks and a group of four customers caught 15 chinook by midday, with 10 of those going home as keepers "It's pretty fun fishing when you can release a salmon because you know you'll catch a bigger one," he said, adding that the fish are still in great shape. Hicks says once the word got out about such high numbers he has been booked seven days a week and his phone has been going crazy with customers trying to book time on his boat.

For Frederick, the Columbia to the east is where the action is best.
"It's pretty tight quarters at the White Salmon," he said. "It's more relaxing at the Klickitat and Deschutes, where boats are more spread out."
Frederick says he has guided trips for the past 17 days straight and has limited-out every day for the last week and a half.
"It's the best I've ever seen," he said. "I'm taking the day off tomorrow, which I'm pretty excited about," he said Thursday. "But I'll still be working. I have to clean the boat; there's eggs all over it."
Frederick has been in business for 12 years and said that most of his clientele this time of year are return customers. He says after the fall run subsides in the next few weeks, the coho run will start — which is also forecast to be good this season.
While fishermen are rejoicing in "tight lines" and full freezers, biologists are busy crunching numbers and citing a variety of factors in the astounding returns, ranging from dam improvements and better fish passage for out-migrating salmonoids to changes in regulations and favorable ocean conditions.
Another direct influence, explained Michelle DeHart of the Columbia Basin's Fish Passage Center, was the Columbia River conditions in late spring and summer of 2011, when most of these fish would have been migrating out to the ocean.
A record snowpack earlier that winter across the entire Columbia Basin and an unusually cool spring contributed to very high flow levels on the Columbia through much of the summer. Dams were forced to spill excess water rather than running it all through their turbines, which increased the survival rate of outgoing young salmon. Combine that with favorable Pacific temperatures and food supplies and it helps explain — at least in part — the record returns.
The Fish Passage Center, based in Northeast Portland, provides data, analysis and technical services to the variety of fish agencies and tribes impacted by the operation of the Federal Columbia River Power System. DeHart, the FPC manager, explained that out-migrating Columbia River salmon in any given year will return over a period of the next three years, but the data her agency has reviewed from pit-tag studies shows that the vast majority of this year's run is from the 2011 out-migration. Chinook jacks listed in the fish counts would have out-migrated in 2012, spending only one year in the ocean before returning.
n Rusty's Guide Service: rustysguideservice.com, 509-637-0653
n Big Fish Guide Service: bigfishguideservice.com, 541-380-1415
n Columbia River fish counts: http://bit.ly/dKx4YB