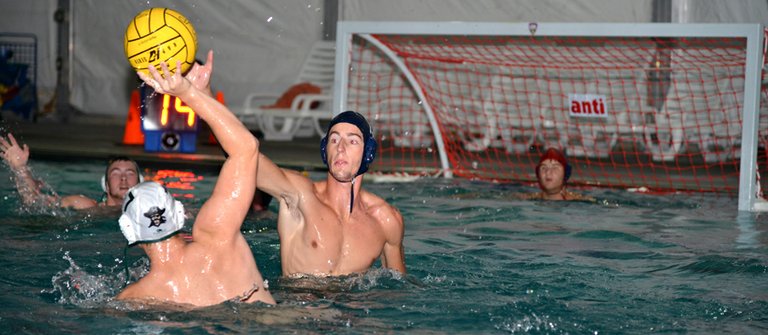 Saturday, September 21, 2013
Although a rough way to christen the Hood River Aquatic Center as its new home pool, Tuesday's 18-4 loss is something the Hood River Valley High School water polo team is taking in stride.
The game, against a bigger, older and more experienced Reynolds squad, was the first home varsity contest in the Hood River team's history. The club team formed last year and is in the midst of its first year at the varsity level in the Mt. Hood Conference.
"We're at the bottom of the learning curve for varsity play, and the team is looking forward to lot of improvement over the season," coach Dave Cameron said Thursday. "Water polo isn't something you pick up overnight. It's going to take some time for our program to develop."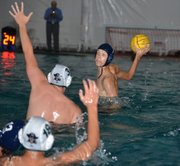 Connor Dunn had two goals and Stan Ocheskey and Trey Schilling had one each in the Reynolds game, while Texx Spezia-Schwiff and Adam Cameron had notable performances in the goal against an aggressive Reynolds offense.
Notably, due to a limited number of players, most of Hood River's squad also played in the JV game before the varsity game, meaning they went into the varsity match already tired.
"We're a young team — two seniors, one junior and the rest sophomores and freshmen," Cameron said. "So we're doing pretty good so far. We have a long way to go, but it's a good road ahead of us and we can only go up from here."
The JV team lost 12-5 to the 6A Reynolds, which Cameron says will be one of the top Mt. Hood Conference teams this season. Myles Cameron had two goals and Russel Grim, Will Lamer and Daniel Mears had one each. The JV team is co-ed, with girls Jocelyn Pedrotti and Emily Burns in the pool for HRV.
The team went on to play at David Douglas Thursday evening, where they finished with a 16-6 varsity loss and a 7-4 JV win. Varsity goal scorers were Grim (2), Ochesky (2), Arthur Finstad (1) and Dunn (1) and JV scorers were Jocelyn Pedrotti (1), Lamer (3), Adam Cameron (2) and Finstad (1).