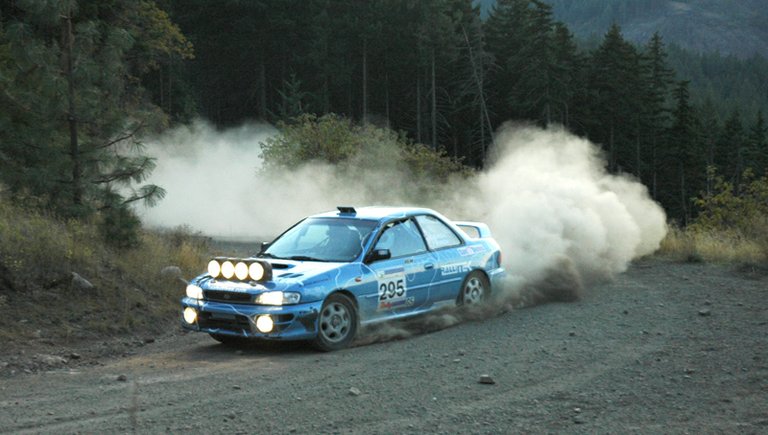 Saturday, September 21, 2013
A popular rally car race scheduled for late October has effectively been canceled as Hood River County Commissioners examine how feasible it is to continue holding the race on county forest roads.
The county has declined to address an application submitted by Oregon Trail Rally to stage its annual Mt. Hood Rally race on roads in the eastern part of Hood River County. The race, which features suped-up Subarus and other rally cars tearing around dirt and gravel tracks, has been held for the past 10 years on portions of Bald Butte, Elder, Huskey, Gilhouley, and Fir Mountain roads.
During last month's meeting of the county commissioners, County Forestry Manager Doug Thiesies and County Engineer Don Wiley reported that the cost of refurbishing the roads after the races had far exceeded the level of financial compensation received from rally organizers. Commission Chair Ron Rivers asked Thiesies and Wiley to decide by next month's meeting whether to charge rally organizers more or to disallow racing entirely.
In his agenda request form for the September meeting, Thiesies recommended that commissioners no longer allow rally car racing "due to the amount of damage, wear and tear and waste of rock surfacing that occurs as a result of the race. In addition, the amount of administrative time for event permit review and recent negative feedback from neighbors and the public is also a factor in the determination."
Thiesies wrote that if the commissioners did decide to continue with the races, he asked they charge race organizers a restoration and maintenance fee of $2-$6 per lineal foot of track.
During a discussion about the races during Monday's county commissioner meeting, Commissioner Maui Meyer asked Doug Thiesies what the county charged last year for refurbishing the 17 miles of track used by organizers for the rally race.
"About 7.5 cents per lineal foot," he replied.
"So at six bucks a lineal foot, that's half a million dollars," Meyer said. "So that's saying 'no' in different terms."
Thiesies agreed that the cost would most likely be too expensive for race organizers to pay, but noted that road maintenance was only part of the issue. Over the years, particularly during the 2012 event, complaints from neighbors have increased about the races.
Joe Van Auerbach, a Fir Mountain Road resident, spoke to commissioners about his and other neighbors' concerns regarding garbage, road access, impacts to wildlife, and fire danger he said were created by the rally. He added that with all the other recreational opportunities available, he felt Hood River County could do without the rally.
"We've had such a good run of natural sports and I don't think there's a combustible motor in any of them," Van Auerbach said.
"We'd like you to consider at least relocating (the race)," he added.
Jeff Lemley, a White Salmon resident who also serves as the race master for the Oregon Trail Rally, admitted that the races do have an effect on road surfaces.
"We're a high-impact sport," he said. "We do some damage to the road."
However, Lemley said the damage done by the rally cars wasn't a huge departure from the wear and tear caused by typical road users.
"In a regular rally event, the vast majority of the competitive vehicles that are out there are no more powerful than most of the Subarus that I know at least a majority of you drive every day, since we are in Hood River," he said, which drew some chuckles from the audience.
Dave Henderson, a Hood River resident who competes in the rally, said he also didn't think the races damaged the roads enough to warrant the increase in restoration fees and said daily drivers also impact road conditions.
"I've torn up way more road bed driving my pickup to mountain bike trails," he noted.
Thiesies, however, maintained that the way motorists drive does have an effect on road conditions.
"The speed that you drive is a big difference," he said. "It makes a big difference on the wear and tear of the road."
Commissioner Bob Benton wasn't entirely convinced.
"I'd like to see what the damage is the other 364 days out of the year," he said.
Wiley said it would be difficult to determine how much fill is lost during a race but noted that stone "is not a finite resource."
Rivers asked Lemley when the race was scheduled.
"The event was set for October 19th, but with the delays in deciding the fees, I think it's probably going to get canceled," Lemley said. "There's not enough time to bring it together."
Lemley reported that the next Oregon Trail Rally race in Hood River County, a nation-level event, wouldn't occur until early May 2014. Commissioners decided to table the issue until they had could discuss road restoration fees with Wasco County, which also hosts Oregon Trail Rally events.