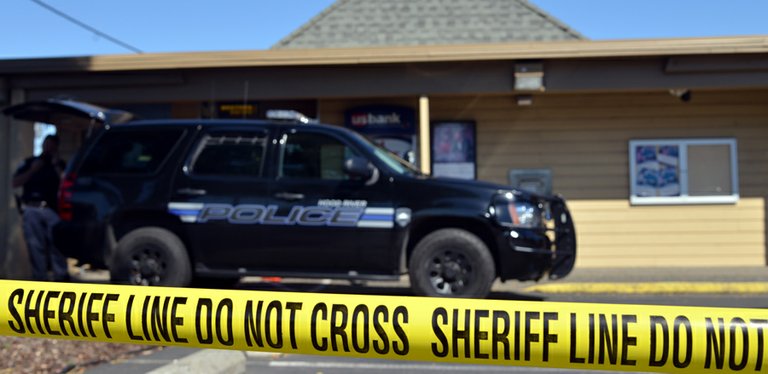 Saturday, September 21, 2013
Less than 24 hours after his arrest, 28-year-old Timothy Bryan Glenn appeared via live video feed in Hood River Circuit Court Tuesday morning to be arraigned on charges in connection with last week's armed robbery of U.S. Bank's Hood River branch.
Glenn, who is currently being held at Northern Oregon Correctional Facility in The Dalles, appeared on screen wearing an orange prison jumpsuit and calmly listened while Hood River Circuit Court Judge John A. Olson read the list of charges.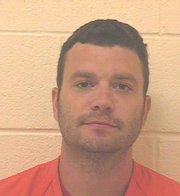 "The reason you're appearing in front of me is you've been charged by information with three crimes," Olson explained. "The first is robbery in the second degree: that's a B felony that carries up to 10 years in prison and a fine up to $250,000. It's also what is known in Oregon as a Measure 11 offense, which means it carries a mandatory prison sentence of 70 months if convicted."
Olson also informed Glenn he was being charged with delivery of marijuana — a Class B felony, punishable up to 10 years in prison and a fine of $250,000 — as well as second-degree theft, which carries penalties as stiff as one year in prison and a $6,250 fine.
Glenn listened quietly until Olson asked him if he wanted help with an attorney.
"Yes, sir," Glenn said.
"And how much money do you earn a month?" Olson asked.
Glenn paused for a few seconds. "It's hard to say, I've been unemployed for the past month, so — "
"I think you're eligible for court-appointed counsel, based on that," Judge Olson said before appointing Brian Starns of Hood River law firm Morris, Smith, Starns, Raschio & Sullivan to represent Glenn.
Hood River County District Attorney John Sewell asked that Glenn be held on $25,000 cash bail and provided the court with some background on the suspect.
"Defendant was born in North Carolina, his last known address was in Lynchburg, Virginia; he rents here, he's not employed, we don't even know of the certainty of how long he's been in this area," Sewell said.
Additionally, Sewell informed the court that Glenn may end up facing federal charges.
"We've had preliminary contacts with the U.S. Attorney's Office of Portland, and there's a distinct possibility that there may be a federal prosecution involved," he said.
In a later interview, Sewell explained that since banks are backed by the Federal Deposit Insurance Corporation, bank robberies are considered federal crimes and can be prosecuted accordingly.
During Sewell's probable cause recitation, he informed the court of how local law enforcement and FBI agents, armed with a search warrant, entered Glenn's N. 20th Street apartment in Hood River Monday afternoon and found evidence linking him to the bank heist. Both Glenn and a roommate were present at the time, according to Sewell.
"Found in the defendant's bedroom were clothing items that matched the description of the clothing given by the teller who was robbed and that matched the description that's depicted in the video camera from the bank," Sewell said. "Also of note was the fact that on the jacket or outer garment that was seized was some fibers that were consistent with the Halloween wig that was described in the search warrant affidavit."
Sewell added that law enforcement also discovered items in a trash can outside Glenn's apartment that matched a disguise believed to have been worn by the bank robber.
"During the course of their investigation, a neighbor was contacted, who indicated that on Saturday, which was shortly after the robbery had occurred, she had seen the defendant placing something in one of the garbage cans near the residence," Sewell said. "It appeared to her that it seemed as if he was actually trying to conceal something; that is, placing it well down into the garbage can as opposed to tossing it in."
Sewell said law enforcement dug into the garbage and allegedly found a Walmart bag containing a wig matching the description of the one used in the bank robbery as well as the package for "an artificial or costume beard," although the beard itself was not recovered.
In regards to the marijuana charge, Sewell mentioned officers seized what was described to him by law enforcement as a glass jar containing "a few ounces of nice-looking bud," as well as a set of scales and "200-plus dollars in cash." He also alleged that the "defendant acknowledged or indicated that that's how he was supporting himself at this time was by selling marijuana."
Armed robbery usually constitutes a first-degree robbery charge, but Sewell said in a later interview that Glenn received the lesser charge of second-degree robbery because the weapon that was allegedly displayed during the heist "has not been recovered." He declined to go into further detail about the case.
U.S. Bank won't release a figure for the amount of money that was stolen during the robbery. Oregon Revised Statute 164.045 shows that a person commits second-degree theft, with which Glenn has been charged, if "the total value of the property in a single or aggregate transaction is $100 or more and less than $1,000."
Olson determined there was enough evidence to move forward with judicial proceedings and set bail at $25,000 cash. Glenn's next court date is set for Monday, Sept. 23, 11 a.m., at Hood River County Courthouse.