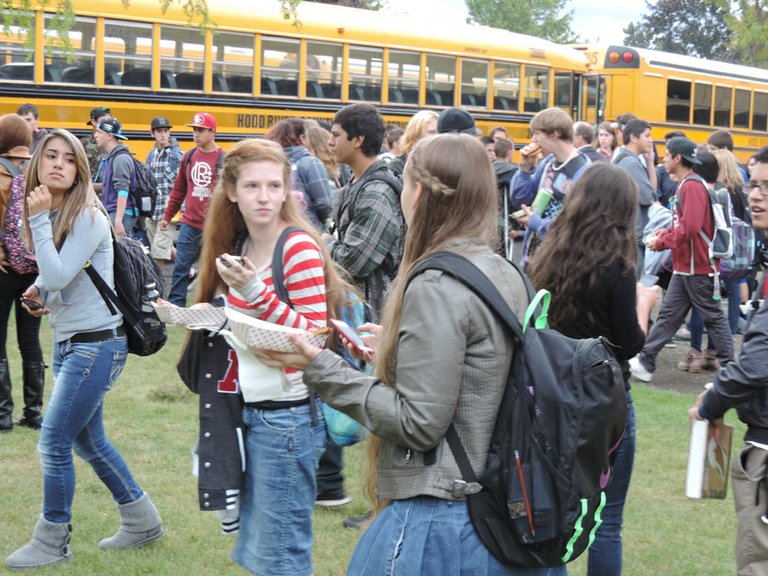 Wednesday, September 25, 2013
A bomb threat found in a bathroom stall emptied Hood River Valley High School Monday, sending students and staff home just before lunch.
The case is under investigation by Hood River County Sheriff's office, with help from Hood River Police and Oregon State Police.
The campus was scheduled to reopen under normal schedule Tuesday. At least one deputy will be on campus, continuing the investigation, Sheriff Matt English said.
A student found the Sharpie-scrawled message shortly after 10 a.m. Monday, according to English. School officials called the sheriff's office at 10:30 a.m.
Sept. 23 bomb threat timeline
The evacuation was the second emergency situation in the schools in as many weeks, following the Sept. 12 lock-in at schools in Hood River following the robbery on the U.S. Bank on the Heights.
Here's a short chronology of Monday's incident:
8:05 a.m. — Classes start at Hood River Valley High School
10:10 a.m. (approximate) — student finds bomb threat written on restroom stall
10:30 a.m. — High school staff notifies sheriff's office
10:45 a.m. — Decision made to evacuate
10:45- 11 a.m. — Bus drivers contacted
11:25 a.m. — Buses arrive, students told to vacate buildings
11:45 a.m. — Buses depart HRVHS
11:50 a.m. — Search begins
1:45 p.m. — Law enforcement, school staff complete physical sweep of HRVHS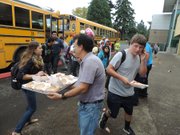 "We are never going to take student safety lightly, and if there is anything remotely credible and we think kids are going to be in harm's way we will take steps to protect kids," Supt. Dan Goldman said.
The note said that a bomb would be exploded in third period, which runs from 12:30-1:44 p.m. on Mondays, a late-start day, according to Goldman.
"We asked the police to come in and take a look, and help us in our decision making," Goldman said. "They very quickly recommended we clear the building so they could do a sweep and it would take a number of hours."
No evidence was found Monday in a search English termed "systematic": searchers looked in lockers, classrooms and waste receptacles.
"We searched every locker in the building," Goldman said, adding that as a result "no contraband was reported found."
By 11:30 a.m., students were on their way out the doors, following the evacuation order delivered over the PA system.
"Buses are now waiting to take you home. Leave the building now and go to the buses," office staffer Lorie White said via intercom.
"The report from all the staff was that kids were awesome," Goldman said Monday night. "They listened, helped peers who needed help," including preschoolers and kids with severe disabilities who are on the campus. "By all reports they were very helpful, and we are heartened by that."
"You're kidding. Tell me, no joke — we have to go home?" one student said to Leadership advisor Niko Yasui.
Students were in disbelief and staff members lamented the loss of instruction and work time.
"This is just so frustrating to have this happen when we all have so much work to do," one office staffer said.
"Can you tell me what's going on?" one girl asked Yasui as students began filing out to the buses.
"We have a believed threat to the school, and you're safer outside of the school than here," he told her.
Hood River County Sheriff's Public Information Officer Pete Hughes said Oregon State Troopers responded, and his office "consulted with the State Police bomb squad." After a brief meeting, officers and school staff dispersed in teams to search the building, starting at about noon.
The evacuation came just as kitchen staff were readying lunch for the day, creating a unique situation for all: free lunch.
"If you're hungry, please take something," cook Karen Schilling and custodian Enrique Romero said, carrying out trays of ham-and-cheese sandwiches, pizza and french fries, and giving them to students as they headed for the buses. Many students eagerly accepted a sandwich or a slice.
"We really hate to see it all get spoiled. We want as much as possible to get taken by the kids," Schilling said.
Many students eagerly accepted, but plenty of food was either wasted or would go into storage for reheating the next day.
"Cold pizza is kind of a popular breakfast choice in the cafeteria, anyway," Schilling said.
Moments later, the buses were gone, and a few cars were still arriving for student and staff pickup.
At about 1:45 p.m. the search of the school was completed and no destructive devices were located.
The school remained closed for the day and usual business will resume on Tuesday, English announced. All after-school activities, including athletic practices, were called off on Monday.