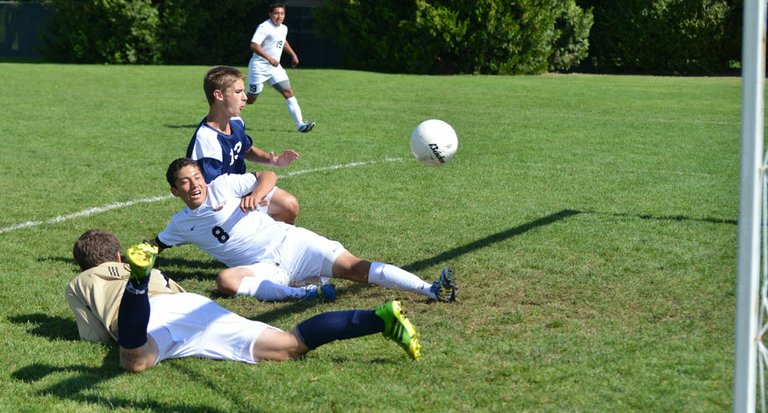 Wednesday, September 25, 2013
Edgar Villegas, Aldo Muro, Jaime Frias, Giovanni Magaña and Manuel Mozqueda had one goal apiece in a 5-1 scoring clinic the Hood River Valley High School varsity boys soccer team gave West Albany Saturday afternoon at Westside school.
The Eagles, now 5-0-1, hold a 5A Oregon No. 3 ranking behind No. 1 Woodburn and No. 2 Marist. The team hosted Lincoln Tuesday evening at Hood River Valley High School but results were not available as of press time.
Saturday's stomping came after a slow start that saw HRV behind by one goal early in the first half due to a penalty kick granted to the Bulldogs. With several shots on goal threatening the visiting team's precarious lead, senior captain Villegas struck first with a sliding karate kick that put the Eagles on the board. A Magaña assist to a wide-open Muro breaking free down the left wing gave HRV momentum and the 2-1 lead going into halftime.
With a solid defensive line and well-disciplined midfield settling the ball and working it down the wings, the second half was all HRV as the Bulldogs began to break down from the constant offensive pressure. Frias upped the score to 3-1 after a few fancy moves and a finesse goal from about five yards out. Magaña followed suit with some moves of his own, taking a pass from Joel Aberg — who was a warden in the middle all game — and knifing through three defenders for an open shot at the goal.
Mozqueda finished things off with a second sliding ninja kick goal off an assist by Villegas, who worked down the right wing before dishing the ball to his oncoming teammate.
With an undefeated pre-season record, HRV looks to be the Columbia River Conference top dogs over Hermiston (2-3) The Dalles-Wahtonka (1-3-2) and Pendleton (1-4). Conference action starts Oct. 1 with an away game at Pendleton, followed by a home match Oct. 8 vs. Hermiston (4 p.m. at Westside).