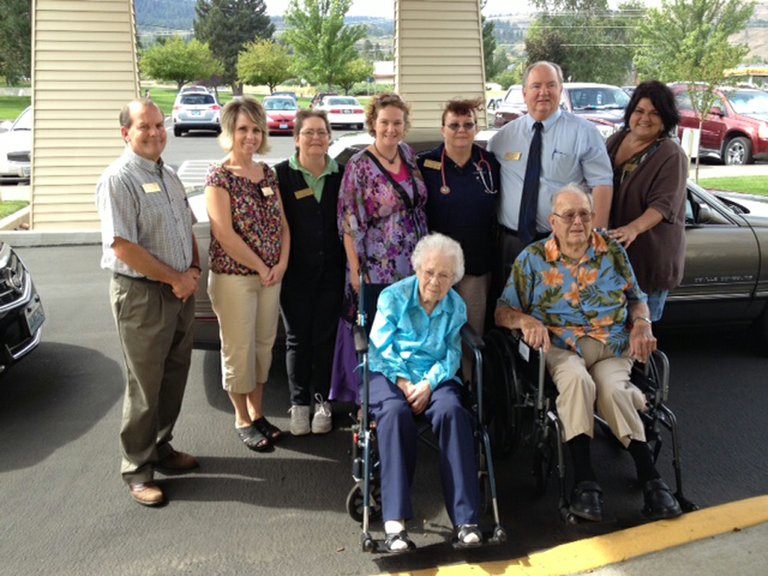 Wednesday, September 25, 2013
It started off with reminiscing about old cars, and ended up with a trip to La Grande in a brand-new Cadillac for Senior Wish recipient Buck Hermann. With funds raised from the recent Country Fair at Hawks Ridge Assisted Living, Community Relations Director Kelly Emerson and Resident Care Coordinator Melissa Stanton hit the road to grant Buck his very own wish: a trip home.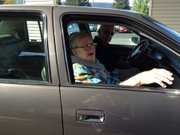 Greeted immediately in La Grande with a warm welcome from sister community Grande Ronde Retirement Residence, Buck was reunited with his sister-in-law for a truly touching moment. Both in their 90s and with visits now few and far between, it only took a matter of seconds before the stories started to fly.
In one instant, a wish was granted for each of them. Memories relived, time with family, catching up on old times. A simple thing, that means so much.
After an afternoon of catching up, a celebration dinner was held at Bear Mountain Pizza in La Grande (location of Buck's former business and family home), to bring together family, friends and colleagues. Guests lined up for a moment with their old friend. The current mayor of La Grande was the first to greet Buck and thank him for his service to the community.
A surprise followed when the local Shriners group presented Buck with a plaque awarding him the Lifetime Achievement Award for his fundraising efforts and contributions to the Portland Shriners hospital.
The trip to La Grande ended with a very special ride, when Buck led a caravan of cars around the countryside for a tour in his old Cadillac. When asked how the two cars compared, Buck simply stated, "Well, this (2013) Cadillac has all of the bells and whistles, but mine is just as comfortable."

All around, a fantastic experience, a wish fulfilled and a moment that will not soon be forgotten.
n
Submitted by Kelly Emerson, community relations director at Hawks Ridge Assisted Living.