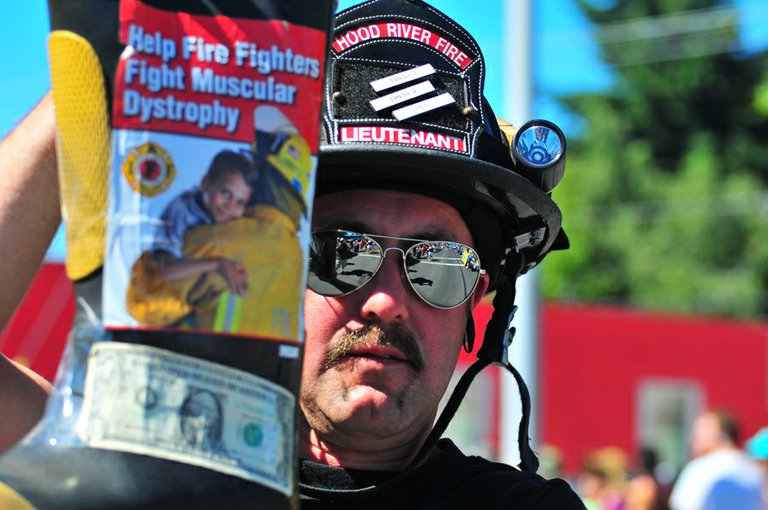 Wednesday, September 25, 2013
If the boots of Hood River firefighters look heavier this year, that's because they are.
Hood River Fire and EMS recently wrapped up its annual fundraising for the Muscular Dystrophy Association — a nonprofit health agency that fights neuromuscular diseases — and totals show the department had its best year ever.
Lt. Paul Henke, who spearheads Hood River Fire and EMS' annual muscular dystrophy fundraising events like Fill the Boot, said the $17,500 collected by local firefighters for MDA this year was the most the department has ever raised in the past 10 years of its program.
Moreover, Henke said that this year the Hood River department "raised the most per union member of any department in all of Oregon, southwest Washington, and Alaska."
Those statistics may seem remarkable, but Henke says he has a self-imposed directive to make sure every fundraising year is better than the last.
"I try to go up $1,000 every year," he explained. "There's been some years where it's even more than that."
Hood River is one of thousands of fire departments around the country that raise money for MDA in order to help fight muscular dystrophy and other muscular diseases. According to the International Association of Firefighters website, the partnership between firefighters and MDA dates back to 1952, when a man beseeched Fire Engine Company 1 in South Boston, Mass., to help him raise money for his two sons who had recently been diagnosed with muscular dystrophy. It is here where the well-known "Fill the Boot" campaign began — a fundraiser where firefighters stand at street intersections asking for motorists to "fill their boots" with cash or coin donations.
Henke's own journey with MDA began approximately 10 years ago when he was selected to spearhead Hood River Fire's fledgling fundraising program for the organization. He says at the time he "reluctantly accepted" the responsibility, but became more engaged once he met children who had the disease.
"I went to my first MDA summer camp on Mt. Hood," he recalled. "After the first year I went to that, I was done (for)," he said.
"A lot of these kids, their life expectancy is — shortened," he continued. "The camp is the one week they get to do whatever they want."
Since the IAFF adopted MDA as its official charity in 1954, it has raised more than $240 million for the organization. Since Hood River's program began 10 years ago, the department has raised $130,000, according to Henke.
When the fundraiser's calendar year begins every September, Henke is required to submit a goal outlining how much money the department expects to collect from muscular dystrophy charity drives such as Fill the Boot and the Haunted House event put on by the department every Halloween. Henke doesn't like calling that number a "goal" though.
"I don't set 'goals' for Hood River," he explained. "I encourage people to make a 'commitment.' I'll just keep going after it until I get it."
He's not kidding. During one fundraising campaign several years ago, Henke said he would sit on top of a billboard on 12th Street until the department's fundraising commitment was met.
Usually though, Henke doesn't have to go to such drastic measures.
"People around Hood River have always been generous and supportive and the city has been very supportive as well," he said. "Everybody's on board and I think that's why it's been so successful."