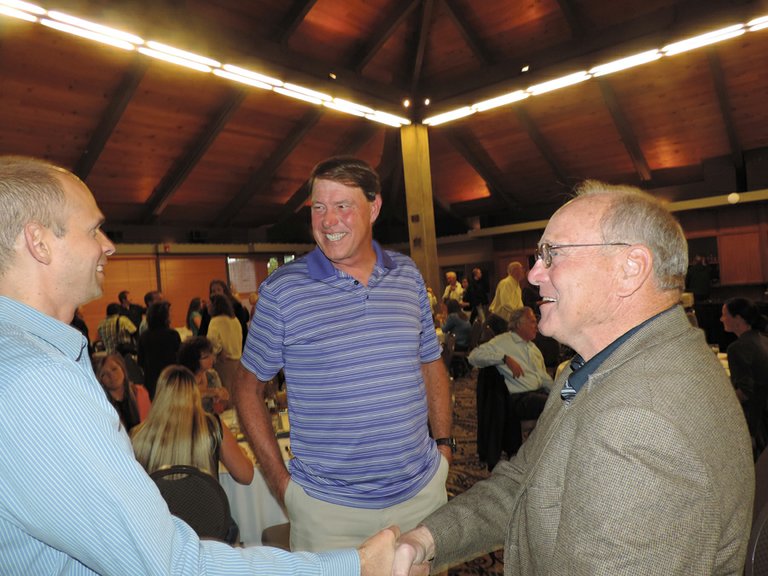 Saturday, September 28, 2013
The Hood River Valley High School Athletic Hall of Fame banquet was a night of laughter and tears, and likely some of the most touching 10 minutes of video ever delivered by a basketball coach.
Coaches, parents, community members, and even the pep band received praise from inductees for their roles in athletic successes celebrated on the night.
As inductee Jon Copper put it, "It is amazing what this community has done for its athletes.
"I'm a competitor because of you guys," the 1979 all-state skier told the coaches.
About 175 people attended the event, at Best Western Hood River Inn. The Hall of Fame weekend included an introduction at halftime of Friday's football game and a golf tournament that raised funds for HRVHS sports programs.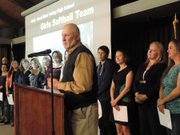 Four teams and five individuals were inducted into the Hood River Valley High School Hall of Fame (HOF), now in its sixth year.
Todde Greenough accepted the 2013 HOF award for his 1986 boys basketball teammates.
Their coach, Lyle Harpe, gave an emotional testimonial via prerecorded video (details below).
Athletic Director Keith Bassham introduced master of ceremonies Mark Bailey, who in 26 years as a KIHR broadcaster has gained many insights into the teams and athletes, which he often shared with the audience.
These included his observation that Crystal Draper (Class of 1992, four-year all-state pitcher) was "the funniest athlete I have ever worked with."
Draper was among the original inductees but had been unable to attend in 2007. This year she was also honored with her 1996 girls softball teammates, coached by Phil Hukari, who won the 4A state championship.
Softball player Kimberly Goe said, "This is amazing. It was such an incredible year and it's great to get that recognition and see everyone. It's good to reconnect and relive those moments. There's nothing like it. This is pretty special."
Also inducted in the 2013 class were:
n Roger Baker, Wy'east High School Class of 1964, basketball at Wy'east and Linfield College, and U.S. Olympian in team handball;
n Christy Paul, 2002, cross country and track;
n 1992 state cross country team, coached by Kristen Uhler;
n Emily Routson, 1992, ski team and all-state softball.
n
"It's very exciting, I grew up here, my family all did, and I was born in Hood River Hospital," said Baker, who retired to Hood River after living in Portland.
"I grew up watching athleticism, the older guys playing, always dreaming I'd be the older guy doing that," Baker said, including his sister, Jackie Lunsford, now of Woodburn.
"It feels good to come full circle," Baker said.
Baker had some advice for the other athletes in the audience.
"If you get a chance, keep those bonds going. As you get older it's worth it to keep those bonds and friendships going."
Copper won state combined slalom in 1994, and served as co-coach with Cary Mallon, from 1992-2002, teams that won several state championships.
"This is awesome; I want to thank you guys for the recognition. This is very important to me," Copper said. "The thing I enjoyed the most, and the most impactful thing I had was the coaches instilled a sense of helping the other athletes, the up-and-coming athletes, and that's what I chose to do in my profession.
"I coach because of the passion the coaches gave to me. I want to thank you guys for that, for the coaches who are still here coaching and giving back to the athletes who are coming forward."
Christy Paul said "Running for Hood River Valley had such an impact, not just then but ever since then, so it's great to kind of relive it and realize how much it has inspired and motivated me. It impacted me in a huge way.
"Nothing I ever did was as stressful or scary as stepping up the (starting) line for a race, because when I stepped up for a race I always was representing my whole community and I couldn't let them down. I was wanting to do my best but also to represent Hood River," said Paul, who went to be a cross country standout at Cornell University. She went on to earn a master's degree from Stanford University, and now lives in Boston.
"Nothing since then, no tests I took in college or interviews I've had, felt the same as stepping up the line in high school, even races in college."
n
The 1992 cross country coach, Kristen Uhler, returned from coaching her current HRVHS team at a meet in Eugene to speak on the HOF event.
Present were Rhonda Harder, Kerry Perkins, Carrie Olson, Heather Laurance and state fifth-place finisher Rayna Brainard.
"We're still such good friends," Uhler said. "It's such a special thing, been so great to coach at Hood River Valley High School. We're so supported there, all the coaches are; it's been that way for 30 years. The whole community.
Runner Kerry Perkins told the audience, "I'd like to thank Kristen Uhler. She was such an inspiration for our team. She led us to believe in ourselves.
"She would tell us we were running workouts that world-class athletes were running and how fast our competition was running and tell us that we were faster. She believed that we could win; therefore we knew that we could win.
"What our team experienced is the epitome of what it means to have a goal and work really hard and finally reach that goal."
n
In introducing the 1986 softball team, Bailey recalled the clutch hit by Kimberly Goe in the state championship qualifying win over North Eugene at the Eagles' home field, now known as The Field at Belmont. Goe hit the ball into the outfield for the RBI, and Bailey jumped up and stepped on his headset cord, sending it into a spectator's lap, but Bailey looked up and saw the house beyond left field "and the guy on the porch was watching this and he starts dancing. That was that way people felt about that team."
Present were assistant coaches Cary Mallon and Jim Donnelly, Jacqeline Hanson, Kerry Sherrell, Mandy Burrah, Crystal Draper, Heather Mason, Kim Goe, Tiffany Bryant, Kelly Hukari, Hallie Donnelly, Sara Duckwall, Kerry Sheppard and Rayna Chandler.
Coach Phil Hukari said, "Crystal and the team had this enthusiasm and spirit that was so unique. Even though we'd score one or two runs to win a game, it seems like it was always a different person who got us there.
n
Basketball coach Lyle Harpe could not attend the banquet due to family obligations, but he sent a video in which he thanked his wife, Sally, for her dedication and patience.
"This was a bunch of great guys and the thing that made them special was they were good citizens, good kids who liked each other and were competitive," Harpe said of the 1984 team. Present were Chris Walker, Erick von Lubken, Mike Mills, Mike Lloyd, Ron Kurahara, Jon Kurahara, Todde Greenough and assistant coach Phil Hukari
"They liked to play basketball and they had the goal as freshmen that they would like to win league and go on to state; they kept talking about it year after year. As time progressed they just kept getting better. None of them were exceptional ballplayers, but they were all good ballplayers, and they were team-oriented, and that was their biggest strength.
"They were the best group of kids I had in 30-something years of coaching. It was pretty special. They set out to do what they did as freshmen and maybe they didn't accomplish all of their goals, but they did most of it and had a fun time doing it.
"We had a good time, the season was a good season; great fans, you packed the gym every night. We had great fans, a great student body that was with us all."
He credited his assistant coaches, Glenn Elliott, Phil Hukari and Jeff Davis.
"I'd be remiss if I didn't mention the cheerleaders and Dorris Greenough and her rubber chicken halftime performances before the game. We had the best pep band in the state, with (director) Ken Masters.
Harpe had to pause for nearly 20 seconds, to compose himself. The audience was silent.
"There will always be a soft spot in my heart for these guys," Harpe then said. "... I love you guys. You know you're right up there. Good luck to you in the future, and I'll never forget you."
Greenough said, "When Harpe talked about our fans, that was the best part of the season. We were a production, a road show, to the screaming Eagles, the band, there were things that changed in the league because of the things we did pregame.
"It was a ton of fun and incredible to be here and look back on that run. It's a special place in my heart to be part of that Hall of Fame."