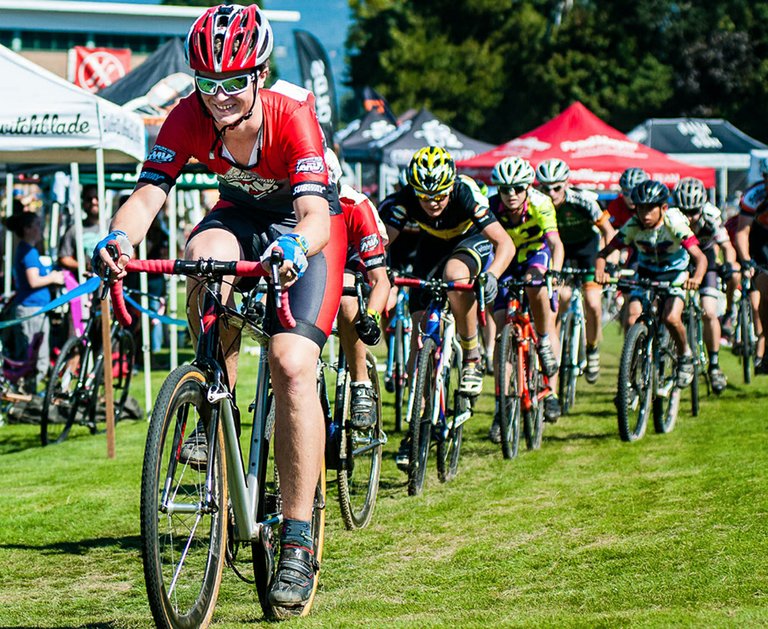 Saturday, September 28, 2013
For many, fall is about leaves changing colors, school starting again and cooler temperatures. For a select group of cyclists, the change in season signifies something entirely different : mud, sweat, spandex and the start of cyclocross season.
Cyclocross is a high-intensity bike race that combines the technical aspects of mountain biking with the physical conditioning of road racing on a cross country-style course that include barriers to get past such as low hurdles or even stairs. At certain parts of the course the rider will dismount from the bike and carry it over or up these obstacles. After making the full circuit, the rider continues through the course as many times as possible in the allotted amount of time.
Hood River Valley High School recently played host to the two-day Hood River Double Cross, which drew several hundred riders to town for one of the first events of the northwest cyclocross season. Local riders were out in full force for the race, with some finishing near the top of their categories. Among the masses at the event was a sizeable team from Hood River, racing under the local bike shop Mountain View Cycles.

Local cross racer and Mountain View Cycles/Subway team rider Lora Melkonian believes that many people have the impression bike races are incredibly serious and intimidating.
"Cyclocross is different," she says. "The season is in the fall/winter so the weather is often rainy and conditions can be very muddy. How often does an adult have a chance to go play in the mud? At cyclocross races, it seems like most people are there to have fun and revel in the camaraderie and, of course, race hard if they have trained hard."
Mountain View Cycles owner Wes Swearingen has been a big supporter of local cyclocross racers. He says "It's hard to be a small town bike shop and offer something for everyone." By focusing on the local cycle-cross team, he's able to support and supply riders in one of the more exciting and inclusive realms of biking competition.
Cyclocross racing isn't like road racing, where slower riders can get dropped from the race. Instead, riders are all on the same loop course competing the entire race, whether you are leading or getting lapped. This adds to the "We're-in-this-together" attitude that racers tend to portray.

"Cyclocross is a great sport because it is just for fun," Swearingen said. "It's the most participatory type of bike racing that exists right now. Some people go in with the goal of not being last, some have the goal of just finishing the race, and others are actually trying to win the race.
"We've had as many as 40 people on our team at one point; so far this year we have about 15."
Swearingen believes this season's lower numbers are due largely to the costs associated with purchasing a cross-specific bike. People regularly compete on mountain bikes (some even race on unicycles), but there is a big difference between racing a big, heavy mountain bike versus a sleek and lightweight cross bike.

Swearingen witnessed this difference first-hand when his wife, Julie, and her friend entered the same race.

"One of Julie's friends showed up and raced on her mountain bike," he explained. "The two are very equal in terms of fitness and ability, but Julie was able to lap her by riding a cross bike. Racing just isn't the same on a mountain bike."
Of this year's 15 team members, four are from the same family: the Melkonians. Lora, her husband Dan and their two sons, Micah and Davis, all race together.
Lora says her family is "drawn to cyclocross for many reasons. It is a fun and festive atmosphere at all of the races. There is something for everyone and all are welcome no matter your ability, age or what kind of condition you are in. It is the kind of atmosphere where you have people cheering for you, shouting encouragement and ringing cowbells for you; it isn't like any other type of sport I have been involved in."

"You never do a lap on the course without hearing somebody yelling 'go faster,'" Micah said. "Everybody there is super enthusiastic about biker racing and loves seeing juniors out there."
Members of the Mountain View/Subway team enjoy a few perks of being sponsored riders, from sandwiches at races to discounts at the Hood River bike shop.
"The bike shop gives you a high priority in bike repairs, a discount on purchases and a feeling of belonging to a fun group of people," Lora said. "Wes and Julie have a lot of experience with cyclocross having raced themselves, so they are great about giving us the support we need. The racers are always cheering for one another at the races, helping with strategy and giving a lot of encouragement to all members of the team."

Lora says she enjoys being on the team because it brings an element of unity to the sport. "Cyclocross is an individual sport, in that you are racing in your own category, but we accumulate team points," she said. "We are actually the No. 1 team in the Grand Prix Eric Tonkin Series as of the Zaandercross Race. We have a relatively small team, but most people are scoring points, so we are doing very well. It's great to be a part of it."

The Mountain View Cycles/Subway team will be racing the two biggest cross series in the area: the Grand Prix Eric Tonkin and Cross Crusades, which has is one of the largest cyclocross series country. The team will race across the Northwest, including in Hillsboro, Portland, Troutdale, Washougal, Rainier and Bend, making the team busy nearly every Saturday and Sunday from now through the end of November.
With such a full fall schedule, Micah's approach to racing season is simply to "have fun, have a positive attitude toward bike racing and not have a bad race get me down."
"Cyclocross is one of the hardest things that you'll ever do that is still really fun, or, depending how you look at it, one of the most fun things you'll do that's really hard," says Wes.