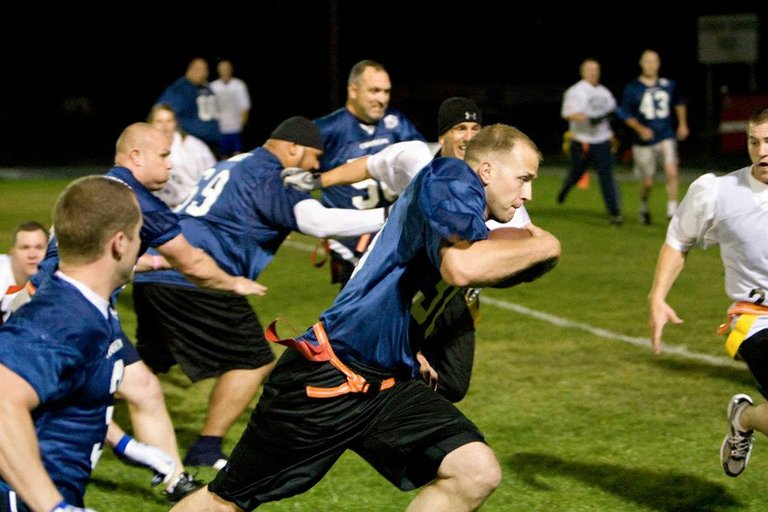 Saturday, September 28, 2013
If watching the region's law enforcement officers test their conditioning and coordination against one another on the gridiron wasn't enough, one of two recipients for this year's Pig Bowl flag football fundraiser is a 19-year-old Hood River Valley High School graduate.
Donovan Doroski has been battling Hodgkin's lymphoma for the past two years and will be spending the next four months in Seattle for a bone marrow transplant.
The Pig Bowl will be this Saturday evening, 7 p.m. at Wahtonka Field in The Dalles. For the first time in its 11 years as a fundraising event, two recipients were chosen; Doroski from Hood River and the Kadee Herrington family of three from Goldendale, who lost Tom (husband and father) Herrington this spring in a snowmobiling accident.

The event raises money in a few ways. At the game, ticket and food sales go to the cause and audience members can donate by paying to make pig noises into the microphone and, rumor has it, by paying-off referees. Additionally, in the friendly competition between Oregon and Washington officers, donors can buy points for their preferred team ahead of time through the events website (pigbowl.net/donate-here.php).
The Pig Bowl started in 2003, when Officer Michael Holloran, a senior trooper with the Oregon State Police, wanted to raise money for a friend in need of a bone marrow transplant. Someone suggested reviving the football games law enforcement used to have in the 1980s, and the Pig Bowl was born.
The games were initially between police and employees at his friend's work, Les Schwab, and the game was billed as cops vs. Schwabbers.
When the Pig Bowl decided to donate its annual proceeds to the family of a slain Washington law enforcement officer in 2007, the game shifted to a Washington vs. Oregon law enforcement lineup.
Nobody told the Washington officers that the idea was to fundraise by having people buy points during the game. Instead, they solicited a bunch of points before they even took the field "and they beat us really bad," Holloran said. The idea caught on, and now, most of the fundraising is done before the game, he said.
That first fundraiser generated $3,000 for his friend, who is doing well today. Now, the event raises more than $20,000 per year, a number that really increased once the Pig Bowl became a nonprofit three years ago and donations became tax-deductible.
This year's recipients were picked from 10 applicants by the Pig Bowl board; proceeds will be split evenly between the two.
"This has certainly grown into a pretty amazing thing," Holloran said. "God has really blessed us. We give him all the glory because we certainly couldn't have done it without his help."
Donovan's story
(The following is from the Pig Bowl's website at www.pigbowl.net.)
My name is Donovan Doroski and I am a 19-year-old graduate of Hood River Valley High School with the intentions to pursue an education in law enforcement and criminal justice.
Back in November 2011, I was diagnosed with stage 4 Hodgkin's lymphoma. It was such a shock, we didn't know what the disease was when the ER doctor gave us his diagnosis. Right away, the oncologist at Providence Hood River Memorial Hospital prescribed 12 chemotherapy treatments. It was tough dealing with all the side effects, but my faith, girlfriend, family and my community encouraged me to be strong and to keep going. In June 2012, I was in remission and it was an amazing feeling until I relapsed that September. After two 72-hour rounds of intense chemotherapy, I received an autologous stem cell transplant at the Providence Cancer Center where I spent roughly 30 days. My mom and dad stayed with me in my room and would take turns going back home to be with my little sister. It was a very hard time for us all and the transplant was a long process; I lost my hair, had sores in my mouth and felt very sick most days, but all I could think about was getting home for Christmas! It helped counting down the days and I was finally released one week before Christmas. A lot of precautions came with being at home: no sick visitors and I had to keep my pets out of my room. One day after another, I regained my strength and my hair started to grow back. I couldn't wait to go back outside and drive my car, go out with my friends, go back to church; just get back to normal life.
In June 2013, I was due for a PET scan to follow up the treatment. A few days later my mom got the devastating news that the lymphoma was back near my lungs and abdomen … I stood there looking at her as the tears on her and my own face were rolling down. I couldn't believe that this was happening to me again. I went for a drive and didn't know if I should share this news with my girlfriend as she was doing her college finals and I didn't want to ruin it for her. I shared the news with her parents and they told me that they support any decision I would make but would prefer if I told her myself. It was the good choice for me to make as Hannah is my rock and she gives me strength and she has been by my side with unconditional love.
The oncologist offered to start me right away on a new chemotherapy that was approved in 2011 and is known to be a targeting chemotherapy. I receive treatments in the Infusion center at Providence Hood River Memorial Hospital where my mom and my older sister work. This chemo doesn't make me as sick as the traditional chemo. I still have a port in my chest and that is what they use to administer the chemo, which is a big help to my veins. I receive treatments every three weeks. The plan this time is to have an allogeneic transplant (bone marrow) with a donor. The oncologist referred me to Seattle Cancer Care Center Alliance in Washington where they have the best doctors and do the most research on this kind of cancer. My family has been tested for a match and my sister, Coralie, is the half match for me. She works in the ER at Providence Hood River Memorial but also has a second job at Tucker Road Animal Hospital. She is married with two little ones and this gift that she is giving me is a big sacrifice as she will need to miss work and be away from home for approx 11 days. I am forever grateful to my sister for what she is doing for me; there are no words to describe how I feel. I stopped working and decided to enjoy the few weeks I have left before my life changes and I sure enjoy every minute every day. I try not to take anything for granted. I find peace and comfort spending time outdoors so I'm outside from sunrise to sunset.
The transplant process will include more chemo, one day of radiation and then the transplant. I will be hospitalized for about one week, and close to four months as outpatient. Because I will need to check in daily, we need to find lodging that is close to the Seattle Cancer Care Alliance. The housing that is affiliated with the SCCA is very expensive. The Pete Gross house charges $2,085 a month plus $110 monthly parking fee and a $300 move-in fee but offers free shuttle during the day to the hospital. I am not eligible for the Ronald McDonald house as I am not a pediatric patient. My parents will be my caregivers because I will need 24-hour care. They will miss work and have expired their vacation time, so any time they will take off from work will be most likely unpaid.
I know that they worry about medical bills, home bills, gas money to drive to Seattle, the cost of the lodging and more. We do not know yet how we will manage it, but my parents reassure me that it will all work out.
I thank you all for reading my story, and for all the support and care that you are giving me! I have a lot to do yet and lots to see. I will not give up, my life has only just begun.