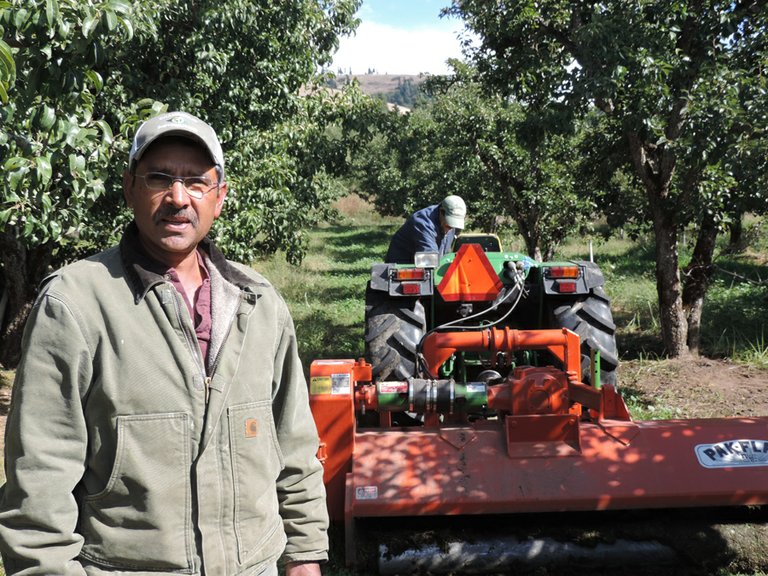 Saturday, September 28, 2013
Alfredo Elisea took a break from work Thursday afternoon to run up and down with a bunch of 14-year-olds.
The orchard foreman and referee was that age when he came to the United States in 1974 from Michoacan, Mexico.
"I enjoy that. I get paid to run," he said of refereeing high school soccer games. This multi-talented man is also a chef who with his family serves spicy fajitas at the county fair, among other catering events they do primarily for fun and "because people like the flavors, I guess."
He stands in the yard of Thomsen Orchards, on Eastside Road in Pine Grove, talking about his Hood River roots.
"My dad was the one who brought us here. The first year he came here was 1969," Alfredo said. "He used to come and do the harvest, the pruning and picking, and go back to Mexico but pretty soon he got tired and said, 'I better bring my family.' Chuck Thomsen's dad, Bob, helped my dad settle in Hood River." Alfredo affectionately calls his boss "Senator Chuck"; the orchardist is also a state legislator.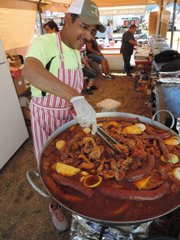 "I was pretty young, and I started working pruning and picking, and thinning, and after awhile I started learning to do all those jobs," he said, and it was that hard work that has helped him work effectively as foreman for the past 17 years at Thomsen Orchards.
He lives with his wife, Maria, a half mile from the main house, up Eastside Road. His parents, Ramiro and Teresa, live a half mile the other direction. Ramiro preceded Alfredo as foreman.
When he is not working or refereeing, you might see Alfredo cooking, such as under the family tent at the county fair, where the Eliseas' spicy fajitas are a popular meal choice.
"We cook for the fair, or for catering, but it's not a business. We cook and people like it, I don't know, for the flavor. We do it just for fun.
"I started cooking when I was probably like 15 years old, I saw my mom cooking in the kitchen and for some reason, you know some kids don't even pay attention, but I went and asked my Mom questions, 'Why do you do this?' and 'How do you cook this?' and I just learned from her, I think."
Alfredo and Maria have three children, all Hood River Valley High School graduates: Christina Araceli, who owns Emma's Boutique in The Dalles, and sons Nestor and Cesar. Alfredo never attended school in the United States, but takes pride in his success.
"I'm proud of myself because I learned a lot of stuff I didn't think in Mexico I could learn because our government is so different. I got married here, I raised my kids, and they all went to school," he said.
"The government (in Mexico) won't give us the jobs that we need, so that's why my dad brought us over here, because when we moved here, my dad told us, 'This is a different country and we came here to do our lives better, but we need to work.' I still remember that."
Alfredo and his crews finished harvesting Anjous, Bartletts and Boscs, two weeks ago on Thomsen's 170 acres.
"It was a pretty good harvest, a little lighter than normal," Alfredo said. "I think the weather, in pollination, had a lot of rain; but it was an average crop, not bad."
As foreman, "I take care of all the orchard, like the pruning, thinning, picking, watering and spraying. It's a year-round job. A manager works with people, showing them how to thin and prune, supervising everything. I know a little bit of work inside, not much mechanics, but if a machine breaks down I can weld it, I can fix it.
"I enjoy everything on the job. I'm not only doing one job," Alfredo said. "My job is to do different jobs and go and show people what to do, so I enjoy doing several things in a day. I can do 15 different jobs in a day. Here, I do this, and pretty soon you see me do other stuff and try to get different things ready for the winter. Every day is different on the farm."
Alfredo likes that he grew into his job, so he has the knowledge of what to do and the ability to do the main job of the foreman — to teach others.
Take the critical and time-consuming job of thinning, often done in cold weather: "It all depends on the person. Some people learn like in less than a week, a day or two, but the thing is, to thin the pears is not difficult," he said.
"The hard thing is you need to know how to set a ladder. It's not only thinning the pears out, it's if you don't know how to set a ladder, what happens? It's going to be an accident. So the main thing is you look that the person knows the job, for safety. We don't want anyone to get hurt. When I hire the person I gotta make sure they know the job.
"Everybody is different and you gotta look at everyone and how they do their job, because everyone is different," Alfredo said. "It's hard when you have 60-80 people and everybody thinks different and in order to keep everyone happy what I have to do is explain what I want on the job, and the right way, not yelling or screaming, because everyone makes mistakes and it's not the way you say to the person, 'Hey, what are you doing?' Things happen, but you gotta say it in a helpful way. I think part of my job of being a foreman is I think because I did the job, because I learned how to do the job."
And now, in soccer season, Alfredo's mind is on the soccer pitch and on the pear branches.
"We try to start all over again," he said. "We need to clean the orchard, put the props back in the trees, we need to mow. We've already sprayed. We try to get everything ready for next season, like some places we do lime this year. Two years ago we did some of the blocks so now we try to prepare different blocks," referring to the distinct sections of the Thomsen ranch. They bear names such as Millers' Place, The 15, and Ramiro's Place, named for the land around the home where Ramiro and Teresa live.
It's a piece of land Alfredo speaks of with pride, an attraction to photographers because of his mother's extensive flower gardens and their north valley backdrop. Traveling in Wyoming a few years ago he went to a store to buy a postcard to send home, and found, to his great surprise, a postcard of his mother's garden.