Saturday, September 28, 2013
As I carried a box of cookies into Journalism class for our end of the year party, which was themed "The Dundies," my teacher Dave Case asked if I would take a walk with him so we could discuss ideas for the upcoming school year. On the walk, he asked me if I would be willing to be the new content editor for the Talon, since the other editor, Alia Burck, would be graduating. I quickly accepted the offer and forecasted to take the class as a junior, assuming my future schedule would allow it.
Summer was almost over, and I was still ecstatic about being a part of the Talon's editing team at HRVHS. That excitement ended shortly after I got my schedule. Unfortunately, two of the science classes I wanted to take were only offered during the exact time journalism was offered. My only thought was to still be a part of writing the Talon, just on my own time.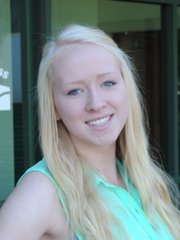 Thinking I would gain much more journalism experience as an intern at the Hood River News, Case suggested I call to find out if there was an opening.
Journalism class taught me so much about stylistic writing, formatting and interviewing, but it has also improved my writing in general. It was one of the most fun classes I have taken in high school, probably because of the great group of students that are involved, including my sister, Sam Graham, who encouraged me to take the class in the first place. There was never a dull moment, and I would recommend anyone interested in writing or photography to join.

Getting an internship at Hood River News made me very enthusiastic about writing. Because I am involved in cheerleading, tennis and dance, my interest has mainly been on the sports section of the paper. I plan on using the writing skills I gain for medical research and journalism, since my main career focus is science. However, I would like to pursue journalism as a life-long hobby.