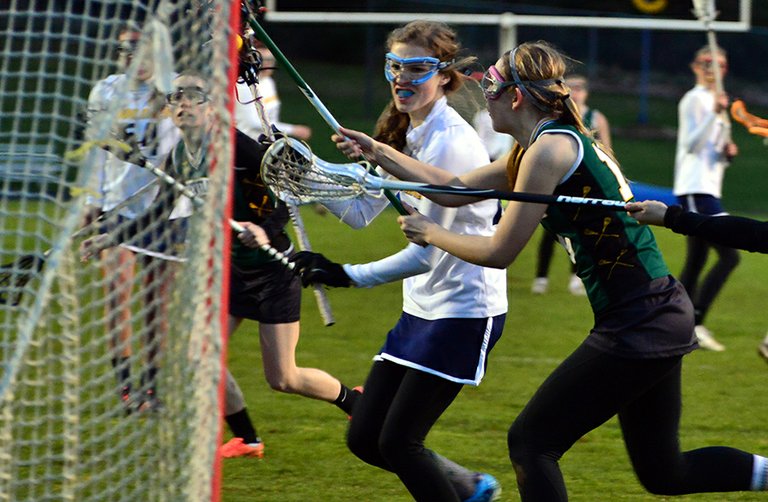 A flurry of second-half goals by Isabelle Cullen stamped out any chances Cleveland had at a comeback Tuesday evening in the Hood River Valley High School varsity girls lacrosse team's season opener. Cullen scored six on the night to lead the girls in the 15-9 home win.
"The ladies played well for the first game of the season," coach Andrew McElderry said. "Once we build a little more confidence, it's going to be really fun to see what they can accomplish."
The team competes in the Portland League of the Oregon Girls Lacrosse Association, along with Wilson, Grant, OES, Lincoln and Central Catholic. Last season the Eagles finished in a tie for third with an 8-6-0 record — a result they're hoping to improve on with the experience of its returning players and the promising talent of its younger players who developed skills at the JV level and in Hood River's relatively new youth programs.
"It's obvious we have some great young talent in the pipeline," McElderry said.
Lydia McElderry scored three goals, Erin Mayer and Delia Dolan scored two each and Maddie Belknap and Ellen Hudon had one in the win, while the team's defensive effort was anchored by seniors Emmy McPherson and Sophie Finstad and goalie Zoe Shepard, who tallied 14 saves.

"The ladies are just beginning to gel as a team; everyone is looking up to the next pass," coach McElderry said. "I could make solid comments on everyone on the squad, which is a great position for a coach to be in. If there was a game ball to be awarded, it would go to Zoe Shepard. She has spent the last nine months working hard at improving her skills, and it showed."
After a late start to the competitive season, the Eagles play twice a week for the next six weeks to complete their 14-game regular season. They hosted Grant on Friday (7 p.m., results unavailable as of press time) and host Wilson April 8 before a four-game road stretch.