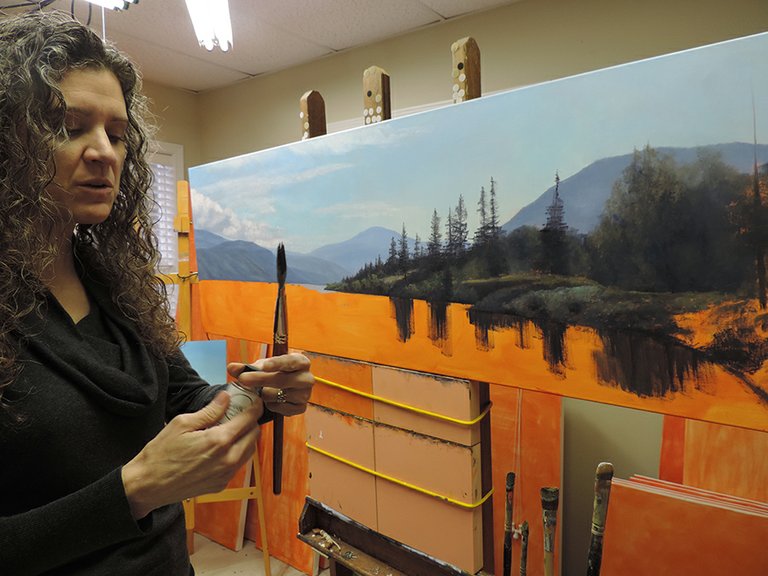 'Collective Voices' at CCA
Seventh- and eighth-graders from Hood River, Wy'east and Henkel middle schools produced works that ask the show's title question, "What Do You See When You Look At Me?"
"Who have I been, who am I now, and who will I become?" they asked, through their art, under the guidance of three mentors and through interactions with each other.
In the youths' six-week "Collective Voices" experience, there was a good deal of thinking inside the box — a reflective art form known as Cornell boxes using colors, images and objects and some deep looking-in at aspects of themselves.
In Friday's opening at Columbia Center for the Arts the students presented personal narratives through monologues, masks that reveal rather than conceal, and the art of their Cornell boxes. Their works will remain in display at CCA through April 27. The mask, box, and monologue are grouped together for a kind of triptych expression by each student.
Essley in 'The Nook'At CCA
Janet Essley of White Salmon presents multi-media works this month in The Nook gallery at Columbia Center for the Arts. This exhibit emphasizes environmental and social justice themes.
The Nook is a semi-enclosed area of Columbia Art Gallery just off the reception desk area, and features a new artist every month. Essley, a frequent artist-in-residence, has worked in a variety of media over the years, and is also known for a number of student murals around Hood River.
'Best of the Gorge' artist call issued
The deadline is May 29 for the "Best of the Gorge" art exhibit opening June 6 at Columbia Center for the Arts. It is a revival of the "Hail Columbia" exhibit done in years past. Prizes for first through third and honorable mention are $500, $300, $200, and $50.
All media – 2D and 3D – are invited, and it is open to artists of the mid-Columbia — those who live in the region at least three months annually; for details on geographic eligibility and other details on how to enter, go to columbiaarts.org.
Open Studios Tour April 11-13
The Gorge Artists Open Studios Tour April 11, 12, 13 is your opportunity to meet artists in their studios, to ask artists about their inspiration and process, to see artists at work.
On the tour are 40 artists working in many different media including painting, drawing, jewelry, glass, sculpture, fiber, mixed media and much more.
This year's artists are located all over the scenic Columbia River Gorge; from Hood River to The Dalles and Parkdale to Trout Lake.
The tour is free and open to everyone. It is self-guided with detailed maps available of the whole route and some communities will also have local maps with extra events and info for their area. Artists will have work available for purchase.
All participating artists have been juried in. They represent the highest quality of work available in the region and a broad spectrum of media, styles and subject matter, ranging from oil and watercolor to jewelry and furniture.
Physical copies of the map can be found at participating studios and Hood River, Bingen and The Dalles chambers of commerce, Columbia Center for the Arts, The Dalles Art Center, Nichols Art Glass in The Dalles Everybody's Brewing in White Salmon and Destino Art Studio in Trout Lake.
Gorge Artists Inc. is a not-for-profit corporation. It launched with sponsorship from The Dalles Art Center, a grant from the Wasco County PUD, and the work of volunteer organizers and founders. It was founded by John Maher, Pat Bozanich and Marian Dyche in 2006 and was recognized by the IRS with 501 (c)(3) status in 2008.
The mission of Gorge Artists is to advance art and encourage artists in the Columbia River Gorge by building community among artists and the public, promoting art and business education, and providing opportunities for the public to experience and enjoy art.
City-wide gallery: 'Big Art' opens June 6
About 100 people attended Saturday's "Big Art" kickoff at Springhouse Cellar.
This June, a walking gallery of large art will be installed at 15-18 locations around downtown Hood River and the waterfront area. Hood River artists CJ Rench, Karen Watson, Mark Nilsson and Cathleen Rehfield have formed the organization Art of Community to encourage large public art in Hood River. Kristen Godkin of Hood River serves as administrator for AOC, which has gained 15 sponsorships for the sites. The first gallery of large art will remain in place for a year.
AOC has issued a national call for entries, which will be juried in May and installed by Rench and metal artist Whit Poor between June 2-6 in time for First Friday.
To submit an entry, go to: art-of-community.com
Sponsorships cover the cost of creating a pedestal, of secure installation, insurance, and the cost of removal. Three more sites are currently unfunded, but if sponsors come through it will bring the total to 18, more than double the number AOC originally envisioned.
"I do large-scale sculptures across the nation, and I see wonderful art works in other towns, and I come to my hometown and I don't see any art," Rench said. "So this is a program that's going nationally, because as a sculptor the only way to share your work with an audience is to show it somewhere else. AOC's mission is to help anyone in Hood River who wants to do public art of any form. Our first project is Big Art, an outdoor tour."
"As you travel around everyone says, Hood River is such a great artistic community, and we have lots of great artists here but we don't show it publicly, and that's what this whole project is about. This is the first, this is our kickoff, with more to come, and man, if this is anything like what's to come it's been fantastic.