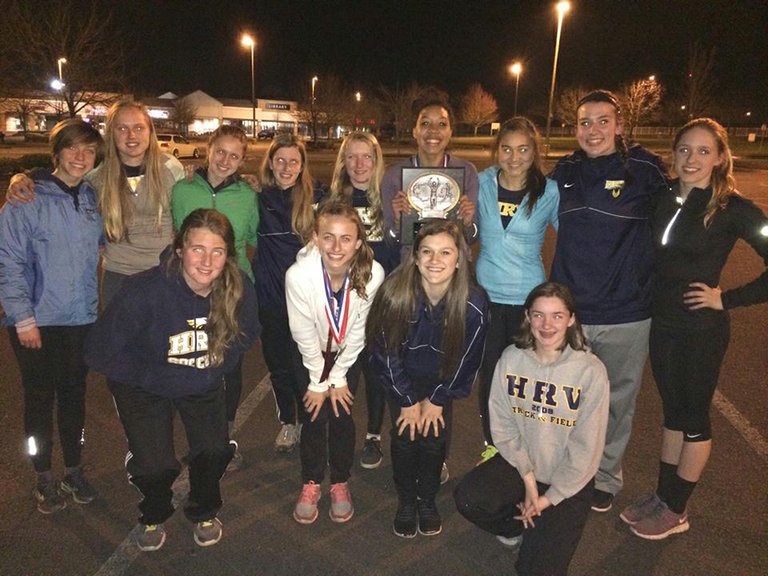 Last week, Hood River Valley track and field coach Donnie Herneisen referred to Friday's East County Classic meet at Mt. Hood Community College in Gresham as HRV's "first official test" of the season.
Track Stats
Boys top five finishers
100 meters
Wyatt Webber, 5th
400 meters
Parker Irusta, 3rd
1500 meters
Justin Crosswhite, 3rd
3000 meters
Ricardo Castillo, 4th
110m hurdles
Parker Kennedy, 3rd
Shot put
Sebastian Barajas, 4th
Pole vault
Parker Kennedy, 2nd;
Patrick Compton, 3rd
Long jump
Parker Irusta, 3rd
Girls top five finishers
100 meters
Jestena Mattson, 1st (12.6)
200 meters
Jestena Mattson, 1st (25.96); Emily Viuhkola, 4th
400 meters
Anna Schlosser, 1st (61.16); Kassidy Davidson, 2nd
1500 meters
Lauren Robinson, 1st (5:07.69)
3000 meters
Sascha Bockius, 1st (10:48.33)
4x100 relay
Kassidy Davidson, Emily Viuhkola, Zoe Peterson, Jestena Mattson, 1st (50.79)
4x400 relay
Emily Viuhkola, Jesten Mattson, Anna Schlosser, Kassidy Davidson, 1st (4:11.76)
Pole vault
Zoe Peterson, 2nd;
Kimberlee Boquist, 8th
If it was indeed a test, then HRV passed it with flying colors.
HRV girls team took first in the meet with a score of 100.5 points, edging out Clackamas by just a single point. The boys team scored 67 points and finished fifth out of a field of 12, buoyed by what Herneisen called, "many solid individual performances."
Herneisen believed this was the first time in history that the girls had ever taken first at the East County Classic as he stated that "none of the coaching staff could remember a team finish higher than fifth place before." He noted there were many athletes who won their events, but categorized the win as team effort.
"We had many first-place finishers, but this meet was won by the many girls finishing in fourth through eighth place," Herneisen said. We had many girls finishing with [personal records] and placing really well. It would be really unfair for me to single out one, two, or even three girls for recognition — as we really had girls scoring all over the place."
However, one of the highlights of the meet Herneisen did mention was the girls 4x400 relay event, which HRV won despite its seeding in the slower heat. The HRV team, — comprised of Emily Viuhkola, Jestena Mattson, Anna Schlosser and Kassidy Davidson — blew the doors off their competition, completing the event in 4:11.76, which was nearly four seconds faster than the next closest team, Reynolds. Herneisen added that "maybe the most exciting performance" was that of Kimberlee Boquist, whose eighth-place finish in the pole vault gave HRV half a point and "secured our margin of victory."
"Otherwise, we'd be talking about our team's second-place finish," he noted.
For the boys team, Herneisen said Parker Kennedy and Patrick Crompton finished second and third, respectively, in pole vault, with vaults of 13-6 and 13 flat. He added that though those were the highest finishes for any HRV boy that meet, "we had many guys establishing solid marks and multiple athletes finishing in third place in many different events."
Next up: HRV travels to Centennial High School in Gresham this Wednesday for a double-dual against Centennial and Reynolds at 3:30 p.m.