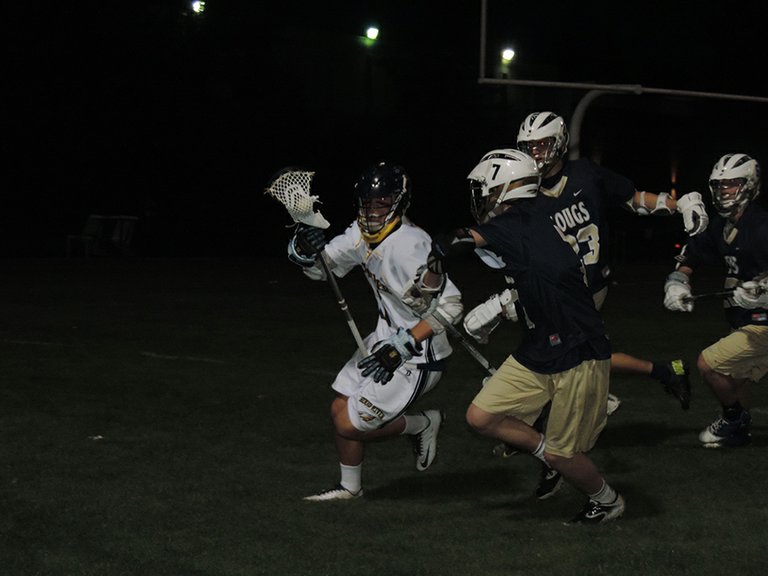 Short quick passes led to a series of close, quick goals in the second half as the HRVHS boys lacrosse team defeated Canby 10-8 Wednesday in a physical, closely contested game at Henderson Field.
Seniors Taylor Cramer and James Tickner both scored twice while freshman Henry Barton had a break-out game with four goals and two assists.
The team improved to 3-2 on the season, leading up to games Friday at Rex Putnam (too late for press time) and Monday at home against Newberg. The team also hosts Valley Catholic on April 17; all games are at 7 p.m.
Another key stat on Wednesday was keeper Dallen Olmstead's 10 saves, five in each half, four of the late saves happening on point-blank shots including two fast, short skip attempts that Olmstead deflected.
"Overall, we played well, pulled together much more as a team," coach Jon Munk said. He credited what he called "a freshman boost," as Barton, Eliot Cramer and Bruce Ostler had large roles in the win. Ostler added a goal but his biggest contributions were taking away most face-offs, including two that involved immediate assists for goals, and winning numerous ground balls —"an underrated statistic," Munk said.
Sophomore Kiel Sorensen also won a number of face-offs, as the Eagles repeatedly emerged from mid-field owning the ball, and then keeping it by using improved off-ball movement. The team controlled the tempo in the second half, even after Canby retook the lead 7-6 in the third.
Ticker missed on an open opportunity in the third, and in the ensuing timeout told his teammates, "I should have had that one. It's on me."
Munk told him, "Don't worry; you've got it, all night."
Hood River got down 3-1 early, but led 5-4 at the half, and their seventh and eighth goals came 14 seconds apart. The second half was a prolonged display of teamwork, right down to reserve goalie Pierce McAlpine giving up his mouth guard late in the fourth when Olmstead lost his. Canby tied it once more, but Barton and Tickner's late goals sealed it, and the Eagles successfully held ball and mounted a sustained attack that ate the clock for most of the final three minutes.
"We showed great teamwork in the second half; they came together much better. I liked our off-ball movement, moving with a purpose," Munk said.
In the coming weeks, the team will continue to focus on fundamentals, and install new sets both offensively and defensively. "We're going to work on applying pressure; it's what wins you possessions and opportunities to score," Munk said.