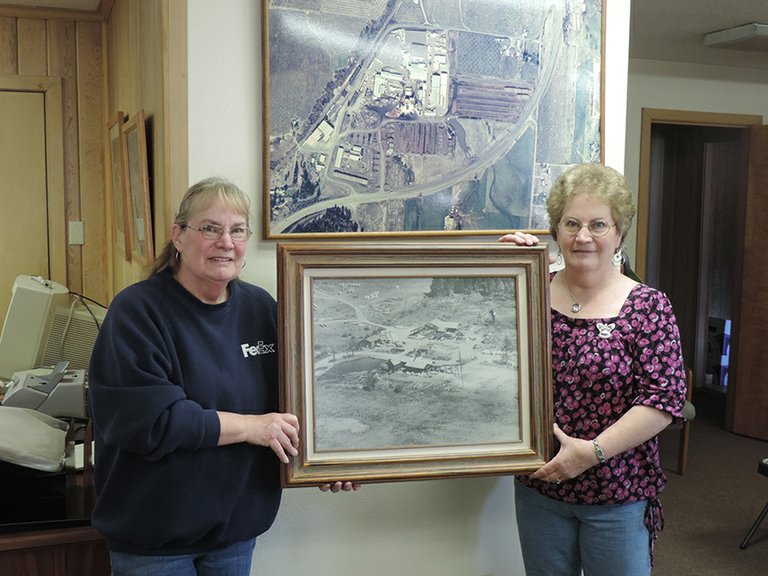 The Hanel sisters believe you can't truck away a legacy.
Objects large and small, from tool boxes to graders used to build logging roads, are on sale this weekend on the old Hanel mill site on Lower Neal Creek Mill Road in Odell.
Hanel Development Group, the last corporate vestige of Sterling Hanel's legacy, shut down in November, and the sale conducted by Auction Sales Co of The Dalles starts at 10 a.m. both days.
(The April 9 article on the auction gave the correct dates, but incorrect days of the auction, which are Friday, April 11, and Saturday, April 12.)
In the Hanel administration building, the desk and office of Bob Hanel were still just as he left it before his untimely death in 2013.
Family belongings, files, commemorative plaques, computers and all manner of office furniture are still being packed up by sisters Jean Hanel and Janet Hutchinson.
In the window of Hanel Development Group in Odell is a sun-faded plaque reading, "U.S. Forest Service take prize in America Awards, 1990, 'for your tremendous support in construction of Lost Creek barrier-free recreation site and Little John Snow Park.'"
"The shop's closed, we're selling the equipment, and hopefully the property within a year. It depends on who and what," Jean said.
"We hate to close it but we live in La Grande and we want to retire someday and nobody in the family has been into this enough to take it over, and Jean and her husband (Carl) also want to retire," Janet said.
"Someday soon, hopefully," Jean said.
"We have grandkids all over the country, and we're all getting up there."
Asked how they want the Hanel Lumber legacy to be remembered, Jean said, "Our Dad. Our parents. Wonderful people."
"A loving family. Poppy and Mommy were awesome, and Mom still is," Janet said. Kathleen, 94, lives at Hawks Ridge Assisted Living Community in Hood River. "She is just so upbeat and caring about people, and both Mom and Dad were that way," Janet said.
"I'm not ready to just throw it away. A lot of history," Janet said. "We'll rent a storage shed first."
The Auction Sales event will be the first time the The Dalles-based company has used an interactive online bidding process, according to co-owner Jana Webb.
Preview days were Wednesday and Thursday, with plenty of lookers, including longstanding friends and clients of Hanel Lumber and Hanel Development, which specialized in road building and land- clearing projects.
"I remember bringing logs to the upper mill site in 1969," Prineville's Chuck Woodward said. "I have good memories of Sterling and the mill." Woodward was fresh out of college in 1969 when he logged the old Mill Creek fire south of The Dalles and brought the logs to Hanel.
"We took logs other places, but I always preferred Sterling's place," he said.
Sterling Hanel started Hanel Lumber Company in 1943 and built the upper mill site in 1952, expanding its planing, cutting and kilning operations in 1953 and 1957. In 1983 he purchased the 65-acre Champion mill at Neal Creek, four miles north of the "upper" mill. This gave the company increased planing, dry kiln and lumber storage.
Sterling retired in 1993, at the 50th anniversary of the company, and his son Bob became president. Most of the lower mill site has been sold off over the years. The family said several buyers have expressed interest in the property.
One item not for sale, and not just because its whereabouts are unknown, is a parking sign that hung outside the company office for years after he died. Jean said she hopes to find the sign but was uncertain of its whereabouts.
The cedar sign reads "Parking Reserved for Sterling Hanel."