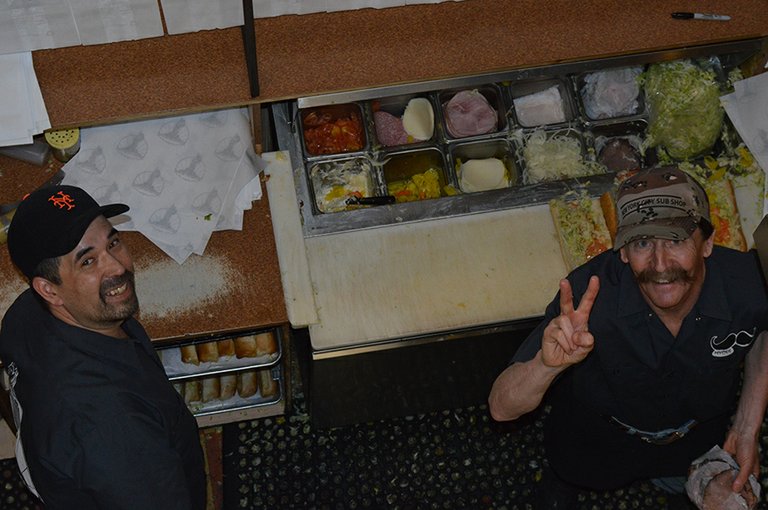 In April 1989, Andrew Deenik rolled into Hood River for his first time in Oregon from Jackson Hole, Wyo. He came to open what has now become one of Hood River's signature lunch spots.
New York City Sub Shop opened its doors to its customers 25 years ago this April on Wasco Street, with a simple philosophy: "Good Food Fast."

"We have seen many families grow up on our food," said Chris Emerson, the shop's manager for the last 10 years. "We are proud of our product and have developed a core of supporters that grows with each sandwich we serve."
Always true to its simple beginnings, 25 years has not changed the shop much. "When something works, it works and there is no sense in messing with success," said Emerson.
An homage to its history and roots, the shop is adorned with hand-painted art depicting not just the NYC Sub Shop's culture but Hood River's. The stairwell is lined with 25 years' worth of well wishes and pictures from customers and fans across the country.

On Wednesday, NYC Sub Shop rolled back its prices, offering half-price subs to its loyal customers in celebration of 25 years in Hood River. Lines were out the door and the shop sold out by 2:30 p.m., selling a total of 750 subs.
The 25th anniversary marks a bittersweet transition at NYC Sub Shop, though, as Emerson, longtime employee and baker at the shop, recently purchased the Hood River location from Deenik and co-owner Bruce Tlougan, with his wife, Kelly.
"We are so grateful to be able to continue the legacy and family tradition that New York City Subs has brought to Hood River. The Sub Shop has been a part of our lives and our family's life for the last decade and we are committed to its continued growth and success," said Kelly Emerson.
Though the owners have changed, customers can expect the exact same experience and food they've enjoyed for years at the shop. Deenik said he and Tlougan are proud to sell their business to the Emersons and thanked employees Jennie Mansfield, David White and Kelly Stockard for doing "an amazing job."
"To honor the tradition of in-house ownership, we feel that Chris is an excellent choice to continue the 25-year tradition in Hood River," Deenik said.
New York City Sub Shop is located at 1020 B Wasco St. near the Waucoma Building. It is open seven days a week at 10 a.m. and its menu is available online at newyorkcitysubshop.com.