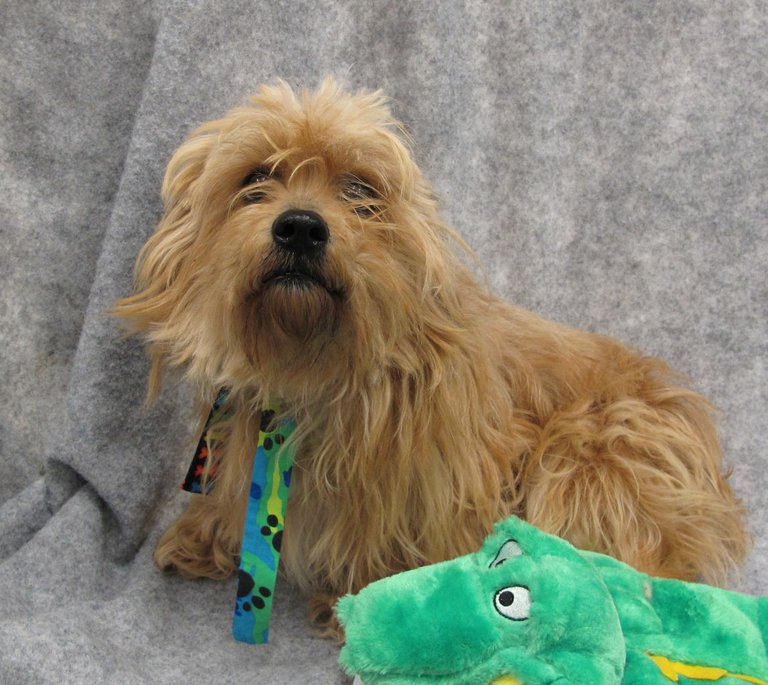 This week volunteers at Adopt A Dog have selected Calypso as the program's adoptable pet of the week. They describe him as follows:
"Calypso is about 2 years old, 15 pounds, and some kind of hairy terrier mix, is our best guess. He and a buddy were dropped off at the shelter a few weeks ago and were in pretty bad shape — underweight and scared, and Calypso had some matted hair.
"But a nice bath and trim up from Colleen at Dirty Paws Grooming and he started looking and feeling better in no time. He was able to keep most of his long, beautiful locks and his new family will need to keep his hair brushed and trimmed, too!
"Calypso is a happy, calm fella. He's great on walks, loves other dogs, but mostly loves cuddling. He can be playful and romp about, or be a great look-out on a cruise about town in the car — or just relax in the grass and soak up some sunshine.
"And, there's just not enough loving and cuddling in the world, if you ask him! Calypso fits perfectly in all laps, which is a good thing because it's where he is usually found!"
He's current on shots, microchipped and neutered. His adoption fee is $185. The fee to adopt is charged to recoup standard veterinary expenses.
Since many of AAD's dogs are in foster care, please call ahead to meet Calypso at the Hukari Animal Shelter, 3910 Heron Drive, Odell; 541-354-1083. Adoption hours are Wednesdays from 5-7 p.m. and Saturdays from 9-11 a.m. Applications may be downloaded at hoodriveradoptadog.org and faxed to 877-833-7166.