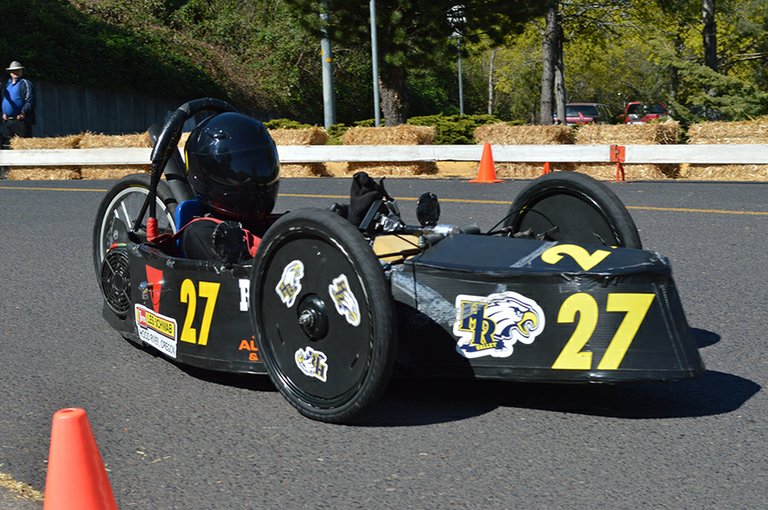 Wednesday, April 16, 2014
Adam McCaw of Hood River positioned himself for regional electric car dominance with his win Saturday in the 13th annual race in downtown Hood River.
E-car advisor Jeff Blackman said "the race on Saturday was one of the best, and the weather was great."
Cloud Cap's car won the adult division; a total of 36 student and nine adult cars all competed in one one-hour heat starting at 11 a.m. McCaw finished with 28 laps, while the Cloud Cap team completed 32, in the course that spun around the Full Sail complex on Columbia, Fifth, Industrial, Third, Fourth, and Cascade streets.
The regional race series, led by McCaw, continues this weekend in Eugene at Lane County Community college. The series consists of seven races with the final race at Portland International Raceway.
McCaw's older brother, Nathan (HRVHS 2010) won the event in 2008.
The Hood River Electric Car team has 30 students racing seven cars that the students designed and built this year. The race was sponsored by Rosauers School Aid Program and the team's sponsors include E&L Auto Parts, NAPA Auto Parts, Les Schwab Tires, and Print It/Sign Media.
"A special thanks to Boy Scout Troop 282 for traffic control. The HRVHS race team also thanks everyone that makes this race happen year after year," Blackman said.
"Everyone commented on what a great time it was and how well it was run," he said.
"Thanks to everyone that helped host the 13th HRVHS electric car race."