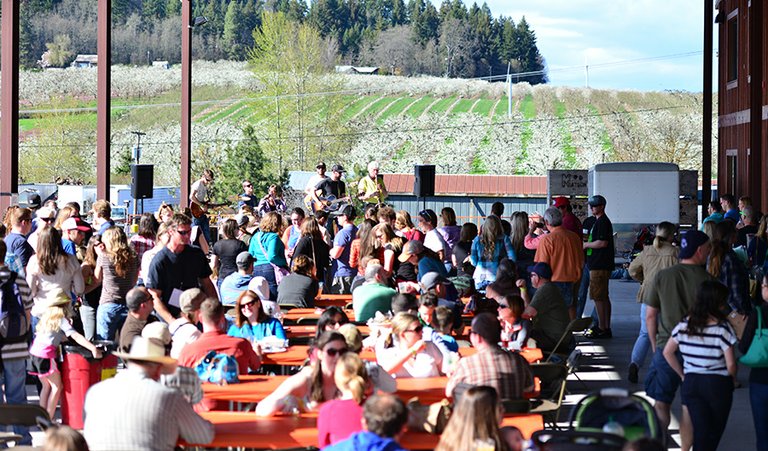 Wednesday, April 16, 2014
Gauging the success of a first-ever event can be "a bit of a crapshoot," says Mike Glover, executive director of the Hood River County Chamber of Commerce. Will people show up? Will the weather cooperate? Will people enjoy themselves?
In the case of this weekend's first-ever (and soon to be annual) Hard-Pressed Cider Fest, though, the chamber couldn't have asked for a better debut.
Well over 1,000 people came to the Mt. Defiance Cold Storage Unit on Stadelman Drive in Odell last Saturday to sample some of the 40 or so hard ciders offered by the 12 cideries present at the festival, as well as enjoy food from a handful of local vendors and some live music. In addition to the cider, guests drank in the sunny skies, warm weather, and the brilliant whites and pinks of the valley's flowering orchards that were popping just in time for Blossom Fest, which also kicked off last weekend.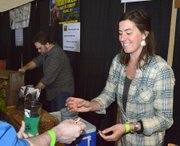 Glover said the cider fest was so popular that attendees quickly "blew through" the 900 tasting glasses the chamber had ordered for the event, as well as 200 plastic mugs left over from last year's Hops Fest that were used as backup tasting vessels for the cider fest.
The event started at noon, but by 3:30 p.m., it had sold out, reported Glover.
"For a first-year event, I was surprised by the level of interest from the community," he noted.
"It was a huge success," Glover added. "It exceeded our expectations."
The festival served as a way to showcase the Gorge's budding cider industry, as well as cideries from Portland and the I-5 corridor. The adult beverage has enjoyed a recent resurgence amongst American palates as imbibers look for alternatives to beer and wine or seek out cider due to its gluten-free properties.
The festival was friendly to cider neophytes, and vendors were more than willing to take the time to explain the nuances of cider making to their guests.
Mike Held, who came from The Dalles to enjoy the event, said he was a "novice, at best" cider drinker, but decided to check out the festival, in part, due to the drink's rising prominence.
"There are a lot of new ciders popping up and it's kind of the new fad, so I figured I'd try it out," he said.
There was certainly a lot for him to choose from. Cider, like beer, wine or liquor, comes in many varieties and not all are made from apples. Pears, berries, and other fruits are popular alternatives. Hops, while normally associated with beer, can also be used in ciders — a few of which made an appearance at the festival.
One such cider received top honors at a judging held during the festival where three cider experts — Glover didn't have details as to what their exact credentials were — tasted all the ciders to decide which would take home the Best in Show award.
The winner was Hop Stalk, a dry-hopped, rhubarb cider produced by 2 Towns Ciderhouse of Corvallis, whose rhubarb sweetness and hop bitterness produced a very balanced cider. Jake Bennett, a "cider wrangler" for 2 Towns who was pouring at the event, said it was his first trip ever to Hood River.
"I've never been to Hood River, but it sounded like a cool event," he said of the cider fest. "Going to first-annual events are pretty cool, because you get to be here right at the beginning of things."
While 2 Towns took home Best in Show, the crowd favorite was one from newcomer Rack and Cloth, a Mosier cidery whose entrance into the cider fest was its first-ever public event. Rack and Cloth won the People's Choice for Stony Pig, a dry cider that had a taste slightly reminiscent of a farmhouse-style ale.
Kristina Nance, who operates the cidery with her boyfriend, Silas Bleakley, was thrilled with the festival and the venue.
"I think it's fantastic. It's super well-organized," she said, adding that it was "great to showcase our new ciders along with some more established cideries."
Nance said Rack and Cloth, which is named for the process in which apples are pressed into cider, plans to open a tasting room at the former site of 10 Speed East in downtown Mosier. The site will also feature draft beers, seasonal farm-to-table food, and retail sales of produce and eggs from the couple's farm, Mosier Valley Organics, and is expected to open June 1.
Glover said the chamber is already planning to hold the cider fest again next year and is considering adding more cideries, establishing a remote parking site and a shuttle, as well as using more of the space available in the cold storage unit.
"There's room to grow there," he noted.