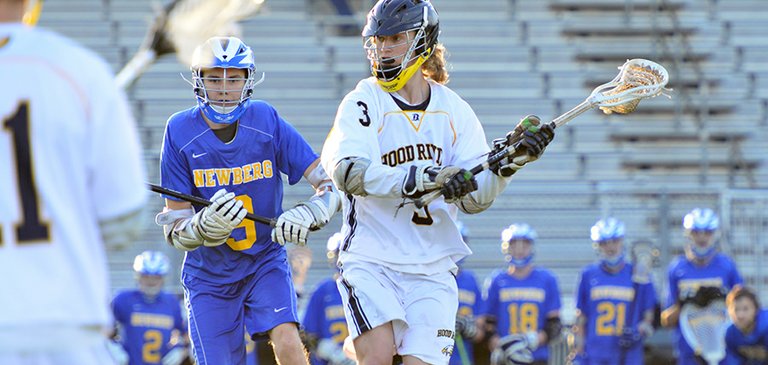 Wednesday, April 16, 2014
With just three seconds remaining in the final quarter and a six-goal lead, the Hood River Valley varsity boys lacrosse team had already sealed the home win Monday night against Newberg. But the Eagles had time for one more play — a long pass from midfield to freshman attack Henry Barton, who caught the ball, took a quick step to shake a nearby defender and flung a behind-the-back shot that beat the buzzer to the back of the net.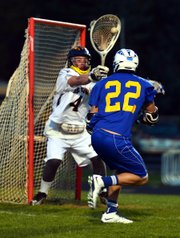 The 15-8 final didn't come without a fight, though. The less-experienced Newberg lineup gave HRV trouble throughout, and although they trailed the entire game, Newberg had a fourth-quarter rally that brought them to within one goal in the final 10 minutes.
Fueled by huge offensive performances from sophomore Torsenn Brown, who was on fire with seven goals, and senior Taylor Cramer, who had three goals and several assists, the win was HRV's fifth straight, and in all five the team has scored 10 or more goals (averaging 13.6 per game), showing they have the firepower to compete with the state's best. Along with Brown and Cramer, Barton scored twice, James Tickner had two and Marcus Crouch had one in Monday's outing.
Defensively, the Eagles used a tenacious backfield attack and excellent stick-checking to keep Newberg's possession game to a minimum. The aggressive approach has paid off in the last few weeks, but will need fine tuning as it was the root of numerous HRV penalties, several of which resulted in Newberg goals.
The last line of defense, goalie Dallen Olmstead, had several key saves at the net, including a couple stops in the final quarter that helped minimize the damage of Newberg's last-ditch comeback attempt.
The win brings HRV to 5-2 with two games remaining before the start of its Columbia Conference schedule next week. Conference action looks to be exciting this season, as Central Catholic is currently (as of April 15) 5-1 and Oregon Episcopal School and Wilson are both 4-0). Later this week the team hosts Valley Catholic (Thursday, 7 p.m. at HRVHS) and Summit (Saturday, 2 p.m. at HRVHS) before going on the road to open its league schedule at OES April 22.