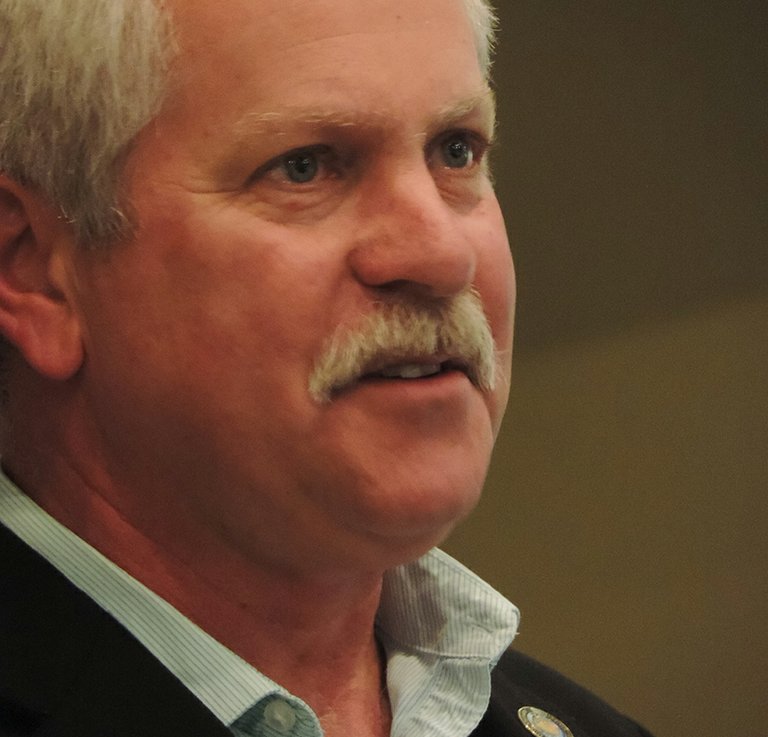 Mark Johnson called his Thursday talk to Hood River Rotary "the good, bad and the ugly."
In invoking an old Western movie, the Oregon House Representative from District 20 called for a showdown on public school funding, and said it will be the major focus of his coming year as legislator, in his talk at Best Western Hood River Inn.
Johnson, a Hood River contractor who also serves on the Hood River County School District Board, gave the first of two legislators' reports to Rotary; State Sen. Chuck Thomsen, also of Hood River, will speak next week.
"As a school board guy, and a guy who has had a part in education policy reworking in the last two sessions, I really think we've got a framework in place to truly set the state to move forward and allow us to get the kind of academic outcomes we've been looking for, and we need to have," Johnson said.
"We have good people and structures in place, and now it is time to get serious about making some targeted investments. I think there is no better and more needful thing for us to do than guarantee that every third-grader who comes out of the third grade can read in this state," Johnson said. "If we can do that, we have cracked the nut, if you will.
"There is no better investment we can make to see that happen, because if that third-grader reads, then you don't need to have the expensive interventions you have to later on. It's huge.
"We can't just accomplish this by taking money out the door and saying, 'Here, you make something happen.' It's got to be tied to outcomes; it's got to be tied to data; got to be tied to best practices. But if we have a sustainable, say, three-biennium investment, we're talking a couple of hundred million dollars per biennium — we're talking some big numbers here — we can get this done, and we have to. We really have to. We can't afford to wait any longer, because other states are just beating the pants off us in academic achievement, and it's time for Oregon to really get serious about that."
Legislative efforts in support of work force and job development programs represented "a few of the things we did in the 'good' category" in the fall and February legislative sessions," Johnson said.
"We need to train up a work force, a skilled work force to build the bridges and building that Oregon needs, and in recent years we lost sight of that, so we passed bills to make sure we are providing for that, particularly around apprenticeship programs," he said.
He pointed to the 40-40-20 Oregon education goal: 40 percent of Oregon high school grads advancing to four-year degrees, 40 percent moving to two-year post-high school degrees, and the remaining 20 percent completing their high school diplomas.
"We focused on the middle 40, some kind of career technical certification as pathways to legitimate careers," Johnson said. "Being a journeyman plumber is a great career and I think we lost sight of that, so we're making some reinvestments that I think are needed."
Another positive from the legislature was the agreement to guarantee $200 million toward Nike owner Phil Knight's $500 million matching grant to expand the Oregon Health and Science University cancer research facility.
"OHSU asked us for the first $200 million not in actual dollars, but to guarantee the project, so OHSU can design the project, and get bids. This is a unique opportunity," Johnson said. "If we have an endowment large enough and we bring in the brightest minds, they're going to be able to focus on doing some things in an unprecedented way"; rather than research staff spending 30-40 percent of their time finding grants, "they can focus 24/7 on making a difference."
On Cover Oregon, Johnson said Thursday in response to an audience question that the state should jettison the current state insurance exchange and switch to the federal government one for the enrollment of Oregonians in health insurance. He said the state has expended $200 million on Cover Oregon "but you still can't navigate your way on your own," and added that "ample warnings were given to the governor and the executive branch that what you're trying to accomplish is way too expensive."
"There is existing software that can make this work. Look what happens on Black Friday; somehow there's a lot of people who at the same time go shopping and the system doesn't crash, and it works," Johnson said.
"We need to make Oregon jump onto the federal exchange. We can do that. I am personally advocating for it," Johnson said. "I don't want to see any more state money wasted on it.
"Oregon needs to be fiscally sustaining by the end of this year. It needs to bring in revenue, and act as a quasi-public-private agency. They need to be sustainable and I don't know how they're going to do that."
Johnson sounded a fiscal alarm on the state general fund as well.
"One of my concerns is we are overspending," Johnson said. "Our general fund reserves are at .7 percent of reserves (seven-tenths) and having a reserve of less than one percent is probably not good. So we are hoping the economy continues to perk up because if it does not we won't have a lot of reserves to work with and we don't like to go back and tell schools 'we need some of that money back.'"
In regards to the "ugly" in Salem in recent months, Johnson said, "There are two areas of this, and the first part is lack of transparency.
"The budget process we went through was probably the most covert process I've witnessed thus far in the legislature, in that the budget document and the budget rebalance was brought out of hiding the next to last day of the (February) session," he said.
"The Ways and Means (leaders) presented the 75-page document that they needed to approve exactly one hour before the committee meeting. You're talking about hundreds of millions of dollars in spending;" He said there were "good things in it," but far too little time for the legislators to review the entire proposal.
"If we want to have transparency and do the taxpayers' job in a way that instills confidence in the legislature, that is not the way to do that."
He said the 2010 ballot measure that led to annual sessions stated that it was intended to "protect taxpayer dollars by enhancing transparency and efficiency from government.'
"Didn't see it, so that was unfortunate," Johnson said.
"Also, what we saw and hadn't seen before was election year politics and posturing but these (sessions) were not designed to be political events, they were designed to be targeted and specific in the type of policies we're considering, but it was very tiresome to see the majority party use February as their time to try to get their major supporters as many policy victories as they possibly could.
"And sometimes it didn't matter if they were successful in bringing their bill to the floor for a vote; just bringing an issue up in committee for a hearing was enough." (Johnson framed his comment saying "this is a member of the minority party speaking, so you can take it with a grain of salt.")