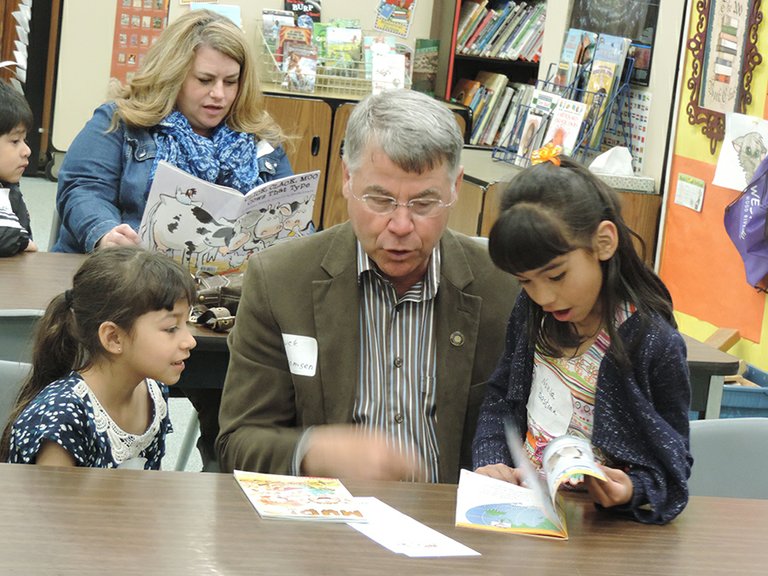 Wednesday, April 23, 2014
The Start Making A Reader Today "Reading Matters" tour visited Westside Elementary School on April 18.
Principal Bill Newton welcomed Sen. Chuck Thomsen, Rep. Mark Johnson and other citizens, and other community members who got a direct experience of what the SMART reading is all about, by spending a half hour reading with youngsters who are involved in the program.

In all five Hood River County elementary schools, adult volunteers read each week with youngsters in grades K-3. SMART is an independent nonprofit that relies on private donations for nearly all its funding.
Newton read testimonials from teachers about the positive influence SMART has on children, and SMART Executive Director Chris Otis gave an overview of SMART, which operates at counties around the state.
Also attending were donor Mary Jane Heppe and Walmart's Stephanie Serak and Eric Smith. Walmart was primary sponsor of the SMART event Tongue Twister Tournament in February, which raised $4,000 for the program.
Westside SMART coordinators Sally Pearson and Teresa Burrows, both volunteers, were present, along with SMART development manager Denise Harrison and SMART area coordinator Paula Seid, who works directly with each school coordinator in Hood River and schools in four other northeast Oregon counties.
Over the past 20 years, SMART has served more than 161,000 children in Oregon with the help of 108,000 volunteers, and has provided over 2 million books for children to take home and keep. Research shows that children who do not learn to read by third grade are more likely to struggle with reading as adults.