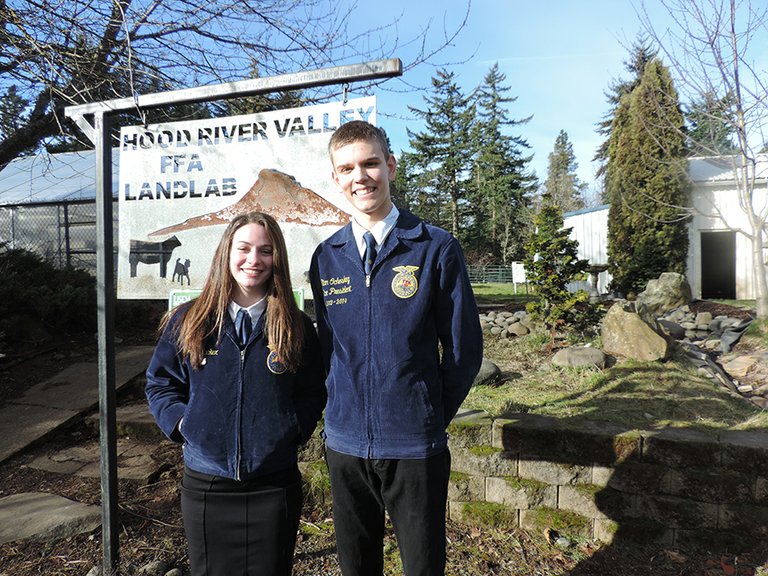 Wednesday, April 23, 2014
The FFA chapter at Hood River Valley High School is an active bunch, as you will learn Saturday if you attend the fifth-annual Steak Feed and Silent Auction, 6 p.m. at HRVHS.
The busiest of the local FFA chapter members are Stan Ocheskey and Jenny Packer, who serve as president and vice president of the Mt. Hood District FFA, in addition to raising animals and tending to fruit trees among other jobs at their homes, and helping manage the FFA's extensive greenhouse and livestock operation, known as the Land Lab.
It's the first time any school in the district has had two of its members serve in the two top board jobs in the same year, according to advisor Don Schmidt.
"It's an awesome opportunity," said Packer, who raises livestock and manages her own 10-row peach orchard on the family's Odell farm.
"It will lead to some great leadership experiences," said Ocheskey, who raises pigs, sheep and goats.
Ocheskey and Packer and their peers will be on hand Saturday for the fundraiser benefitting the FFA chapter events and activities. It starts at 6 p.m. in the HRVHS cafeteria. Tickets are $10, and can be purchased at the door or from advisor Nita Bozarth, 541-386-4500, ext. 4562.
The students lead the officer team for the Mt. Hood District, which also comprises chapters in Colton, Canby, Sandy, North Clackamas and Molalla. Their main duties are planning leadership events and competitions, where students engage in demonstrations and public speaking pertaining to what they have learned about agriculture, business management, and community involvement.
Packer and Ocheskey will also help organize career development experiences — CDEs — for Mt. Hood District members, involving public speaking, ag sales, demonstrations and job interviews.
"Our biggest thing is District Leadership Camp, cooperating with Lower Willamette and Willamette district," Ocheskey said. "We'll be planning camp, organizing everything." It puts them into close contact with student advisors from the other communities.
"That's the really cool thing about it; it's not just within our town, it's within our whole district, and we get to know so many other people," Packer said.
Getting to the district board was an involved, and somewhat unpredictable, process. Both submitted applications stating their activities and accomplishments at home, school, and county fair, and wrote essays about their goals as district leaders. They explained their FFA Supervised Agricultural Experiences (SSE), which is what chapter members do to build toward state FFA degrees, which is an FFA degree above chapter and below American:
"SSE is anything you do for farm, or as a project to make money," Ocheskey explained.
Next, an interview committee reviewed the applicants and then presented a slate of officers, subject to change. Ocheskey was slated vice president and Packer treasurer, but to their surprise, they were moved up to president and vice president ballots on the election slate, and delegates voted based on candidates' FFA record and on their speeches.
"It was pretty cool; pretty exciting," Packer said.
"Our district is really heavy in leadership and very competitive in state; most of district competitors make top in state, so it's pretty impressive they got elected president and vice president against some pretty impressive kids," Schmidt said.