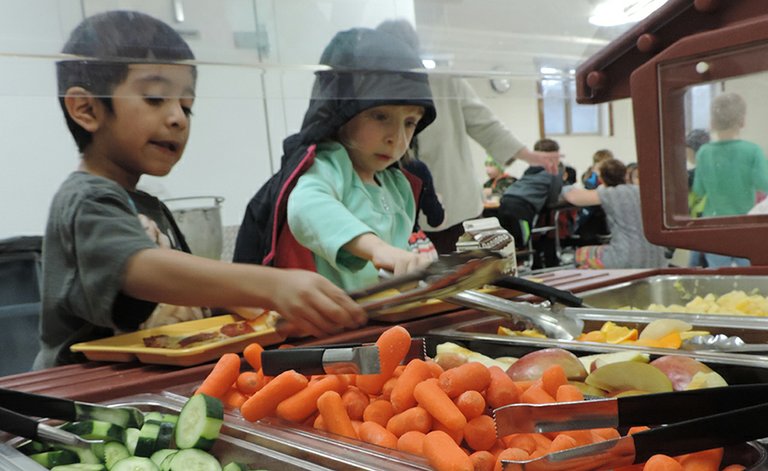 Wednesday, April 30, 2014
You could say the classrooms move each weekday to the warm, aromatic basement of Parkdale Elementary School, starting at about 11 a.m.
Photo Gallery
Nutrition Within Reach: Mealtime in the Schools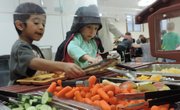 In school cafeterias, it's food for thought
Kitchen staff are there to help with the learning.
"Food for thought," said kitchen manager Lisa Viera, in her sixth year cooking meals in the local schools.
Kids who partake of district lunch can choose from a couple of entrees, and Parkdale has a unique system of taking orders each morning. Students clip a clothespin with their name on it on placards with pictures of a sandwich or pizza, and the teachers let Viera and assistant Vanessa Cervantes know ahead of time, and bring the placards to the line.
What's cooking in Hood River County Schools?
Plenty of fresh fruits and vegetables, for starters.
We decided to find out more at one of the 12 district sites where meals are served on a regular basis.
Parkdale Elementary, like other elementary buildings, provides not just lunch but also breakfast, and a light dinner for children enrolled in after school programs.
With this Kaleidoscope, Parkdale kitchen manager Lisa Viera and other staff members showed us a typical day and told of some of the joys and challenges of meeting the nutritional needs of students.
Choices are one thing, but students are required to take items from three of five food groups: dairy, grain, proteins, fruits and vegetables.
"They can take five if they want," Viera said. But there are adults to monitor that, to avoid waste.
"If they get nutrition they can learn," teacher Jill Spaulding said. "Children don't always get all their meals. This allows their brains to be active. We wouldn't be able to teach if the kids weren't fed."
All students have to take a serving of fruit or vegetable. Viera, teachers and cafeteria and instructional aides are there to guide students through the process and make sure they're taking what they need, and eating it.
"On certain days I know they're going to change, like on pizza day," Viera said. "On pizza day I always have extra. They don't always stick to what they're supposed to," she noted.
"My goal is to make sure every child has food, and can learn, because we need food for thought — and making sure it's quality and it's safe," said Viera, who graduated from Hood River Valley High School in 1985 and has been cooking at home or for work ever since. Her days usually start by 6:30 a.m., and end at about 2 p.m.
Breakfast choices include strawberry pancakes, French toast, breakfast pizza, sausage sandwiches, cereal, granola bars, cheese and yogurt, and fruit.
"We have a lot of choices," Viera said.
"A lot of parents would like to see more whole foods, which we're trying to do — such as spaghetti, and scratch foods. We don't have time for it, and kids don't like it. They want what they want," she said
"We try to do a combination: pizza is all whole grain and low-fat cheese; and we use all whole grains in our breads. By next year we have to be completely whole grain and I'm pretty much there already," she said
"They do pretty good," she said of the students. "Most of them are pretty good eaters. Some are finickier than others." A change she saw this year is that peanut butter alone is a more popular sandwich choice than peanut butter and jelly.
She serves breakfast for 15 or so students, lunch for 210 or so, and dinner to 60-70.
"It's a fast-paced environment, and the day just flies. I get here, and it's over," Viera said. "I love the kids. I laugh every day. They're just so honest. Every day something makes me smile or just cracks me up. I get them a little treat and their eyes light up."
Cervantes' first stop each day is to pick up salad bar components at Mid Valley Elementary, which receives a USDA grant for serving fruits and vegetables, and Parkdale receives part of it.
District meal program facts
Hood River County School District serves 1,000 breakfasts per day and 2,300 lunches at its various schools.
The district free and reduced meal rate is 56 percent; at Parkdale Elementary it is 72 percent.
The district's summer meals program returns weekdays June 30-July 22 at Mid Valley Elementary cafeteria, 3686 Davis Drive, Odell.
There is no fee or registration; just show up and eat. The service is made possible by a grant from the United States Department of Agriculture.
Anyone 18 or under eats free; cost for adults is $.75. For details call 541-387-5011.
Breakfast will be served from 7:15 to 8 a.m.; lunch will be from 10:55 a.m. to noon.
Viera said food waste is a problem, and the staff works to prevent it as much as possible.
"For some of the kids, the three items are a lot, and they just can't finish it," she said. Packaged foods that are left unopened on trays are sometimes retrieved and wiped off rather than being discarded.
"I try to teach them to take only what they're going to eat, but sometimes it's just too much for them, the vegetables and milk and a huge hamburger," Viera said.
"We were composting, but the compost bin is full, so now we have a chicken bucket and a horse bucket, and we're trying to teach the kids to compost using them," Viera said. The buckets are clearly labeled and students are learning that while "chickens eat everything," the horse bucket should get only vegetables and fruit.
Viera bakes 400 muffins a week, saying, "the kids love them," but many of them also end up in the garbage.
Meals are a learning process in a variety of ways.
At one point, a sandwich is ruined when a kindergarten's inexperienced hands fumble the opening of a milk carton. Viera helps the student with a new carton.
"Next time don't open your milk that big, okay?" she advises.