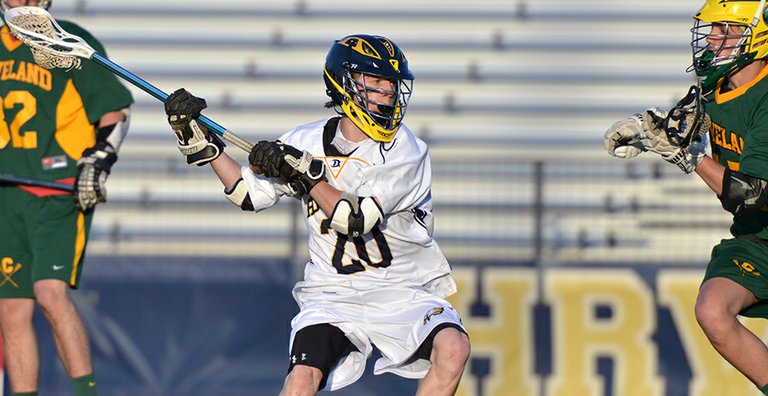 Wednesday, April 30, 2014
Freshman midfielder Bruce Ostler played with the poise and prowess of a senior Friday evening in the Hood River Valley Eagles' 14-8 home win over the Cleveland Warriors. Ostler's four goals, one assist and five ground ball grabs earned him the ceremonial game ball at the end of the evening.
"Bruce really stepped up and had a fantastic game," coach Jon Munk said. "It wasn't really a break-out game though, because he has been consistently good all year."
Along with Ostler, senior midfielder Taylor Cramer lived up to his reputation as one of the team's most dangerous players with four goals of his own.
"Taylor is solid," Munk said. "The kid puts up points every game; he's a huge contributor."
Munk also recognized sophomore Torseen Brown for his efforts. Brown had been paying midfielder until a few weeks ago, when teammate Trenton Gallager suffered a knee injury that left a void.
"We put him at attack and he has really taken to it well," Munk said. "He's a natural attack man.
"Tony Cohn was back in our lineup this game, and while he didn't score, I'd put him in with those five players as our main point producers."
Chipping in with two goals each were Kiel Sorensen, James Tickner and Torsenn Brown. Always an indicator of solid play, Brown was credited with a team-high four assists in the game, while Sorensen and Tickner had one each.
The win puts the Eagles at 6-4 overall and 1-1 in the Columbia Conference with just four games remaining in the regular season — the next three on the road and the final, against Central Catholic, at 7 p.m. May 16. The Eagles will have to win their next three, and possibly the fourth to qualify for the state playoffs.