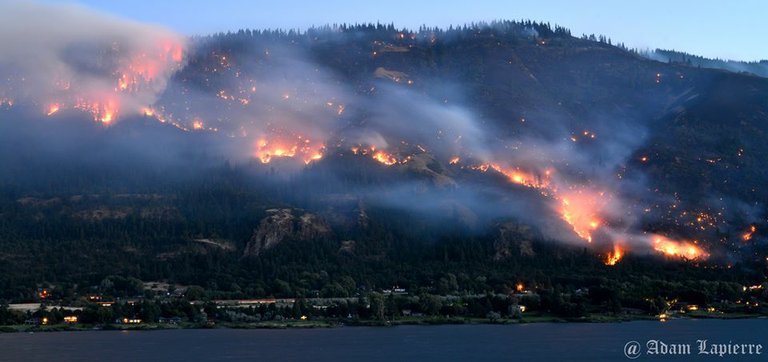 The Rowena Fire, listed this morning as 35 percent contained, claimed its first residence yesterday as a home that had been evacuated burned at Foley Lakes Mobile Home Park.
Two other structures have been damaged in the fire, which grew to 3,372 acres overnight, and 659 personnel are on the fire. A total of 750 residences are threatened, with 143 at a Level 3, or mandatory evacuation and 597 at a Level 1, or "get ready to leave" evacuation.
"There's been no injuries reported yet despite the conditions, and for that we're really grateful," said Dave Wells, spokesman for the fire.
"Under current weather conditions, we don't believe it will be able to jump the fire line," he said this morning. "The wind blew all night, sometimes over 30 miles an hour."
High winds were expected Friday until noon, with gusts reaching 30 mph. Work today will focus on holding fire lines, continuing burnout operations and conducting an infrared flight tonight over the fire.
The Red Cross shelter set up at Dry Hollow Elementary School only had two people spend the night there last night – since a significant area of mandatory evacuations was lifted yesterday — but the woman whose house burned did come to the shelter for assistance, said Julia Bishop, shelter manager.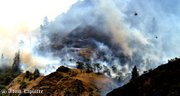 "She needed just to talk to people and get some water and know where to start over," Bishop said.
She said, 'I just need somebody to hold my hand and tell me what to do.' So we gave her a step by step list of 'do this, do this, do this,'" Bishop said. The woman didn't spend the night at the shelter because she had family to stay with.
She said the family was able to salvage precious family photos and a hope chest from the fire, after they were notified by fire officials that their home had burned.
"They were called by the fire department to come home so they could explain to them what happened. Not a pretty sight when everybody else around you is still standing and you're not," said Bishop, who has also been through a fire.
"I gave her resources on places that could assist her with clothing, food banks, people that could help her sort through the rubble on her home because she'll have to claim that on her insurance and you have to document all that."
JR Pullen, who owns Foley Lakes Mobile Home Park, said the house that burned was in a back section of the trailer park, where just six or seven homes are. That back section is still on a mandatory evacuation.
"She's a real nice renter, good lady," Pullen said. It was "horrible, tragic," that she lost her house, he said.
He said the fire itself was still a ways away from the home that burned, but hot embers blew onto the house. "It gets so windy back in that little valley back there," he said. "The firefighters were right there. They were right there and it still burned. The embers swirled out and got onto the house and got into the sidewalls and it was just done. It's amazing how quickly that happens, it's just scary."
Foley Lakes has 145 houses and 14 apartments.
The cost of fighting the fire, as of yesterday evening, was $1.9 million. Highway 30 is still closed between The Dalles Country Club and Rowena. High winds and hot temperatures are still a factor today.
Last night, burnout operations were successful on the west flank of the fire, and containment went overnight from zero to 35 percent.
When the Foley Lakes and Country Club fires flared up, task forces assigned to night shift were activated to respond, a press release said.
Gov. John Kitzhaber also toured the fire this morning.
"I've been keeping my finger on the pulse of this thing, and we've been communicating very well," Kitzhaber said. "There's been a remarkable level of cooperation here. I think this could be the worst fire we've had in the last couple decades. We're as prepared as anyone in the West. I think we're all struggling and strapped for resources."
New State Fire Marshal Jim Walker disagreed with Kitzhaber, citing the Oregon Gulch Fire as worse, but noted that the Rowena Fire is now ranked top priority in the state.
He said the minimal damage considering the explosiveness of the fire is amazing.
"We've burned through $4 million beyond our deductible on our fire policy," Kitzhaber said. "People should take this very seriously and be very intentional with their fire safety practices."