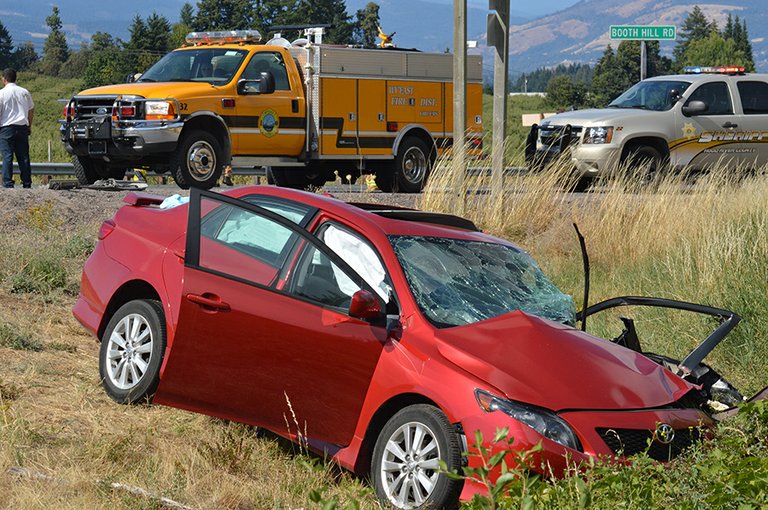 Saturday, August 23, 2014
A two-car crash that occurred south of Odell on Highway 35 Thursday afternoon sent three to the hospital, two with serious injuries, according to state police.
Oregon State Police Lieutenant Patrick Shortt of the The Dalles Area Command reported that a black 1989 Chevrolet 1500 pickup was traveling southbound on Highway 35 when it collided with a red Toyota Corolla S that had been traveling eastbound on Booth Hill Road and then entered Hwy. 35 in front of the pickup.
The collision was great enough that it forced the Corolla off the roadway until it came to rest on the east side of Hwy. 35. The pickup came to rest in the southbound lane of Hwy. 35. Both vehicles sustained front end damage.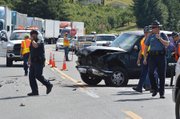 The driver of the pickup, Wesley Baker, 36, of Parkdale, was not transported for treatment. The driver of the Corolla, Sharye Struiksma, 33, of Lynden, Wash., was transported to Legacy Emmanuel Hospital in Portland via Life Flight for treatment of critical injuries. Judith Struiksma, 63, also of Lynden, was sitting in the right front passenger seat and was transported to Providence Hood River Memorial Hospital for treatment of serious injuries. Luke Struiksma, 10, also of Lynden, was transported to Providence Hospital in Hood River for treatment of minor injuries. All drivers and occupants were reported as wearing safety restraints.
Tiffany Peterson, lieutenant with the Odell Fire Department, reported one of the occupants of the Corolla had her legs trapped inside the vehicle and had to be freed via the Jaws of Life.
Hwy. 35 was partially blocked for approximately two and a half hours while emergency crews investigated the crash and cleared the scene. Flaggers navigated traffic through one southbound lane of Hwy. 35, while other vehicles chose to take a detour via Central Vale Road.
Troopers from The Dalles Area Command are continuing the investigation into the crash. Recruit Jason Walters is the lead investigator. OSP did not report that any citation had been issued due to the crash.
The Hood River County Sheriff's Office, Westside Fire Department, Wy'east Fire District, Hood River Fire Department, OSP and the Oregon Department of Transportation all assisted at the scene of the crash.