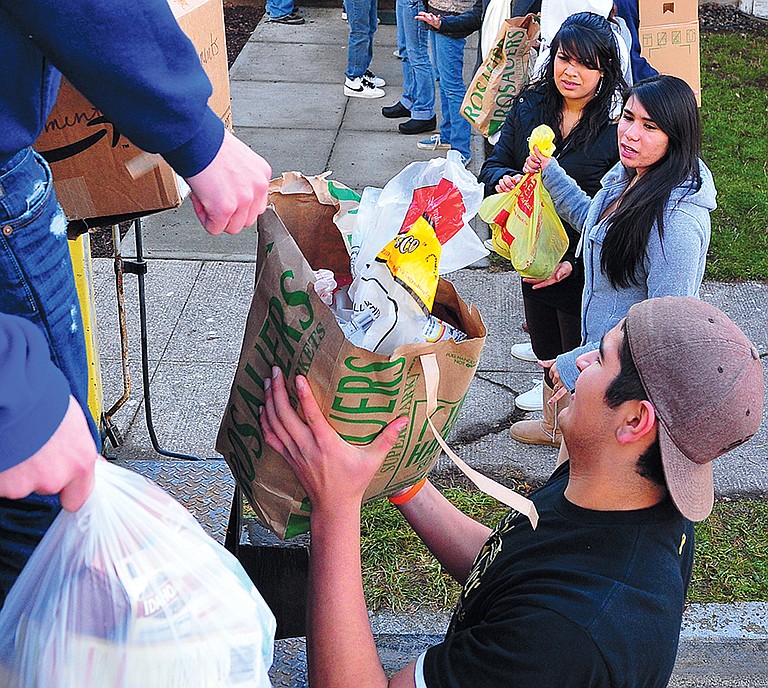 Wednesday, December 3, 2014
You might have seen them already at the markets: Hood River Valley High School kids collecting food and cash donations for the annual holiday food drive.
It officially starts Dec. 5 with a kickoff assembly for the students. After that, expect to see them at local businesses seeking donations for FISH and the Christmas Project.
The goal is to surpass last year's collection of food and cash equaling 87,000 cans, according to Niko Yasui, HRVHS Leadership advisor. The total was down from past years', in part because the formula change from $1-equals four cans to $1-equals five, in light of inflation.
Last year was also the first drive in which every classroom at HRVHS contributed something, and there are multiple prizes involved this year, including a reward for every classroom that brings in at least 750 cans. As an incentive this year, new assistant principal Nate Parsons will get an Eagle tattoo if the goal reaches 150,000.
By Monday, the HRVHS school web page will feature a thermometer to track progress, and for the first time, a PayPal link for anyone wanting to donate on-line.
Most of the collected food from HRVHS, and elementary and middle school drives, goes to FISH, but Christmas Project gives Yasui a list of specific needs for its baskets, and those items are extracted for those baskets before the truckloads go to FISH on Dec. 18.