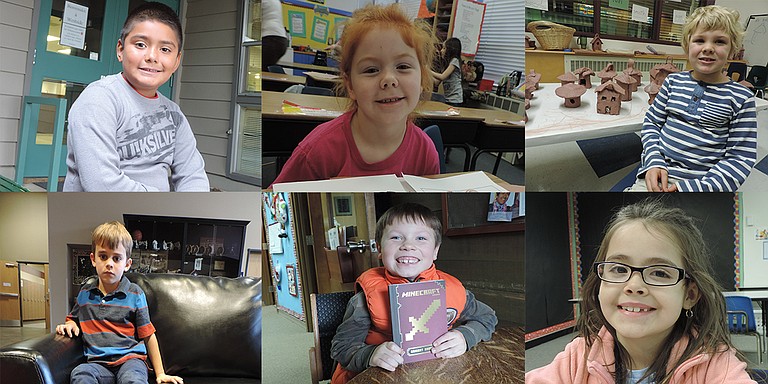 Wednesday, December 17, 2014
"Tracks to '26," a yearly inquiry into what drives and inspires six young hearts and minds, returns for Installment 2 of 13.
Here are new answers to an annual set of questions from the "Tracks" sextet, now age 7 and in the first grade.
"Tracks to '26" – referring to the year these youngsters will graduate from high school, is a living yearbook of the ideas, insights and experiences of these six young people. They have some new and different things to say. You can really see the changes in these growing kids, from spring of Kindergarten year to fall of first grade. They are all taller and their walks are surer. And while they may not have a ready answer for everything, their faces and expressions are more mature and confident.
Each year we will ask them what was a good thing that happened to them on that day, and then the five recurring questions about their lives in general, and their ideas for the future. Now on an annual schedule, the next "Tracks" will be in December 2015, and every year in until 2025, the fall of their senior year. We reiterate our deep gratitude to the children, and their families, for committing to this big picture effort.
– Editor Kirby Neumann-Rea
When Sofia Rodriquez was asked last school year to spell a word that gave her trouble, she wrote down her version of "metamorphosis." It was an unscripted incarnation of what Tracks to '26 is all about: chronicling the changes in our children. No doubt, in the arc of years Sofia will learn to spell the word metamorphosis, and we will see the process happen in all six Tracksters.
These are the five standing questions:
What are your thoughts about school these days?
What are your favorite things to do?
What is a challenge for you?
What do you want to be when you are an adult?
What are your thoughts about the future?
When you're 7, the most interesting things in your life are Legos, pizza, and your pet dog. And the future is an ideal best viewed through the branches of the Christmas tree arriving next week.
We first met them as a group in the June 14, 2015 edition of Hood River News: Jess Aubert of Parkdale, Diego Bustos of Westside, Trinity Evans of Cascade Locks, Jack Miller of May Street, Sofia Rodriguez of Mid Valley and Nicholas Tuttle of Horizon Christian.
Here are this year's answers from the "Tracks to '26" kids:
Trinity Evans
What's a good thing that happened to you today?
"We made pilgrim pictures. I'm drawing a girl and a boy."
"It's fun. I have a desk. I had a table in Kindergarten. We can open it. I can put my stuff in there. I like to play at recess."
"Go to Ethan's house. I get to play with him. Board games. We play Monopoly."
(Thought about it but couldn't name one.)
"Get a job. At the Charburger. To take the orders."
"It's long way away. It's where there's robots and stuff. I'm going to be older. I'll be in a different classroom. I like going to the Cascade Locks park. There's a plank that I can walk on. It's attached to one side and the other side and it wiggles."
The 'Tracks' kids were born in 2007; here's a few other events that year
Community Education classes include German for Kids, Pizza With Pizzazz, and Introduction to Rock Climbing
May Street School held its first coffee-selling fundraiser, with beans provided by Pacific Rim Coffee, to support school's technology program. In years since, the benefit has raised nearly $40,000 for computer and other gear (iPads this year).
Top stories of 2007 included Port and City officials investigating whether the new delta formed in the 2006 storm would hurt an annual $7 million tourism trade or expand recreational opportunities on the waterfront. (It was the latter.)
Local folks donated to flood relief for people in Chehalis, Wash., and Vernonia, Ore.
KidSense Pediatric Therapy Center opens in downtown Hood River.
One front page featured the musical Apland family: parents Ken and Kathy and siblings Kaleb, Kaitlyn, Klara, Kendra and the youngest, Kristian, then 12. It was Kristian who last week played a violin duet with world-famous violinist Aaron Meyer at the United Way Holiday Concert.
Hood River County opened the Ross and Daphne Hukari Animal Shelter in Odell after a 10-year effort to start a facility locally.
OSU Extension narrowed its search for a superintendent to two men, including Dr. Peter Shearer, who was hired and remains with the agency in 2014.
Sofia Rodriguez
What's a good thing that happened to you today?
"We had pizza for lunch. Pepperoni."
"It's fun. We get some specials, and we go to places and we go to recess every day. And I like first grade because we get marbles and Paw Powers. It's because we have four B's. One of the B's is Be Responsible, Be Respectful, Be Safe and Be Kind, and right now we're working on kindness, like helping people because maybe then people will help other people."
"Math and … drawing. I like to draw my family and me.
"Trying to spell words in English."
"A doctor."
"That school is going to get harder. And when snow will come. In January."
Jack Miller
What's a good thing that happened to you today?
"Finding my elf. He made this Jenga thing and then he got inside of it and we looked for him for about 30 minutes. He just made it with his magic powers."
"It's really good. I get to do two recesses, and I get to do writing. I'm getting better at writing sentences. I like to write about my dog Mabel." (Jake could not remember before the family had Mabel, "a mix.")
"Ride my bike, walk, play games, play at recess." (The game "Sorry" is a favorite.)
"Math, reading, and that's it." (What are the challenges?) "Subtraction … and sounding out the words."
"A chef."
"It's kind of cool. 'Cause you don't know what you're gonna do."
Nicholas Tuttle
What's a good thing that happened to you today?
"That we get to go to school today." (Asked what time he gets up, he said 7 a.m.)
"First grade is pretty fun with our teachers and friends that we have." (His teacher is "Mrs. R" – Betsy Robertson.)
"My favorite thing is to go to my cousins' and sometimes we play games, and Legos, and cars, stuff like that." (Travis, Emily, Taylor, Trisha and Lee.)
("Something hard for you to do or something?) "That I have to go to wake up at 7 and I want to wake up at 7:12 or something. I really want to wake up at 8."
"Be a football player." Favorite team and player? Seattle Seahawks and "I forget the Seahawks' quarterback – No. 3." (Russell Wilson.) "He threw like a 60-yard pass to someone, and the Giants I think threw it and 31 like jumped up in front of the Giants and got an interception. He ran it back and ran fast, and someone was right in front of him and he jumped and the other guy grabbed his leg."
"I think the future is like … it's going to be fun." Prompted, he added, "We already got our Christmas tree, two or four days ago."
Jess Aubert
What's a good thing that happened to you today?
"I got some books today." (Book Fair day: Minecraft, How to Train Your Dragon 2, and Mutant Teenage Ninja Turtles.)
"We have to learn more. Terrible."
"Play Legos. We have tons. Oh, random stuff."
"Getting ready for school. I have a lot of stuff to put on and a lot of stuff to do. Take a shower, get my clothes on, have breakfast, get my stuff ready for school."
"I don't know."
"It might be fun because when you grow up and you're done with your job you get to retire and you don't have to work anymore."
Diego Bustos
What's a good thing that happened to you today?
"My sister Daisy and I played with our dog. We had art. A clay sculpture." (His Chihuahua, Milo, is two months old.)
"I like that we get to play things at PE. Games. I don't know their names."
"Play Legos. I like to play at school at recess." If you could play one thing at recess, what would you choose? "Play soccer." (Do you like being goalie?) "Yes. I like I can touch the ball with my hands."
Milo is somewhat of a challenge: Who takes care of Milo? ("Me and my sister. He's scratching me. He always does that. Whenever I wake up and go, 'Milo,' he starts scratching me."
"A policeman."
No answer.
What the 'Tracks' kids said in June 2014
Nicholas Tuttle
"It's fun. And it's fun to learn. It's fun to play outside with my friends."
"Maybe 5 or 6 things: I like to play outside, and run outside, and play in the pool, and with my toys outside, and do slipping slide."
"I have allergies and sometimes I cough a lot. And I kind of hurt my leg – but not bad. My foot. But that will go away. I bended it. I hit it and then bended it."
"A baseball player, because I am a baseball player. My team is the Ducks. It's coach-pitch. I almost hit a homerun. I made it to two bases."
"It's pretty fun. I think soon my friend Jordan is going to come to my house. He's never been there before. We're going to do Wii Jam. And then I'll go over to Jordan's house."
Diego Bustos
"Good. I play with my friends outside. Playing soccer. I like to color."
"Playing soccer, at the school."
"A hard thing to do is playing basketball. Because I throw the ball and I missed."
"I want to drive an ambulance. I saw a fire."
"I will be a high schooler. I'm so excited."
Jess Aubert
"It's good, because we did a lot of fun things. One of them was my first day of kindergarten. I was a little shy. (How did you feel at the end of the day?) Happy."
"One of them is going to see Santa to tell him what we want, and computer lab at school. And the Easter bunny. Sometimes wer get to play Zoom and sometimes we get to play KidPix and Starfall. (Skyfall? No, Star.) KidPix is where you paint and stuff and you can do stamps, like stamps you put on paper. We can pick what we want, what thing we want and then we can stamp it." And there's a box up top and you can like push on it and it has trees, and you can change worlds. You click on the mouse and ,keep holding it and then put it on the paper and you can make a world. You can like change worlds. One of them is a dungeon, and on one of them there's a castle. And you can make them different colors."
"Sometimes in gym we play Dead Man's Rabbit. There;s three people kine up on a line, and you have to try to tag them when they run by and w4e ecome one of those guys. (What's an example of something that's hard for you?) One of them is sounding out big words. Sometimes I writed Minecraft on the side." (You said that just fine; is there a word you had a hard time figuring out?) "I tried to spell it but I had to ask a teacher to help." (What word?) "Minecrarft."
"A Easter bunny – no. I want to be a ambulance driver. I just seen 'em driving."
"I can write fast.So I don't have to write slow. (Ever think about if you were a father or owned your own house?) "I would have to do a lot of work. I would have to clean up."
"I want to work at the fruit stand one time. When people are not there, I would eat a cherry."
Jack Miller
"It's really good. Because I get to play at school."
"Ride by bike. Anywhere. (Family Man.) Other favorite things? "No."
"School. Because we do really tricky art. Well, I can't really explain it. Paper and cutting. It's hard to do stuff."
"A policeman. (I don't really know.)"
"I don't really know about that." (Do you wonder what life will be like 20 years from now? What will Hood River look like 20 years from now?) "The same."
Trinity Evans
"Good friends. Everybody in my class is my friend."
"Go to the park. The one at school. I like to play on the swings. I have a push before I pump myself. I like going to the beach and playing in the water. I'm a good swimmer."
"Girls against boys. We do things girls against boys in class, for points. My teacher does it."
"A doctor. I like to help kids."
"I will have a job. I'll be happy. I like to work hard. It's fun."
Sofia Rodriguez
"Pretty good. I meet new friends. I do a lot of math."
"I like math. I know new stuff. I like to go to recess. I like to play soccer at Wy'east."
"Writing big words." Asked for an example, she said, "Metamorphosis." She said her teacher "wrote it on the board and asked if we knew what it means. We guessed." Asked to define it, Sofia said, "It's the egg and the chrysalis and the butterfly. It's the world of the butterfly."
"Teacher. I want to teach kids.
Having bigger friends. I'll be 13, in the seventh grade. It'll be a little harder."