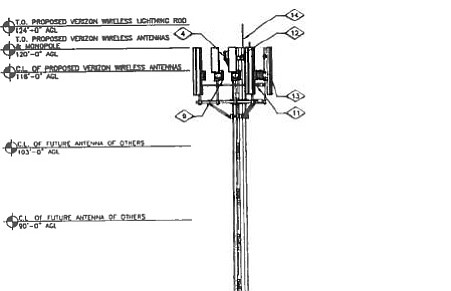 Wednesday, December 31, 2014
Verizon Wireless is seeking county approval to build a cell tower near Windmaster Corner after deciding to shelve plans, at least for the time being, for a tower that was to be located on Multnomah Road.
According to an application submitted to the Hood River County Planning Department, the nation's largest wireless provider is looking to build a 120-foot-tall monopole cell tower on a piece of property owned by Diamond Fruit off Indian Creek Road, located directly south of Hood River Valley High School. The project would also require the construction of an access road as well as a fenced equipment shelter for the tower.
Verizon representatives say the tower is needed to help "offload" already busy cell sites in the Gorge, specifically a tower located on Underwood Mountain on the Washington side of the Columbia River that has caused "capacity concerns." The company also says the tower, referred to as PTL Windmaster, would result in improved service and provide a boost in data speeds primarily for customers south of Hood River, as well as provide a link between other cell towers located in the city of Hood River and the community of Odell.
Map
Appx. Cell tower location
Appx. Cell tower location
Tower location
The tower would be located directly south of Hood River Valley High School's baseball fields, on property owned by Diamond Fruit near the corner of Indian Creek Road and Barrett Drive.
The wireless provider submitted plans late last year to build a similar tower nearby at 1247 Multnomah Road on a parcel zoned exclusive farm use and owned by Andy von Flotow under Alpha to Omega LLC. However, Eric Walker, principal planner for the county, said his department asked Verizon to "demonstrate that some other nearby non-EFU sites wouldn't work," since "part of the criteria for allowing a cell tower in the EFU zone is that the tower cannot be reasonably sited on non-EFU zoned land." Walker added that if the new site is approved, "the applicant indicated that they will then formally withdraw their Multnomah Road application."
In a letter to the planning department, Andrew Zimmer, representative for Verizon, said the company had run into issues with other sites that had been planned for the cell tower.
"The previous candidates for our PTL Windmaster cell site have either had property owners rescind their agreement or were located in areas that were restricted in height due to their proximity to the airport or in EFU lands where we have had community backlash," he explained.
Verizon is not the only wireless provider that has experienced issues with trying to site a cell tower in Hood River. Last year, American Tower Corporation scrapped plans to build a 140-foot-tall cell tower on the west side of Hood River after receiving significant pushback from both local residents and the Hood River County Planning Commission. The tower was to be used by AT&T and located on rural-residential land on Fairview Drive, just a few minutes' drive from both the Multnomah Road site and the Windmaster site.
According to Walker, the county recommended that Verizon examine industrial sites instead of the Multnomah Road EFU site, and included in its recommendation the current proposed site on the Diamond Fruit property, which is zoned M-2, or light industrial. Zimmer wrote in his letter that the selected property was "the only M2-zone that would have worked based off our capacity and network needs."
Walker said a public notice of the project would be mailed out and that approximately three weeks would be given for public comment, with a decision expected sometime in February or March 2015.