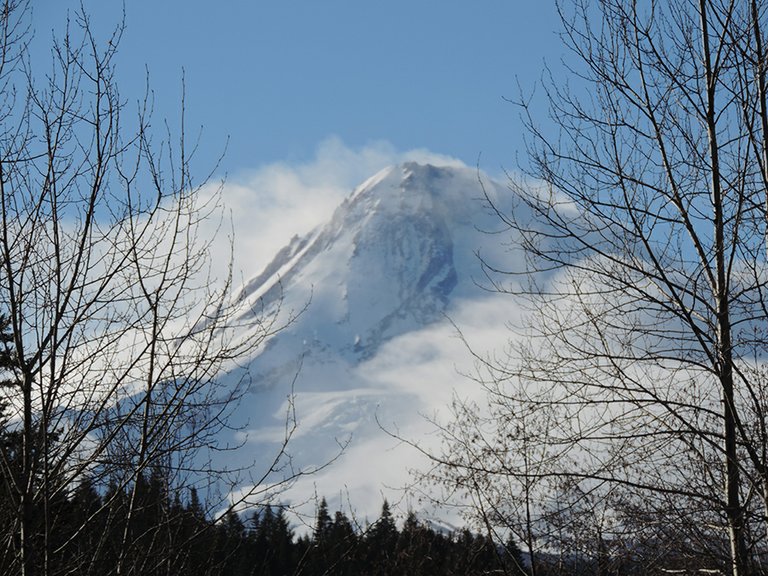 Saturday, February 1, 2014
A conservation group seeking wilderness expansion in the Mount Hood National Forest got a mixed response from Hood River County Commissioners last week after asking to a proposal that would designate well over 3,000 acres of national forest in the county as protected wilderness.
After a discussion on the merits of wilderness areas, commissioners voted 3-2 against signing a form letter presented by Erik Fernandez of Oregon Wild, a conservation group out of Portland, that signified the county's support of the proposal and I asked Oregon congressmen to do the same.
Commissioners rejected the proposal for reasons that ranged from concerns over fire danger to questions on the appropriateness of the lands Oregon Wild had tapped for wilderness designation.
Fernandez was taken aback by the commission's decision.
"We're a little shocked by this vote," he said in an email after the meeting. "We've been working with the major stakeholders on the Mt. Hood National Forest for several years and have a shared vision for protecting these last wild gems. It wasn't clear from Tuesday's meeting why some of the county commissioners do not share that vision."
Oregon Wild's proposal entails the addition of 709 acres near the popular Tamanawas Falls and 2,650 acres of Bluegrass Ridge — which are both located between Parkdale and Mt. Hood Meadows — to the Mt. Hood Wilderness area, as well as 3,890 acres near Boulder Lake, which straddles the Wasco/Hood River County border near the Badger Creek Wilderness and contains the "largest unprotected stand of old-growth [forest] in the Mount Hood National Forest" according to Oregon Wild's website.
The federal Wilderness Act of 1964 was designed to protect federally-owned lands from development that were of "primeval character and influence, without permanent improvements or human habitation." Lands designated as wilderness enjoy a variety of protections from development, such as logging and road building. Recreation activities are also highly restricted, to the point where even possessing a bicycle while on wilderness land can land a person in hot water with the federal government.
Those restrictions can have other, less direct implications. In August 2011, the Dollar Lake fire started in the Mt. Hood Wilderness and burned more than 6,000 acres over the course of month before containment. According to a 2011 report from The Oregonian, logging, thinning, and brush clearing beyond roadways in wilderness areas is against the law. That, combined with the lack of roadways, can make firefighting in wilderness areas more difficult and dangerous.
Hood River County Commission Chair Ron Rivers had similar concerns and voted against the letter of support, referring to "two devastating fires" that had occurred in the past several years on the north side of Mt. Hood: Gnarl Ridge in 2008 and Dollar Lake.
In a later email, Rivers said he didn't feel the areas in the Mt. Hood Wilderness section of the proposal were worthy of wilderness status due to their proximity to development.
"I strongly believe that the wilderness areas should exist in remote areas," he said. "The wilderness lands in the Mt. Hood area are bordered by housing areas (Mt. Shadows), ski areas, county forestlands, Highway 35 and etc.
"I want as much public access to all of our public lands," Rivers added.
Commissioner Maui Meyer had similar concerns, and noted both Tamanawas Falls and Bluegrass Ridge were too close to Highway 35 and didn't particularly fit the designation of wilderness. He voted no and added that he didn't feel the proposal was ready for consideration, expressing a desire to see it "more baked out."
Commissioner Les Perkins countered that the proposed lands' proximity to Hwy. 35 shouldn't be cause for exclusion since current wilderness areas already border highways in the Mt. Hood National Forest.
"None of the Mt. Hood Wilderness is true wilderness," Perkins agued. "There are too many people too close to it with too much access."
Commissioner Karen Joplin voted in favor of the letter with Perkins. Commissioner Bob Benton voted against it, saying he did not "see the advantage one way or the other."
This is not the first time a proposal for wilderness expansion has come before the county. In 2009, wilderness areas were greatly expanded in the U.S., which resulted in the designation of 124,000 acres in the Mt. Hood National Forest as wilderness. In an interview after the county commission meeting, Meyer said the county signed off on that proposal, which excluded the areas discussed in the current proposal. Meyer said those areas were "taken out for a reason," noting that "wilderness designation is supposed to be for the most pristine areas left."
Meyer added that the wilderness plan endorsed by the county several years ago still ended up causing "a lot of consternation" due to the impact of wilderness restrictions.
"The last time we addressed this we had to go back and forth with the East Fork Irrigation District because they felt their access to water was threatened," he explained. "I'm not sure we need to reopen that issue again."
Fernandez called the county's nay vote "a bump in the road," but pledged to keep working on the proposal.
"We will continue to advocate for protecting Mt. Hood and the Gorge," he said, "and hope to find more common ground with the commission in the future."