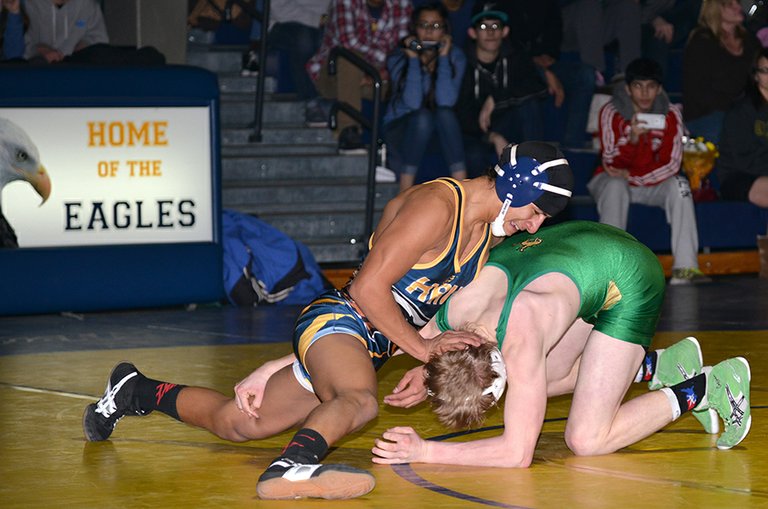 Saturday, February 1, 2014
Hood River Valley High School wrestling hosted its senior night (honoring Junior Rojas, Texx Spezia-Schwiff, statistician Mercedes Lane, Andrew DeHart, Chaz Peterson, Jeremy Fischer, Charlie Mallon and Jeremy Breedlove) Columbia River Conference dual meet Thursday against the Pendleton Buckaroos. After a tight battle for points for much of the dual, Pendleton's tough lineup of heavier wrestlers claimed the final five matches to finish with a 42-28 dual meet win.
State Rockwell rankings as of Friday morning show HRV at 5A No. 9 and Pendleton at No. 7 (Dallas, Hermiston, Lebanon, Sandy and Churchill hold the top five slots, in that order).
Jessica DeHart got the Eagles fired up in the first match of the night at 106 pounds, when she built an early 7-0 lead before picking up a first-round pin off a front three-quarter nelson.
HRV forfeited the 113-pound weight class, followed by a first-round pin for Pendleton over HRV's Dylan Peterson and a Pendleton forfeit at 126 pounds to tie the score 12-12.
Spezia-Schwiff picked up a third-round pin and Rojas won a hard-fought 6-2 match to up HRV's lead to 25-18. Three of the most exciting matches of the night followed, as Peterson clashed with Pendleton's 145-pound No. 6-ranked TJ Hancock for two and a half periods before getting caught in a double-arm bar and pinned; Andrew DeHart followed with some fancy footwork to claim a 13-2 major decision over No. 6-ranked Alex Ferder and Fischer battled to an 8-2 win over No. 10-ranked senior Laramie Boston.
Pendleton picked up wins at 170 over Oscar Villegas, at 182 over Steven Swafford in a thrilling overtime win, at 195 over Max Lane, at 220 over Sebastian Barajas and at 275 over Breedlove in another exciting overtime finish vs. 5A's No. 1-ranked heavyweight, PJ Schubert.