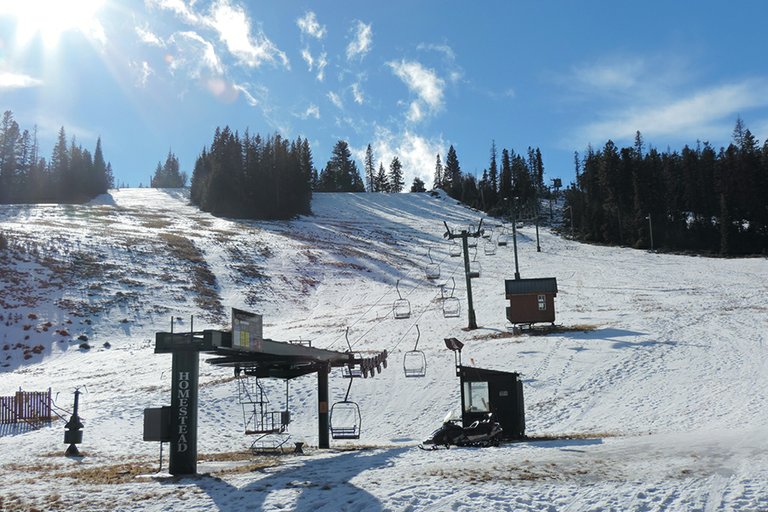 Saturday, February 1, 2014
As February arrives, Hood River County's backyard hill, Cooper Spur Ski Area, remains closed for lack of snow, but owner Mt. Hood Meadows stands ready for when the white stuff finally arrives.
"We're waiting to see what the winter brings," said Dave Tragethon, Meadows spokesman.
The impact from Cooper Spur Ski Area's closure has been keenly felt at The Inn at Cooper Spur, also owned by Meadows.
"December and January are really our peak months and the lack of snow kept people away," said General Manager Cynthia Steele.
This is the longest dormancy for Cooper Spur since Meadows bought the property in 2000, with the exception of the 2003-04 season when there was so little snow the resort never opened for the winter.
"Meadows is in full operation, but we need more snow at Cooper Spur in order to safely go skiing or tubing, and we won't be open this weekend. We'll see how the snow goes next week," Tragethon said.
The resort is ready to go, with all maintenance work up to date, and systems are checked routinely as Meadows awaits enough snowfall to unlock the gate and start up the lifts. The road is closed where it meets Cloud Cap Road.
"We've always said that Cooper Spur is like a light switch: It's ready to turn on," Tragethon said. "With Meadows there has to be a lot of advance publicity, but with Cooper Spur, when it's open the locals know. The attention and the interest is high, especially among families."
Meadows, meanwhile, has 52 inches at the base, as of Thursday afternoon — "a really good surface," thanks to fresh snowfall on Thursday, Tragethon said, and another 6 inches if you go up another 600 feet.
"We are ahead of traffic in January 2013," Tragethon said, though he declined to cite the exact numbers. "In terms of ski visits for the season overall, we are behind, because of conditions in December," he said. "We're down about 25 percent in ski visits but we are trying to make that up. As the snow falls, we know people have the passion to come. People are wanting to come up."
Tragethon said that in recent weeks there have been several days of precipitation where, had the temperature been two or three degrees colder, it would have yielded several more feet of snow.
"The good news is that, where everyone focuses on the base, there's even more to be found 600 feet up the slopes, and even more at Shooting Star and Vista," Tragethon said.
"We are managing literally every single day," looking for efficiencies, he said. The Business Anticipation Committee, made up of key Meadows staff, convenes daily at 2:30 p.m. to look at skier visits, current and forecast weather, snow conditions events at the resort, and other factors, to make business decisions for the rest of that day and the next. "We talk about whatever adjustments need to be made," Tragethon said.
Cooper Spur Inn's lodging has been full on weekends, but weeknight stays are slow, as is restaurant patronage, according to Steele.
"People ended up going on hikes or playing in what little snow there was around, or going off to Bennett Pass or Tea Cup, but we have definitely had a decline in the restaurant business through the Christmas holiday," Steele said.
"A lot of people are calling and saying, 'We're going snowshoeing,' and I tell them, 'Well, you can go snowshoeing at Bennett Pass.' I've been up there a few times and there's plenty of snow to snowshoe and play," Steele said.
"I think we're doing OK; people are still coming here which is nice but we just don't get as much drive-by traffic as when there is more snow," she said.
The inn has seen cancellations of several REI classes, whose participants stay and dine at the inn and use the ski area and trails.
"We lose their business, and we lose the exposure as well," Steele said. "A lot of people don't know Cooper Spur is here, that's what we're trying to do with some our events, such as REI and the food and wine and beer pairings."
Those include a Feb. 14 Valentine's Day dinner with dishes paired with The Pines wines, starting at 5 p.m. Executive Chef Joe Silliman is planning a beer dinner for a date in March, with local brewers. Call 541-352-6692 for details on both events and to learn about regular meal service and hours.