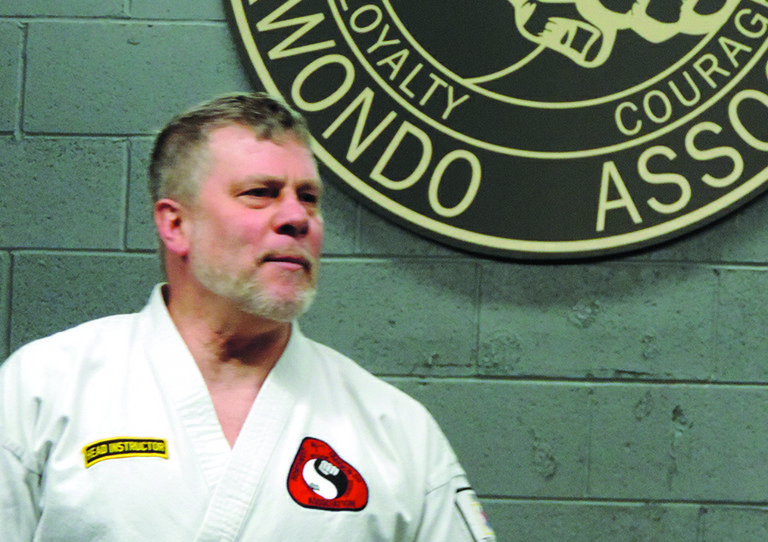 Saturday, February 1, 2014
George Evans gets very excited about martial arts.
Maybe that's because the owner and head instructor of Northwest Taekwondo, located at 1203 12th Street in Hood River, has practiced martial arts since he was five years old.
"I started with Kung Fu, and that was because I watched a Bruce Lee movie and I had to learn the karate chop," said Evans. Since then, he's practiced many different forms, including traditional Muay Thai, Judo, Aikido, Taekwondo and Brazilian Jiu-Jitsu.
Evans has owned Northwest Taekwondo for the past four years, although both the dojo and his involvement with it go back much further. Opened by Gary Muma in 1974, Evans worked as an assistant instructor for 20 years before purchasing the business when Muma retired.
Evans describes Taekwondo as "a stand-up martial art that is self-defense centered." His pupils range in age from five to 70.
Because of that age range, there are several different Taekwondo experiences at the dojo: For younger kids, the focus is on body awareness and coordination; for preteens, that changes to "bully-proofing." Self-defense comes during the teenage years, and for adults it's "a deep practice of the art."
Students enter a belt ranking system, working their way from white (the lowest level) to black (the highest), which takes an average of three years.
He also teaches Jiu-Jitsu. That's a relatively new one for Evans, who started practicing at the age of 52.
Brazilian Jui-Jusitu is "a hard workout, an exciting workout, a smart workout — it's like athletic chess," said Evans. "You're thinking your way through Jui-Jusitu all the time."
The martial art began in the 1990s, and is gaining momentum. It's the other side of Taekwondo, Evans explained — where Taekwondo is practiced standing up, Jiu-Jitsu is more "grappling on the ground, generally speaking. It's the other half of the self-defense package," he said. "If you can stand up, you're not really there yet; you need to function on the ground."
This is particularly important for young women. "For young ladies, (an attack) is going to happen up close," he said.
Taekwondo and Jiu-Jitsu make kids "safe in the world," said Evans, "They can defend themselves against trouble."
Although Muma didn't take kids younger than six, Evans takes five year olds. "I wanted to take the kids who are ready," he said. "Five is a good place to start — younger than that and it's not really a martial arts experience."
Evans enjoys every aspect of his job, but particularly seeing his students grow. "Take the little kids," he said. "I just love the little kids because we're giving them so many skills—life skills and physical skills—and I get to see them turn into humans from little babies."
A lot of his students stay with Taekwondo "from when they sign up to college and beyond," he said. "A school teacher gets them for a year, and I get them for ten years or more. I just love that — we go from 'can't stand still' to serious fighters. Taking children through that learning process is just so exciting."
Evans is originally from Northern Ontario, Canada, and came to Hood River via Boulder, Colo. He attended the University of Colorado and majored in business, taking martial arts classes as well.
"Boulder was nice, but it hasn't got any water," said Evans. He moved to Hood River because of — what else?—the wind. The only martial arts studio in Hood River at that time was Muma's, and he began practicing there soon after enrolling his son, Alex.
"I took him to do marshal arts and I was just sitting there anyway. I thought, 'What am I doing? I'm a martial artist, I may as well be working out.'"
Commuting to Portland to work at a variety of tech jobs—the list includes startups, Fortune 500 companies and some aerospace—he always made sure he was off in time to teach class at Northwest Taekwondo.
"With each job I'd say, 'I need to be in Hood River by 3 to teach these kids,'" he said.
He's retired from the tech business now, and his days of commuting are over. Instead, he spends his days by sharing his wealth of martial arts knowledge with his students, and feels blessed to have the opportunity to do so.
"I'm so lucky," he said. "I think it every day. I was a tech salesperson before I 'retired,' and I'm so lucky to do this. After having a regular career in sales, this is just such a blessing, to be able to work there. It soothes your soul."