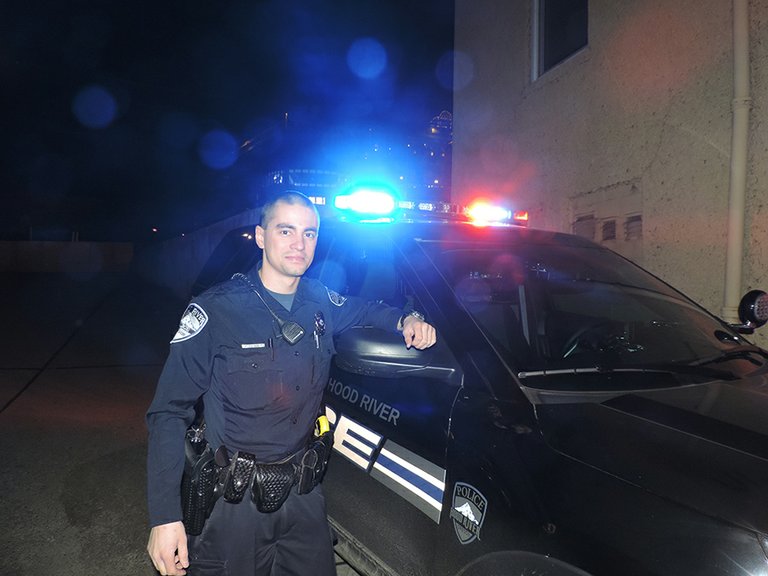 Wednesday, February 5, 2014
People will drive when they should not do so, and Jake Ferrer is adept at catching them at it.
Ferrer, a Hood River Police officer with less than three years' experience, last month received the DUII Enforcement Officer of 2013 award from the county district attorney's office "for his outstanding DUII enforcement efforts." The award recognizes a law enforcement officer who demonstrated "exemplary service and is active in DUII enforcement in Hood River County."
The honor, presented by Deputy DA Kate Krametbauer, came as a surprise to Ferrer.
"I knew they gave out awards but I had forgotten they did it in 2012," he said.
In her letter of commendation, Krametbauer stated that "In 2013, Officer Ferrer arrested more impaired drivers than any other law enforcement officer in Hood River County. He conducted thorough and methodical investigations in detecting and apprehending impaired drivers. Officer Ferrer's proactive approach helps keep Hood River safe and his professionalism and commitment to safety is greatly appreciated by the Hood River District Attorney's Office."
Ferrer, a 2005 The Dalles High School graduate, joined the Hood River force in October 2011; it is his first law enforcement job. Before that, he worked in Lakeview, the Oregon coast and other points around Oregon as a biologist with Oregon Fish and Wildlife, following his graduation from Oregon State University school of fish and wildlife biology in 2009.
"It's a little different from what I did before," Ferrer quipped. "I enjoyed the fish and wildlife stuff but I guess I always wanted to do the police officer thing. I was just waiting for a job to come up in an area I wanted to work, and Hood River was taking applications and I put one in." Having grown up in The Dalles, he was ready to come back to the Gorge after living in a wide variety of other Oregon locales.
"I realized after I left how much I enjoyed it over here," Ferrer said.
"I enjoy it," Ferrer said of police work. "I enjoy working nights and I enjoy doing DUII investigations, because every one is different," he said. "Alcohol and drugs affect people in different ways. Two beers can affect a 90-pound person in different ways than someone else, and the investigations are very interesting to me. I just enjoy the whole process from arrest to prosecution."
He said the recognition is based on DUII arrests, "and it's from the DA'S office so I know they appreciate trials and (officers) testifying," Ferrer said. "I've had several trials and they've gone well for the DA's office."
Mainly it's about solid documentation at the time of arrest, and preparedness for the follow-up stages of the process, including giving testimony.
"You want to be just looking at the report the whole time. You have to be convincing, not just 'let me review my report,'" he said.
"Sometimes I've had cases that are a year and a half old and you do so many things in between and it's hard to remember that; the key to it is writing good reports to begin with so then even if you don't remember exactly what happened two years down the road the report is there to refresh your memory because you wrote a good report with all the facts."
He said the criminal justice system puts more focus on the problem of impairment, beyond intoxication via alcohol.
"Before I started doing this you always just think about drunk drivers but you can be impaired on Nyquil, or on thousands of different prescription medications, as well as alcohol, and often times it's a combination."
Before preparation comes training. "We usually have annual refresher courses," Ferrer said. "The (Police) Academy training for drugs and impaired drivers is a whole week, and it includes a 'wet lab,' with people who are intoxicated for the purpose of the exercise, and you get hands-on experience. But beyond that it's very important you have refresher courses regularly and keep up with training so when you are out there you remember your training."
In the field, he said, "you don't have someone looking over your shoulder telling you your tests are wrong; the constant training and constructive criticism are the important parts for me."
Ferrer's main message about the problem of impaired driving is, "Think about the effect you can have on someone else's life when you crash — in addition to the court fees and fines — but the big thing is the effect you can have on other people, starting with your passengers.
"The safest thing is not have any alcohol at all, but we know that's a lot to expect," he said. "I would say before I started (in police work) and seeing the effect it has on people, it's amazing what two beers can do to people; it can impair their ability to drive."
He said he is thankful for enforcement grants like the one used in the past three weeks by his department and the Hood River County Sheriff's office. The funds pay for extra officers and deputies to do patrols during high incidence periods such as Super Bowl, July 4 weekend and New Year's, with their emphasis on detecting and citing or arresting impaired drivers. The extra funding helps put some focus on safe roads while regular patrol officers are tied up on general calls.
"We still can't be everywhere but just having manpower and the visible patrol out there during the high DUII times is important to let people know we're out there and active in enforcing DUII," Ferrer said.