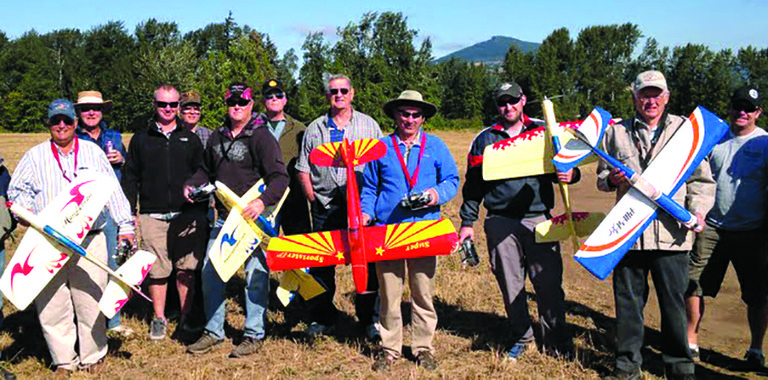 Wednesday, February 5, 2014
With the exception of the Westside Community Trail, Barrett Park has remained largely undeveloped as Hood River County Parks and Recreation has fought and continually lost battles to develop public recreation facilities on the 31.4-acre parcel located on the west side of Hood River.
However, a local radio-controlled model airplane flying club, the Columbia Gorge Aeromodelers, is aiming to get a proposal off the ground that would allow the development of an RC flying facility at Barrett Park.
Lori Stirn, director for Hood River Valley Parks and Recreation, said her agency is working with CGA and the county to see what features of the RC flying facility could be developed on the land, which is zoned exclusive farm use. According to Stirn, as well as discussions that were had during the multiple public hearings on Barrett Park last year, an RC flying park is an outright allowed use on exclusive farm use land.
Roy Pettit, a representative of CGA, has submitted a plan on behalf of the organization to Parks and Rec to establish a flying facility at the park, which would be maintained, in part, by the club.
In their proposal, CGA asks for permission to install a 300-foot-by-30-foot "smooth and level grass runway," a water faucet, a six-foot high safety fence, a restroom, flight tables with a shade shelter, a wind sock, and to widen the parking lot entrance off Barrett Drive and a gravel access road east of the barn currently on the property.
Stirn said she was pleased to be working with CGA and hoped to accommodate their needs.
"They've been displaced so many times," she noted. "They're very excited to have an opportunity to have a more developed facility."
Pettit was also excited about the prospect of a permanent flight site at Barrett Park.
"We've never really had a site that big before," he said. "It will let us do things we've never been able to do before."
Pettit, who moved to the Hood River valley in 1974 and has been flying RC planes since 1970, said it has been an ongoing struggle since CGA's inception in the late-90s for the club to land a spot that would serve as a permanent base of operations. Pettit said CGA has had to rely on the temporary benevolence of landowners around the valley for years and the club has been searching since 2012 for a new site after losing their previous location on Fir Mountain.
"Usually, [landowners] would kick us out after three years because they want to put trees on their land or something," Pettit explained, adding that "the timing of this Barrett Park thing is perfect."
As of 2012, CGA had 42 paid members and Pettit says he has email addresses of approximately 80 people in the Gorge who are interested in the activity. Petit says it's difficult to come up with an exact number of flyers in the Gorge, but estimates it's "easily over 100," judging by the amount of visitors to the Hood River Hobbies store owned by Zed Ruhlen, who is a flyer himself.
According to Pettit, interest in the activity is on the rise due to the increasing availability of "ready to fly" airplanes on the market. The hobby attracts a variety of age groups, requires a wide range of knowledge, and Pettit noted that RC flying is "something you can do your whole life."
Pettit also believes there's enough interest to host events with other RC clubs and envisions the proposed facility as a great educational opportunity for Hood River Valley High School students, who attend class less than a mile away.
"The high school is beginning to have activities and classes involving multi-rotor aircraft because of all the skills involved," Petit said in the proposal to Parks and Rec. "As the need for more science and engineering students continues, what better incentive to learn than having fun with RC aircraft?"
There are, however, some drawbacks with the Barrett Park site. Pettit described the area as located "unfortunately, in one of the windiest places in the valley," nor is the site particularly level. He added that nearby residences will also mean the noise levels of the planes will have to be monitored with a decibel meter to make sure they comply with the county noise ordinance.
Still, Pettit said CGA has been using Barrett Park periodically for the past couple years and called it in the proposal "the best option for a flying site that can be found in the local area at this time."
CGA plans to have a meeting with Parks and Rec during the third week in February to further discuss the proposal.