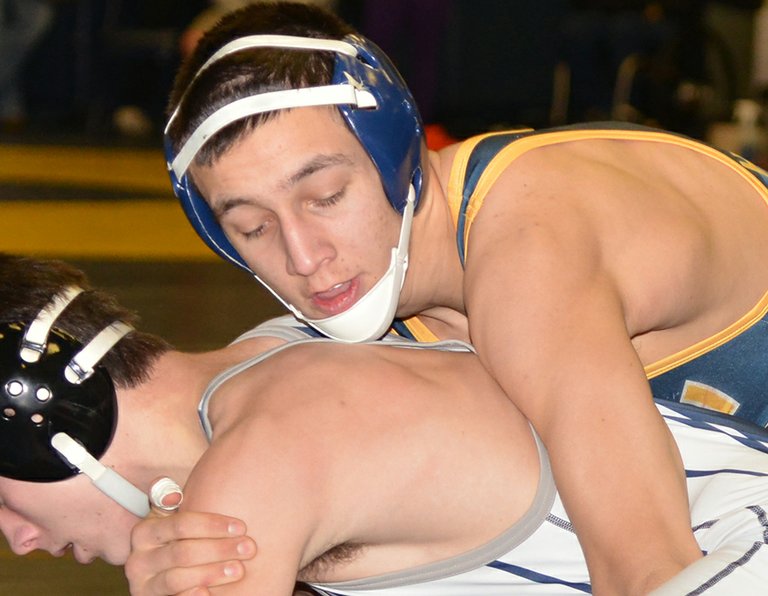 Wednesday, February 5, 2014
Chas Peterson and Christian Marquez went undefeated and 11 others had podium finishes to elevate the Hood River Valley High School wrestling team to second place over the weekend at the 12-team Oregon City Invitational Wrestling Tournament.
Both Marquez and Peterson went 4-0 to claim first in their brackets (126 pounds and 145 pounds), and for both the finish was marked with memorable distinctions. For Peterson, a senior, climbing to the top of the podium to receive his medal marked his first tournament win in his high school career; for Marquez, a junior, a first-place medal was accompanied by the tournament's Outstanding Wrestler award — as voted by participating coaches.
For coach Trent Kroll, having two individual champions is reason to celebrate, but a second-place team finish is the larger accomplishment. The Eagles had 199 team points, runners up to Oregon City with 208.5 and ahead of Lebanon (190.5), Pendleton (180) Cleveland (169.5) and Hermiston (155.5) in the top five.
"I think that says something about the depth of our team," Kroll said. Oregon's Rockwell 5A team rankings show HRV at No. 9, behind Hermiston (No. 2), Lebanon (No. 3) and Pendleton (No. 7). "Team rankings look mostly at teams' number-one guys, but we have two solid wrestlers at many weight classes. That's what I like about a tournament like this. And it's the same format as districts and state, so it was good practice for us."
Placing in the top six out of potentially 24-person brackets were the following wrestlers: Jessica DeHart, 4th, 106 pounds; Christian Marquez, 1st, 126 pounds; Texx Spezia-Schwiff, 5th, 132 pounds; Junior Rojas, 5th, 138 pounds; Charlie Mallon, 6th, 138 pounds; Chas Peterson, 1st, 145 pounds; Andrew DeHart, 2nd, 152 pounds; Ian Rand, 6th, 160 pounds; Oscar Villegas, 6th, 182 pounds; Max Lane, 2nd, 182 pounds; Yorick Infante, 5th, 195 pounds; Sebastian Barajas, 6th, 220 pounds; Justin Wilson, 6th, heavyweight.
Marquez had a sound 7-2 victory in the finals over Estacada senior Donny Wenlund, who was 22-0 prior to that day's action and is a three-time returning state placer. For Peterson, who was seeded third in the tournament, his final match ended in exciting fashion with a first-round pin.
"It was perfect timing for Chas; he has created a lot of momentum this season and is getting ready to peak here in the next few weeks," Kroll said. "Christian beat another very strong wrestler in his finals match. He is wrestling phenomenally, is preparing well and has the confidence of a wrestler who doesn't believe anyone is working hard enough to beat him."
Andrew DeHart's second-place finish came down the wire, and the 7-5 loss — against 160 pound No. 2 ranked Kiante Davis of Lebanon — is one he will use as motivation as the crux of the season gets under way.
The other finalist for HRV, Max Lane, is seeing the benefits of shedding pounds and moving down a weight class to 195 pounds after wrestling 220 and heavyweight this season. Lane won his first two matches by pin before getting pinned in the finals.
n Competing in separate brackets, HRV junior varsity wrestlers Mario Medina, Dylan Peterson and Junior Manzo all took first in their weight classes.