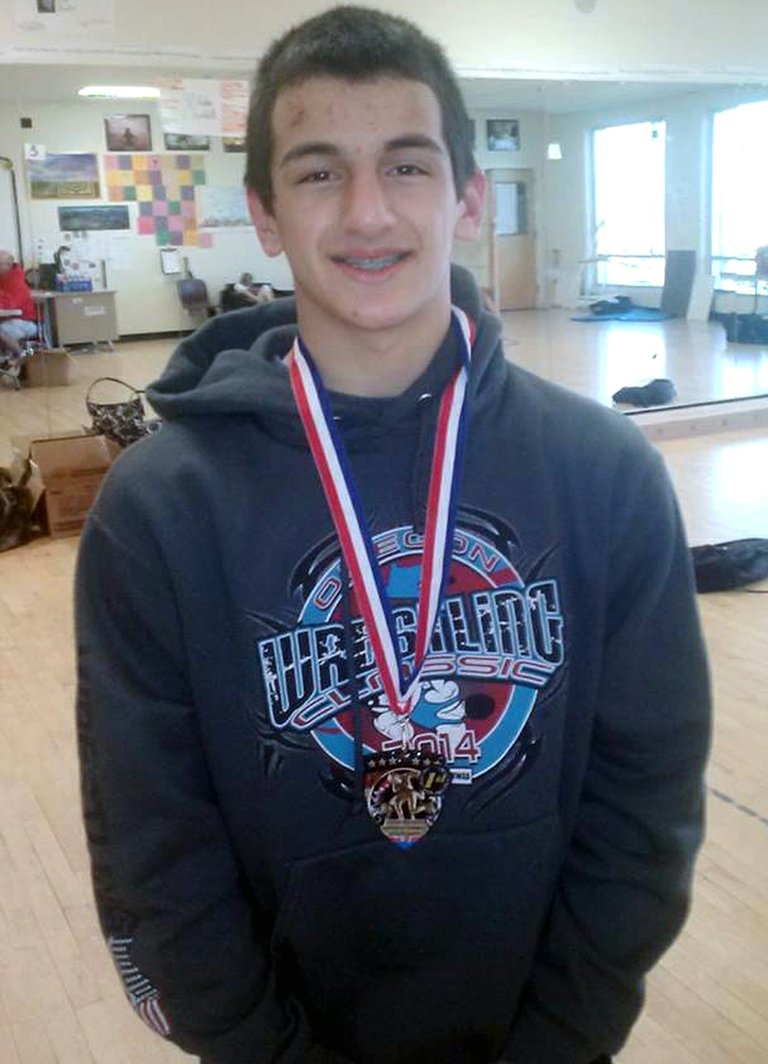 Wednesday, February 5, 2014
Representing Hood River Wrestling Club, Jason Shaner won his first state title over the weekend at the Oregon Wrestling Association's Kids Collegiate State Championships. Shaner, a Hood River Middle School eighth-grader, went 4-0 to claim the title in the 120-pound schoolboy division of the tournament at Parkrose High School.
"He believes in himself and in the system we have; it's exciting to watch him grow," coach Sean Baker said of Shaner, a second-year wrestler. "I can't wait to see what coach (Trent) Kroll can do with him in the next four years. He's going to be someone to watch."
Shaner won the first two rounds of the tournament with relative ease, picking up a technical-fall and a pin to advance to the semifinals.
"His semifinal match was a dogfight," Baker said. "People said it was the best match of the tournament."
Shaner won 11-9 in overtime to advance to the finals, where he faced another challenging opponent and battled to a narrow 11-9 win to claim the state title.
Although competing for the Hood River Wrestling Club, Shaner also wrestlers for the HRMS program, which started early last month and runs through mid-March. He's currently undefeated in middle school action with a 5-0 record and two tournament wins.
You can see Hood River and Wy'east middle school wrestlers in action at the following dates and locations:
Feb. 6, HRMS, Wy'east and Riverside at HRMS, 4:30 p.m.; Feb. 15, Home tournament, HRMS, Wy'east and more at HRVHS, starts at 9 a.m.; Feb. 27, The Dalles, HRMS, Sandy at Wy'east, 4:30 p.m.; March 5, Wy'east at HRMS, 4:30 p.m.
n Also representing Hood River Wrestling Club at the weekend tournament was Parkdale Elementary School kindergartener Tristen Baker, who finished third with a 4-1 record in the Peewee division.
Additionally, Hood River's Noah Wachsmuth, representing Portland's Cobra Wrestling Club, claimed a state title in the 84-pound schoolboy division and Ryan Zellar finished third in the 70-pound schoolboy bracket.
Wachsmuth is no stranger to finishing atop the podium; the young standout has won multiple state and national titles in the last few years; most recently of which was the 2013 USA Wrestling Kids National title over the summer.