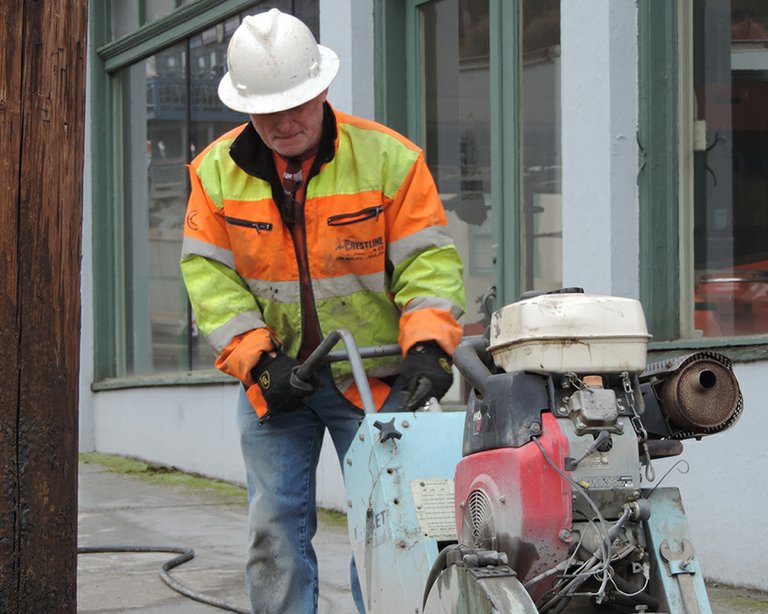 Wednesday, February 5, 2014
Urban Renewal takes a turn next week – literally.
As part of the ongoing State Street Urban Renewal Project, the City of Hood River is planning to close Oak Street to all vehicular traffic from First and State to Front and State starting Monday, Feb. 10, providing the required permits have been processed by the Oregon Department of Transportation.
The closure will be from 7 a.m. until 7 p.m., Monday through Friday with the street being open to traffic nights and weekends.
The work is expected to take approximately three months, with intermittent closures during this time.
It is an extension of the Urban Renewal work that has kept portions of State Street closed or narrowed to single lane since November. The Oak and Front part of the project also represents a shift of emphasis from State to Oak/Front.
Here's how it will work: Next week on Oak and Front, eastbound traffic will be detoured at Second and Oak streets, and westbound traffic will be detoured at Front and State, using Second Street and State Street as the detour route.
The work zone comprises the curve on Oak where it meets Front Street; adjoining businesses include Celilo Restaurant, Ground coffeehouse, Kayak Shed, Big Winds, Astro, attorney Scott Franke, Gorge Surf Shop, and Hood River Bagel Shop
Delivery vehicles will be allowed access as needed. Pedestrian access will be provided to all businesses at all times, but delays should be expected.
If you have any questions or concerns, contact Gary Lindemyer at 541-387-5204.
Sidewalk removal continues
Hardly a stretch of State between Front and Sixth street remains untouched by some aspect of the downtown Urban Renewal Project, scheduled for completion in May.
(Tuesday's snowfall shut down Urban Renewal work for the day.)
Extensive removal of sidewalks or curbside planting area were taking place in front of the County Courthouse and the block just adjacent to the west, in front of Riverside Community Church.
A block away, from Second down to Front, crews are cutting up portions of sidewalk and completing undergrounding of "dry" utility lines.
Pedestrian access remains open at all locations, other than at selective times when sidewalks are closed for safety reasons.
Businesses along State Street remain open. Astro gas station at Front and State currently maintains the same east-bound ingress from State Street, but drivers need to take a right from Front onto State, and another right into the pump lanes.
The forthcoming work on Front Street may cause temporary changes in the Astro access, meaning customers would drive up to the pumps from the east, coming off of Front Street
City water pipeline work
will change Heights traffic
Be prepared for a major, though temporary, change in traffic patterns on the Heights starting later in February.
Portions of the one-way 12th and 13th streets will become two-way thoroughfares as the city continues the water main installation on Belmont, across 12th and 13th, along Union Street to Wilson Street.
The rerouting could come as early as Feb. 24, but is weather-dependent.
When it happens, essentially 12th and 13th will be rendered two-way streets between A Street and the 12th/13th split adjacent to Hood River Armory.
The start date will be known once state ODOT permits are in place.
See Saturday's edition for details.
Excavation between 22nd and 13th streets, and installation of the 2-foot pipes staged along Belmont Avenue, should be installed should take place over the next two to three weeks. The project has focused for the past two weeks on the critical underground junction at 22nd and Belmont, where crews are installing a pressure relief valve for the new pipes.
This is the text of the Heights traffic rerouting advisory issued last week by the city:
The City of Hood River is on the final segment of the waterline main project, from the intersection of Belmont/Avalon and continuing down Belmont to Union Street then up 11th Street to the Wilson Street reservoir.

Moore Excavation Inc. has been installing the 24-inch pipe on Belmont. Flaggers are present to assist traffic control.
Starting Feb. 24 (subject to change) MEI will be installing the pipe across 13th and 12th streets. When installing pipe across 13th the southbound traffic will be diverted to 12th at A Street, making 12th a "two-way."
When installing pipe across 12th the northbound traffic will be diverted to 13th at Nix Drive, making 13th a "two-way."
Signs and traffic cones will also instruct motorists on the proper pathways.