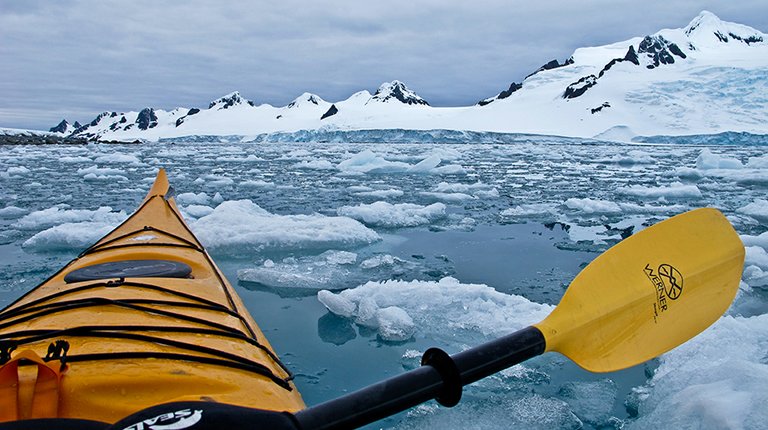 Wednesday, February 5, 2014
My New Year's Eve toast this year took place aboard a 400-foot Russian research vessel, en route to
Antarctica. I was one of 92 tourists traveling for 19 days with the crew of One Ocean – a competent and charismatic group from all over the world. We boarded the ship in Ushuaia, Argentina, commonly known as the southernmost city in South America. We spent several days exploring the Falkland Islands and South Georgia, both teeming with wildlife.
After leaving South Georgia, we cruised for two days and passed the geo-political boundary at 60 degrees South latitude, officially entering Antarctica. Here we spent many days hiking, kayaking, and zodiac cruising to see ice, whales, whaling stations, penguins, and beautiful frozen landscapes. We then crossed the Drake Passage and arrived back at Ushuaia.
Sure, 30 hours of flights and two days at sea hardly make Antarctica top the list for a long weekend getaway. But approximately 30,000 tourists visit Antarctica each year, with several more headquartered on the research bases throughout the continent. This is a part of the world that's possible to visit. And it is well worth it.
Nine Things I learned in Antarctica
Ice is cool (pardon the pun). We kayaked through small chunks of sea ice, around large icebergs, and as close to the calving glaciers as we were allowed. One of my favorite moments was a calm, windless day that we paddled around Half Moon Island, surrounded by ice chunks up to five or so feet large. Each paddle stroke hit a bit of ice, and we were literally pushing ourselves off the ice to move forward. In the silence we could hear the bubbles in the ice popping – little pockets of air sealed tight for hundreds or thousands of years. It sounded like we were in a bay of Rice Krispies.
It feels so freeing to be surrounded by ocean. Even when you're stuck on a 400-foot ship. With people you don't know. And a sudden urge to put one of the many barf bags to use. Seventy-one percent of the world is ocean, and I love the overwhelming sense of "explorer" that I feel while at sea. Not to mention the stars, which are so vibrant with no light pollution to dim them.
Antarctica smells like... Poo. Penguin poo, to be exact. The last continent is a pristine and well-cared for land, where human waste is shuttled away on cargo planes and granola bars are forbidden from hikes. But off the continent wafts the foul stench of penguin poo. And it is everywhere. Not to mention projectile. If one of those bent over, we learned fast to back away quickly.
A leader like Shackleton is hard to find. Sir Ernest Shackleton is known for his outstanding leadership, and stands out in a history otherwise filled with explorer's egos, whale killings, and slow death. I first read Shackleton's story in college, which was the first of many triggers that made me want to visit this part of the world. On Jan. 5 we visited "The Boss'" grave, in Grytviken, South Georgia — exactly 92 years to the day after Shackleton died of a heart attack in that same harbor. Our ship's historian gave a brief talk about his ship getting stuck in sea ice and the long, cold winters that followed while he and the crew sought their own rescue. After the talk we dropped a bit of whiskey onto Shackleton's grave and that of Frank Wild, Shackleton's right hand man, then drank the rest ourselves.
Elephant seals need to learn how to use tissues – and they enjoy a good cuddle. Elephant seals filter seawater internally, and what doesn't get used comes out as a foul-looking sea-water-snot dripping from their cute little noses. In spite of their body fluids, elephant seals covered the shorelines with cuddle piles – often five to 10 seals large! Elephant seals will not win any awards for "Most Dignified Carnivore" (though they are the world's largest carnivore, clocking in at 2-5 tons).
Penguins need pump-up talks, too. These Gentoo penguins made me crack up after a steep hike in knee-deep snow on King George Island. They were just hanging out and watching the lead penguin. I don't know what the conversation was about, but I think penguins could be the models for a new series of motivational work posters.
Icebergs roll! This was the first iceberg we saw, and it turned out to be my favorite of the trip. Icebergs erode from the bottom, and you can't tell if one is about to change its center of gravity and roll. The lines on this one are caused from bubbles that carve a trench up to the surface over time. If you look closely, you can see that these lines point in all different directions – at one point, each of these lines pointed "up". This berg has rolled many times, and we learned quickly to give them space while kayaking in case they roll as we paddle by.
South Georgia is crowded (with plenty of food to go around). The rich water around South Georgia is home to the largest krill population on the planet. Since krill is the base of the food pyramid for most ocean animals like whales, penguins, and seals, the shores here are packed with wildlife. We were told not to approach closer than five meters from any animal, but the penguins and seals did not obey this rule, and often came right up to us. We visited this King penguin colony on my 30th birthday – certainly a birthday to remember!
The Falkland Islands are more British than England. The 1982 war between England and Argentina solidified English ownership of these beautiful, wild islands off the coast of Argentina. After visiting the war memorials in both Argentina and the Falklands, I was struck by how raw this history is. The Argentinian memorial is full of sadness, sorrow, and pain. The Falkland memorial is full of victory, even with a pub up the street named the Victory Pub. Nearly every house and every car has a British sticker or flag, and English-pride signs like this one were everywhere I looked.