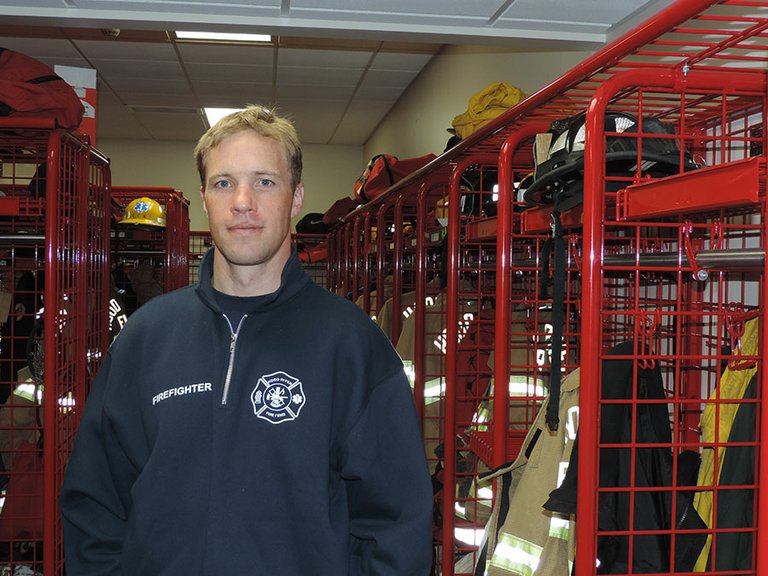 Saturday, February 8, 2014
By DAVE MARTIN
For the Hood River News
My son, David Sheffield Martin III, (aka. D3.0) was born on May 3, 2013. Like all terrified, and halfway well-educated expecting parents, my wife Emily and I read everything we could get our hands on about "having a baby."
Now that we've graduated from expecting to actual parenthood, we know what parents of all time know, which is that reading about "having a baby" is about as useful as reading an instruction manual on "sneezing." That is, the urges involved in both are about as sudden, and if you're not prepared, the aftermath can be messy.
One of my favorite factoids that we came across was about oxytocin -— that magical hormone which has been called the "love hormone," or the "bonding hormone," and which is supposedly responsible for transforming the pain of childbirth into an ecstatic experience. According to one all-knowing baby book, men and women have different triggers for the release of oxytocin.
Women, the book claims, release oxytocin during active labor or while cutting brightly colored vegetables. Men, on the other hand, release high levels of oxytocin while doing good deeds for other people. This executive summary of some pretty complex neurobiology is painfully curt, but the part about doing good deeds for other people really floored me. I'm that guy!
Emily has already figured this out about me, which is why one early December morning, when I sat down with her in our kitchen — our 7-month-old son in her arms — and confessed in all sincerity, "I want to be a firefighter" she did not immediately try to strangle me or kick me out of the house.
n
We both strongly believe in serving our community and being a firefighter has always been a secret ambition of mine. They are THE people out there who drop whatever they are doing to go help someone in need.
We agree that if it is possible for us to serve our community that way, even for just a few hours a week, we will make time to do it. So, Emily consented, and I went to turn my application in.
n
My first contact with the Hood River Fire Department was when I walked in with my application and shook hands with Volunteer Coordinator Kip Miller. Kip is exactly the guy we want recruiting people for the fire service. From the very first moment, I felt like I was doing the right thing.
I remember him saying that first day, "Dave, you are joining up at a great time! There are some really exciting things happening in the department right now." He made me feel like I'd won a golden ticket.

At the time, I thought that volunteering would mean attending weekly meetings and slowly integrating into the department as I gained more experience. Fortunately, it turns out that I had shown up just two weeks before the start of the Columbia Gorge Training Association's "Fire in the Gorge 2014 Academy" for new recruits. It is an intense five-month immersion into the world of fire.
My volunteer firefighter career was now under way with alarming structure and organization.
n
The Academy began with 16 wide-eyed recruits from five different Hood River County fire departments, with a decent mix of women and men ranging in age from 18 to 50. Several recruits have been volunteering with their fire departments for months or even years, and are just now taking steps towards becoming firefighters. Others have their goals set on a career in EMS or firefighting, but at least half of us have (relatively) stable career paths, and are strictly interested in volunteering our time.
Realizing that other professionals like me are volunteering was important to me because it makes me feel less crazy for trying to fit volunteer time into an already full schedule. Growing up in Atlanta, every firefighter I knew of was a career firefighter. Because of that, I've carried around the incorrect notion that most firefighters get paid.
According to the U.S. Fire Administration, of 1,044,300 active firefighters in the United States, about 79.2 percent are strictly volunteers.
(https://apps.usfa.fema.gov/census/summary.cfm#a)
That means that there are conservatively 827,086 active volunteer firefighters out there with full-time jobs and patient, supportive spouses who understand the path that the 16 of us have chosen. Sadly those numbers are dwindling at a distressing pace.
n
Over the next five months, I'm going to tell you a story of the trials and tribulations, fears, anxiety, skills and educational experiences of what it is like to integrate volunteer fire service into an already busy life full of work and family. I am told I will be experiencing confined spaces, live fire, how to cut a hole in a steep roof with a chain saw and many other nerve-wracking and exhilarating skills alongside my fellow recruits!
I am proud to live in The Gorge, raise my family and start my business here. I am excited to be able to give back to my community by helping out in people's emergencies, in their time of need. I look forward to documenting and sharing my journey with the readers. Wish me luck.
n
Dave Martin owns Trinity Natural Medicine, a health center in Hood River. He is a board-certified herbalist and licensed acupuncturist. He is also a student and teacher of several forms of Chinese martial arts. He and his wife, Emily, have a son, Davey, and live in Hood River.