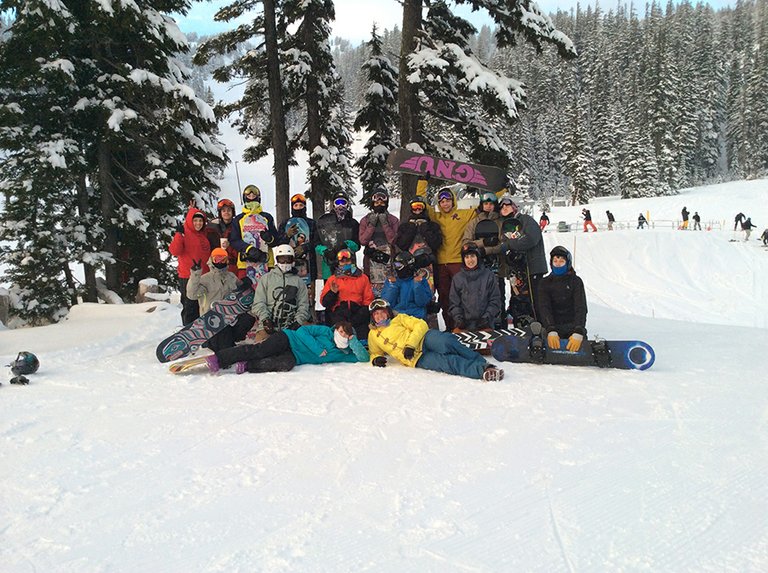 Saturday, February 8, 2014
After overcoming challenges with both lack of funding and snowpack this winter, the Hood River Valley Snowboard Team is officially back in action and ready for an abbreviated season of Oregon Interscholastic Snowboard Association competition. In addition to having a strong turnout of 16 snowboarders to fill the roster, the team's prayers for snow seem to have been answered this week, as the slopes of Mount Hood are forecast to get up to a couple feet of snow in the next several days.
The team has four Gorge League events before the state competition, scheduled for March 12-16 at Mount Bachelor. First up is slopestyle Feb. 14, followed by boardercross Feb. 23, another slopestyle March 8 and halfpipe March 9.
Returning head coach Phineas England said gearing up for this season has been a challenge due largely to the being a club and not an official high school sport.
"That means we don't get funding from the school and have to come up with it ourselves," he said earlier this winter. "For a while it looked like we weren't going to have a team this year, but some volunteers stepped up to help get things going."
England said it's hard to predict how individuals on the team will measure up to the rest of the state, but that he expects his riders to perform well in league action despite having a shortened season due to a dismal winter thus far. To the team's advantage, despite having very limited snow to work with, Mt. Hood Meadows has had multiple parks to practice on for much of the season.
Last season the team swept Gorge League action by claiming several individual titles and overall boys and girls team titles and brought home a girls' first-place team trophy in the halfpipe and second-place team trophies in boys halfpipe and slopestyle.
"Some of our best riders from last year are no longer with us, but we have some good young talent ready to fill their shoes," England said. "It's always fun to see how the kids step up to the occasion when they face the pressure of competition."