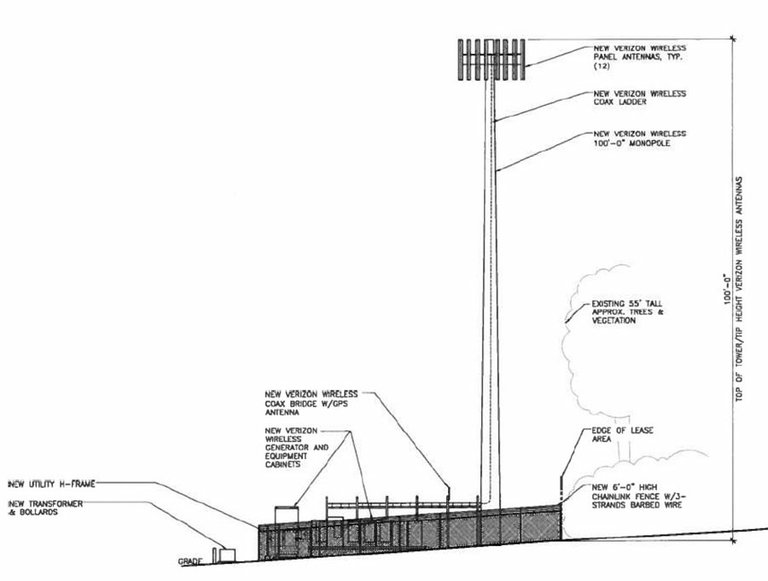 Saturday, February 8, 2014
The nation's largest cellular phone provider is looking to install a 100-foot-high cell tower in a field off Multnomah Road, which the company says is necessary to improve cell coverage for its customers in the Hood River Valley.
Verizon Wireless, which is headquartered in New Jersey, has proposed building the cell tower on 32 acres of land zoned exclusive farm use at 1247 Multnomah Road, located about a mile outside the Hood River city limits. The land is owned by Andy von Flotow under Alpha to Omega LLC, who has submitted a land use application to the Hood River County Planning Department, along with Proland LLC — a Spokane-based company specializing in site acquisition, zoning, and project management for wireless clients, according to its website.
A 60-by-60-foot section of the land would be leased in order to house both the tower and the equipment necessary for its operations. Application documents show the tower would be a monopole design with a triangular panel antenna on top and would be surrounded by a 6-foot-tall chain link fence topped with barbed wire. Other features would include multiple equipment cabinets, a transformer, a diesel generator, and a 12-foot-wide gravel driveway with turnaround.
Verizon — which currently has cell towers in Odell, Underwood, White Salmon, Bingen, the east hills, and two within Hood River's city limits — says it needs to build the tower in order to help offload traffic from its Underwood site and establish a better connection between Odell and a cell tower located next to the Hood River Fire Department. According to a letter sent to county planning by Jeff Culley, a radio frequency engineer with Verizon, construction of the tower is supposed to improve cell coverage primarily in areas south of Hood River and will "help create a quality network that will have low dropped calls and access failures with good voice and data quality." Culley also referred to the proposed site as an "essential communication facility for public service as part of Verizon Wireless' communication network providing enhanced 9-1-1 services as well as serving many governmental agencies and emergency responders."
American Tower Corporation made similar statements about cell coverage last year when it was attempting to build a 140-foot-tall cell tower for AT&T just a few minutes' drive north of Verizon's current proposed site. Hood River County Planning Commissioners denied ATC's National Scenic Area permit request last November after they deemed the tower was too high and not "visually compatible" with its surroundings — which included a nearby community trail — though the structure was to be disguised as a Douglas fir. That site was located off Fairview Drive on land that was zoned rural-residential.
According to Eric Walker, the county's principal planner, Verizon's proposed site is located outside the NSA on exclusive farm use land. Walker said cell towers are a "permitted use, subject to review" on EFU land, but that the county zoning ordinance requires applicants to provide a list of "reasonable alternatives" to the proposed site.
Application documents show Verizon looked at approximately 12 other sites in the surrounding area before settling on 1247 Multnomah Road, which is located in an area largely consisting of orchards, farm fields, and residences. Other sites were deemed less desirable by Verizon due to reasons that ranged from unwilling landlords to higher residential densities.
The alternative site analysis submitted to the county states that the chosen parcel "blends in most harmoniously with surrounding structures, existing uses, vegetation, tall trees and offers the lowest visual impact to surrounding properties within this concentrated geographic area. The subject's location is nestled into a corner, will sit amongst a cluster of mature trees which provide natural screening and will predominantly only be visible from the underlying landlord's 32 contiguous acres."
Public comment on the cell tower will be accepted until 5 p.m., Thursday, Feb. 20, with an anticipated decision date of March 6. The planning department can be contacted at plan.dept@
co.hood-river.or.us or 541-387-6840.