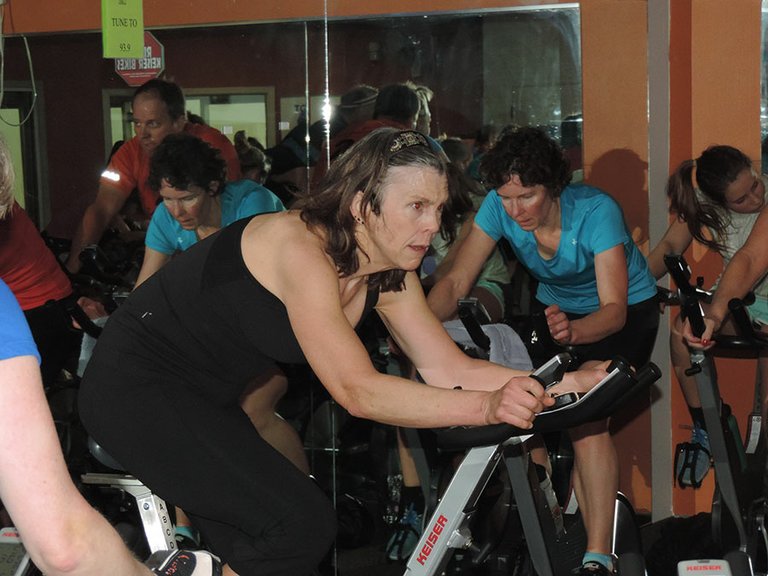 Saturday, February 8, 2014
'To give anything less than your best is to sacrifice the gift.' — Steve Prefontaine
Kristie Cater takes the above quote to heart. Whether she's teaching a fitness class, working as a personal trainer, selling vintage items in her Etsy shop or singing in the church choir, she gives it her all.
Cater is a versatile member of the Hood River Sports Club staff, according to Sports Club Manager Coral Worth. Cater teaches a variety of fitness classes, including strength training, "Ab Lab," cycling, yoga and Bosu Total Body Conditioning, which combines many different fitness elements using the Bosu apparatus — to name a few. Her classes begin as early as 5:45 a.m., and by mid-morning, her workday is done.
Well, theoretically. Cater is also a certified personal trainer, and her hours there aren't quite so cut-and-dried. She only takes clients at the Sports Club (you can find her business cards at the front desk), where she's been since 1998.
Her clients are generally people who want to lose weight or get back into shape. She covers both physical and nutritional aspects of fitness, and she's a firm believer in doing the work without relying on crash diets or supplements.
"I believe it comes from diet and exercise," she said. "That's how you're going to lose weight. I don't believe in a special certain supplement will get you where you need to be. It's food and good old-fashioned movement."
Cater especially enjoys inviting clients to her fitness classes to challenge the way they think about themselves.
"I have a lot of people who have some weight to lose and they feel like they can't do things," she explained. "So I invite them to do things they might not think they can do (such as attend a cycling class), to prove they can do it.
"It's exciting to see people come and change their lives," she added.
Besides motivation and encouragement in both her fitness classes and as a personal trainer, Cater offers a unique perspective on what it's like to lose weight and keep it off.
"I have been heavy myself, so I know what it's like to keep it off, to maintain it," she said.
Cater's first experience with dieting came at age 11. She lost weight, but gained it back later. Growing up in the Southern Californian sunshine, she was active, she said, but not fit.
"I'm not naturally thin," she said. "I wanted to get fit myself, and that started the journey for me," she said. Riding her bike and eating right helped her lose the weight — and keep it off. But that wasn't the only benefit she received.
"I learned there was so much freedom with being fit and life is so much better when you're active and you can do things. You feel good," she said.
Cater has three national certifications from ACE (American Council of Exercise): one as a personal trainer, one as a fitness instructor and a third as a lifestyle weight management coach. She describes the tests as "intensive," covering everything from anatomy and body movement to diets and exercise — even lifestyle and motivation. She's also current in CPR certification.
"I think the love of fitness and getting to know people on a personal level" is what Cater enjoys most about her work at the Sports Club. "I love to encourage people and get them excited about their fitness, about what they can do, how they're getting stronger," she said.
Her "other" job is finding items for and running a vintage shop on Etsy called Look What the Cat Dragged In (search: lkwhatthecatdraggedn). She specializes in housewares — think sewing machines, appliances and cookware — and sends items all over the world. She's also active in the Hood River Alliance Church, where she sings on Worship Team, and she volunteers at the Hood River Valley Adult Center once a week.
And she always finds time to work out. She's run a marathon and a few half-marathons in her time, as well as a lot of long distance cycling. She's also very active in mountain biking, hiking and running.
Cater moved to Oregon from Southern California with her ex-husband in the 1990s. Because they were windsurfers (although she doesn't windsurf anymore), they eventually found their way to Hood River.
"I found out that Hood River is much more than windsurfing," she said. "Hood River is a wonderful town. I moved here for the sports and recreation, and learned that Hood River is so much more — a great community of people."
She has three children. Daughter Anastasia and son Austin still live in Hood River, while daughter Marissa lives in Portland.
Her advice to those who want to lose weight and get in shape, but don't know where to start, is simple: "Make a plan, commit to the plan and succeed. You've got to make some kind of plan for yourself, make a commitment. That's the only way you're going to succeed," she said.